Artists of interest today (from top to bottom, from left): Ho Van Cuong, Dai Nghia, Hoang Thuy Linh, Dinh Van
* Parents and Ho Van Cuong asked to investigate the leak of information
Ho Van Cuong has just confirmed that he is the owner of the messages related to Phi Nhung that are spreading on social networks on June 10.
The 2016 Child Music Idol Champion said that his personal account had been hacked, with the aim of revealing negative information about Phi Nhung.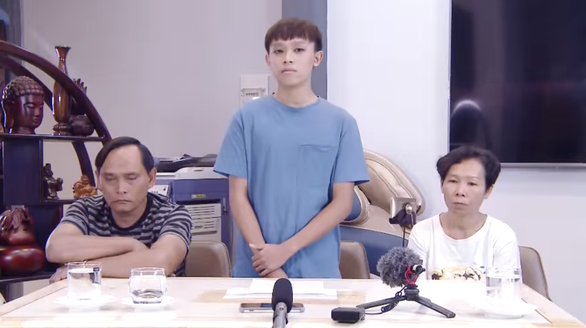 Ho Van Cuong and his parents in a video publicly apologizing to Phi Nhung posted on June 10
Ho Van Cuong's parents apologized to Phi Nhung, hoping the authorities would soon investigate to clarify the matter. However, currently, on social networks, there are many controversial opinions about the somewhat forced attitude of Ho Van Cuong's family when apologizing to Phi Nhung.
Youth Online contact Phi Nhung, the singer said that he is currently going to the temple and transferring the phone to his relatives to talk. This person said Phi Nhung went to the temple today and did not want to answer anything about the above issue.
Ho Van Cuong and his biological parents shared about rumors of being mistreated by Phi Nhung – Source: DPC
Earlier on June 9, the singer wrote on his personal page: "I don't need to correct it, on the contrary, I do not allow anyone to incite my children to do wrong and against my conscience… If I did something wrong with my mother, I still hold you in my arms like every day. You can rest assured."
* Hoang Thuy Linh appeared at Spotify's Women's Campaign
Singer Hoang Thuy Linh has just appeared on the "Equal Vietnam" playlist, part of Spotify's campaign to honor female vocalists in Vietnam and globally. Song Charming sound of the female singer in first place.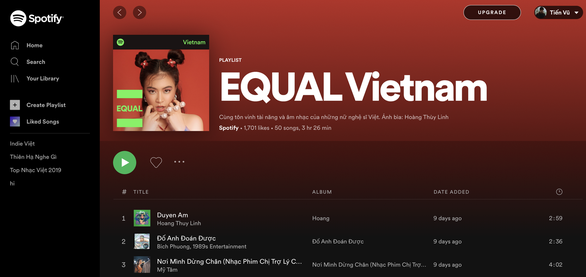 The song "Duan Am" by Hoang Thuy Linh ranked first in Equal Vietnam
"Together with Spotify to support talented female artists who are contributing to bringing Vietnamese influences to contemporary music" – that's Spotify's comment for Hoang Thuy Linh.
According to sources of Youth OnlineThe image of Hoang Thuy Linh is expected to appear at Times Square in New York, USA in the near future.
After Bich Phuong, Hoang Thuy Linh is the next Vietnamese singer to join Spotify's Equal campaign to honor women.
* 'Prince of the Rain' Dinh Van reunites with the audience
"Prince of Dusty Rain" Dinh Van has been away from the limelight for many years. Recently, he suddenly appeared in the program "Legendary Mark" and brought many emotions and nostalgia to the audience.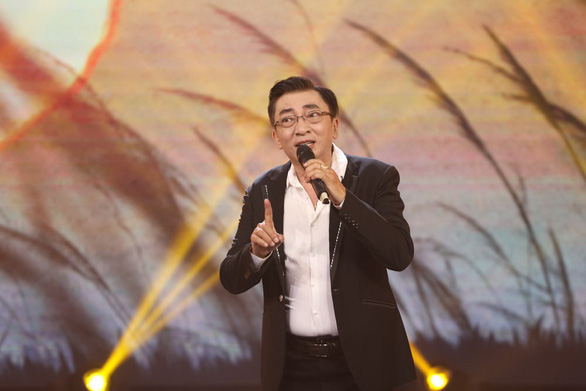 In the program, Dinh Van shared a lot about his ups and downs in his singing life
Referring to Dinh Van, many viewers will immediately remember some songs like My City, Dust Rain nice Flowers on the line of fire. In which, the exam part My city brought Dinh Van a gold medal in the 1982 mass art competition.
From this point on, Dinh Van was determined to follow the path of professional music and his first teacher was musician Phan Nhan: "He said he dreamed of writing a song for Ho Chi Minh City and wanted to find a male voice, a Saigon voice to sing the song My city.
But at that time I was sick, holding the barrel looked so ugly, so the TV station didn't show it. So Uncle Phan Nhan said to let him sing. When it was time to sing, people admired and played loudspeakers all day and night …" – Dinh Van recounted in the program.
* Let's say love: Little tam but shameless
The story about the family of Mrs. Hoai, Mr. Tin and two children, Hoang My and Hoang Minh, is becoming more and more dramatic. After the jealousy scene, Mrs. Hoai lost her career, determined to find Tram – Mr. Tin's lover – to fight jealousy again. Causing Tram to have a miscarriageHoai was arrested for assault.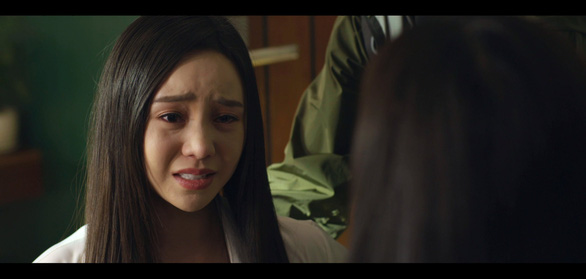 My character sheds tears when she asks Tram to forgive her mother
In the trailer for episode 17, broadcast on the evening of June 10 on VTV3, My went to Mrs. Tram's house to ask Tram to spare her mother, but received a harsh refusal. Tram's actions made the audience angry: "What kind of paradoxical movie. Tieu tam still demands to be righteous", "Oh my god, I'm brazen"…
Besides, other characters exploit the maternal love between Phan and his mother to make moviegoers feel comfortable. Father died, mother was sick all year round. However, Phan is happy, cheerful and optimistic because he has a loving, understanding mother…
In particular, the image of mother and daughter Phan entering the operating room to donate a kidney to her mother brought a lot of emotion.
* Dai Nghia pressured to be "father" Kim Tuyen
In the new movie Do you know what mom is thinking?Dai Nghia is the father of actor Kim Tuyen. This makes him feel pressured because the age difference between the two is not very different. He said:
"The difficulty of this character is that I become a man between the ages of 50 and 60. Meanwhile, the audience is familiar with Kim Tuyen's face. How to be older than Kim Tuyen is a challenge for myself and the team. Page".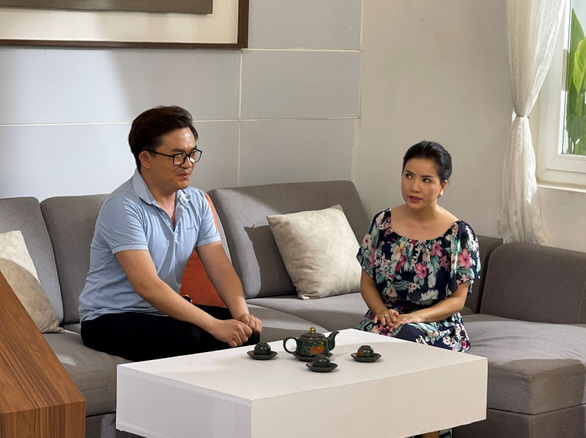 Dai Nghia, Ngoc Trinh in the movie
Do you know what mom is thinking? is the story of Ca Vi (Kim Tuyen) – the owner of a grocery store, who is practicing as a YouTuber. 15 years ago, she had a beautiful love affair with Tuan Ngan (Nguyen Quoc Truong Thinh)…
The film, directed by Ly Khac Lynh, is broadcast at 6:45 pm every Friday and Saturday on channel VTV9 from 11-6.
.