E-cigarettes (e-cigarettes), heated cigarettes (TLLNs), and next-generation tobacco products (TCM), have been globally influenced by health authorities such as FDA, UK Public Health Agency (PHE), The Japanese Ministry of Health… recognized that the products contained lower levels of harmful substances than cigarettes.
New generation tobacco: what does the science say?
Currently, the success rate of people quitting smoking in the world is very low, only ranging from 8-25% (only 8% in Vietnam). Accordingly, the market appeared smokeless tobacco products such as TLLN, snus cigarettes with very low nitrosamine content (a carcinogen caused by smoking) and products providing non-tobacco nicotine. e-cigarettes and pouch nicotine products) eliminate combustion.
The smoking cessation rate in Vietnam is only 8%.
Many scientific studies have also proven that these products help smokers significantly limit their exposure to harmful substances. The US FDA has authorized the sale of a number of tested tobacco products, e-cigarettes and snus cigarettes.
In the petition sent to the WHO, two former GS. Robert Beaglehole and Prof. Ruth Bonita said that TLTHM has a small fraction of the risk compared to continuing to smoke a regular cigarette. Accordingly, the transition to e-commerce is significantly better. These two professors assert that e-cigarettes reduce harm by at least 95% compared to smoking cigarettes is a good way to clearly communicate large differences in the relative risks of products. this.
Advanced countries have also carried out a number of studies showing that using e-cigarettes, tobacco smoke in accordance with regulations and instructions for smokers can be considered as a more appropriate solution than continuing to smoke and inhale smoke. of burned cigarettes.
The latest US PATH study found that switching to CHD instead of continuing to smoke cigarettes reduces the risk of cardiovascular disease by 34%. Published in the journal Circulation, the population-based PATH study on tobacco and health found a 34% lower risk of cardiovascular disease (CVD) in the e-cigarette user group compared with cigarette smokers. The main reason is that TLDT or TLTHM in general has eliminated the combustion process, removed smoke, which means that 95% of harmful agents are removed.
No genuine products yet, smokers are forced to choose contraband
The control of these products according to the provisions of the current Law has not yet ended. According to experts, if this situation is prolonged, the demand for contraband sources of these products will increase, leading to loss of control, seriously affecting the health of smokers, the community and even the community. even minors.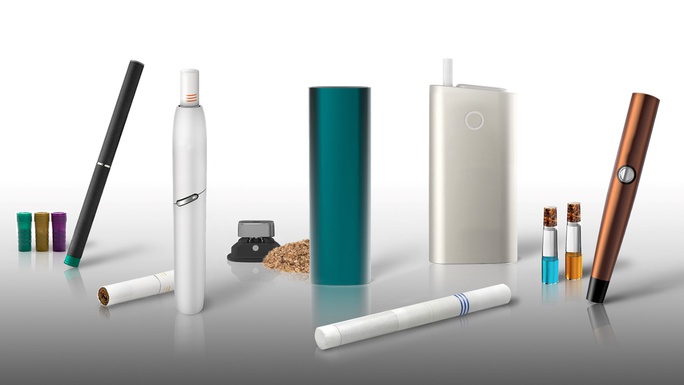 There is still no official answer for dealing with TLTHM
The increasing situation of TLKK smuggling proves that the demand for conversion to GTTH products is real and increases proportionally. Explaining this, people who are using THHM cigarettes say that there are two popular target groups today. For people who have been using e-cigarettes and tobacco products over the years, they feel the change in health compared to when they smoked before, so they will still be "loyal" to the black market. , the price is higher than the reality while the buyer's rights have not been fully realized. As for current smokers, they also begin to gradually switch. Through social networks, they can easily consult their predecessors to choose for themselves in the black market a suitable product and purchase source.
When the smuggling market is bustling, the authorities have not yet reached a conclusion on how to handle these products. In that context, users are still forced to suffer many disadvantages before the legitimate need to switch to products that have been tested by international health authorities as less harmful to health instead. for continuing to smoke cigarettes.
The authorities need to be more drastic in considering and putting into the management of e-cigarettes and tobacco-collections to protect smokers. The management will also set the foundation for the legalization of the management of other products of TLM. Only when the laws on the tobacco industry are promulgated, combined with the smoking cessation policy, will the rate of reduction in consumption of tobacco products be improved in a positive direction. Regulating all these products will contribute to combating the normalization of tobacco, which WHO has called for countries to soon comply and enforce.