In the face of complicated epidemic developments with outbreak The third Covid-19 arose at Hosiden Vietnam Co., Ltd. in Quang Chau Industrial Park (Viet Yen District, Bac Giang), the number of cases increased in the past 1 day, on the evening of May 15, the delegation of The Ministry of Health, led by Deputy Minister Nguyen Truong Son, returned to Bac Giang to discuss plans to organize epidemic prevention.
Hosiden Vietnam Co., Ltd in Quang Chau industrial zone, Bac Giang is a very complicated outbreak
Chairman of the People's Committee of Bac Giang province Le Anh Duong said that from May 9 to May 14, Bac Giang had two outbreaks: One in Phuong Son commune, Luc Nam district (related to Hanoi K Hospital) with 4 cases. F0 and has been controlled, there is no longer the possibility of community outbreaks and outbreaks at SJ Tech Company, Van Trung industrial park (related to the Central Hospital for Tropical Diseases 2) with 105 F0; Up to now, the epidemic peak has basically passed, only F0 cases in concentrated isolation areas and a few cases of workers traveling with cars (the level of spread to the community is very low).
However, starting from May 14, through the inspection of the remaining industrial zones, more outbreaks were detected at Hosiden Vietnam Co., Ltd. This is a fast-spreading outbreak caused by workers working in cold, closed rooms. All new F0 cases were detected mainly in factory No. 4, in addition, factory No. 1 also had 1 case. Initially, determine all workers of workshop 4 and workshop 1 as F1 (total of nearly 900 people).
The above translation is very complicated. On May 14 and 15, 159 positive cases were detected; The number of detected cases accounted for 37.9% of the total number of tested samples with results. It is forecasted that by the end of the night of May 15, the number of F0 cases will continue to increase after the results of testing all employees of the company.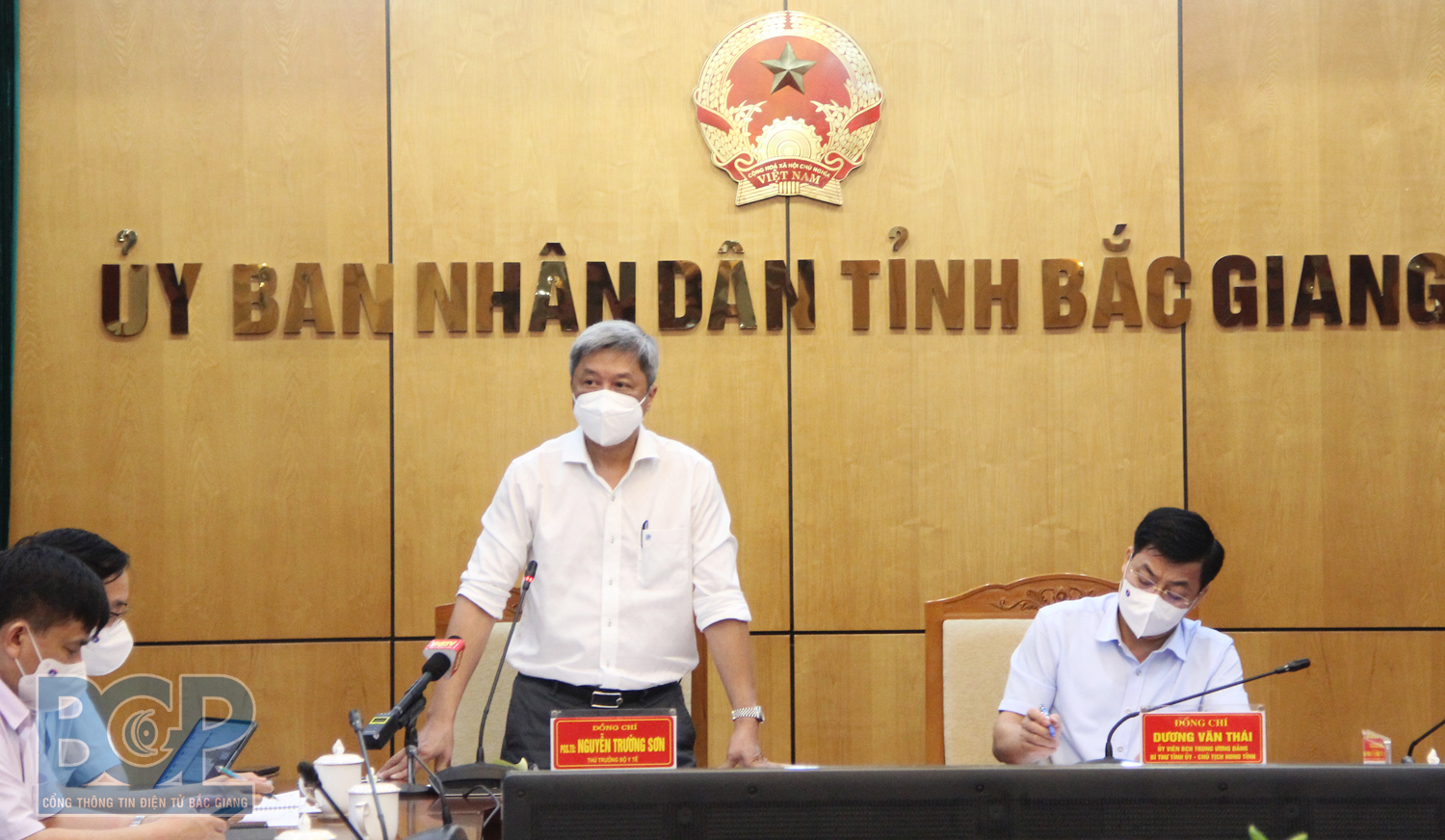 Deputy Minister of Health Nguyen Truong Son speaks at the meeting with Bac Giang province – Photo: Dieu Hoa
Deputy Minister of Health Nguyen Truong Son said that in the face of complicated developments and the rapid spread of the Covid-19 epidemic, the province needs to pay attention to implement a number of issues, which are: In the industrial zones of the province, it is necessary to pay attention to implementing a number of issues. well perform the zoning and tracing work. For isolation areas, the province assigned the Provincial Military Command to coordinate with military units to organize isolation areas. Regarding hospitals, the province researched to expand field hospitals. Regarding the community, it is necessary to "go every alley, knock door to door" to track and monitor the implementation of isolation, promoting the role of the community monitoring team.
The Deputy Minister of Health said that he will direct expert groups to support the province in various fields to soon complete testing for 200,000 samples. For the province's proposals, the Ministry of Health will study and assign specialized agencies to review and have solutions for implementation.
Labor isolation in 2 workshops of Hosiden Company
Chairman of the People's Committee of Bac Giang province requested employees working at workshops No. 1 and No. 4 of Hosiden Vietnam Company to perform concentrated medical isolation on the night of May 15. For the rest, it is necessary to strictly implement medical isolation at the place of residence; Contact the nearest health authority or the community Covid team to make an honest and detailed medical declaration and will be isolated after testing results are available.
Directors of Provincial Police, Chairman of People's Committees of districts and cities direct district-level police and commune-level People's Committees to review, make lists, exploit epidemiological factors, and strictly manage the isolation of workers. at Hosiden Vietnam Co., Ltd. is residing locally.
This is a particularly dangerous outbreak, so it is necessary to concentrate forces, organize rapid tracing, zoning, risk classification, isolation, sampling and testing.
Any agency, unit, organization or individual that is irresponsible, delays, conceals or does not cooperate in the implementation process, the relevant authorities must take immediate measures to deal with them. In case of exceeding its authority, it must be reported to the immediate superior for handling.