On the evening of 1-5, the Ministry of Health said that regarding the 2899 patient (patient) who was a young man in Ha Nam with Covid-19 after the time of concentrated isolation in Da Nang, up to now, there are 15 other people. received a positive result with SARS-CoV-2. Of these, there are 5 people with F2 (including 1 person in Hung Yen, 2 people in Hanoi, 2 people in Ha Nam), the rest is F1 (direct contact with BN2899).
15 people involved include 9 people in Ha Nam (Dao Ly commune, Ly Nhan district), 3 people in Hanoi, 2 people Hung Yen and 1 person in HCMC.
Authorities tracked 690 people under F1, of which Ha Nam: 521, Hanoi: 73, Hung Yen: 34, Ho Chi Minh City: 37, Thanh Hoa: 9, Ninh Binh: 3, Lao Cai: 1 , Hoa Binh: 1, Thai Binh: 11. All these cases are concentrated in isolation, sampling for testing.
In the case of F2 (close to F1 exposure), there were 1,890 people, all were monitored at home in isolation.
Sampling for SARS-CoV-2 – Photo: Ngo Nhung
Up to now, 2,452 samples have been tested, of which Ha Nam: 1,926 samples, Hanoi: 73, Hung Yen: 214, HCMC: 111, Thanh Hoa: 9, Ninh Binh: 3, Lao Cai, Hoa Binh each province 1 sample, and Thai Binh: 114 samples.
There were 1,569 samples with negative results, 16 positive cases (including BN2899 and 15 people involved above). 867 people are waiting for the results.
In Hung Yen, authorities took samples of the whole Hoang Xa village, Tien Tien commune, Phu Cu district – where 2 positive cases were 2 grandchildren. 785 / 1,134 have received negative results, the remaining 349 samples are waiting for the result.
Thus, related to this case, there are still nearly 1,200 people waiting for test results for SARS-CoV-2.
On May 1, the delegation of the Ministry of Health led by the director of the Department of Medical examination and treatment Luong Ngoc Khue returned to Ha Nam to inspect the implementation of the field hospital installation at Bach Mai Hospital 2 Currently, the field hospital has completed the installation of equipment and machinery, has prepared enough medicines, is ready to receive and treat Covid-19 patients right in the afternoon of 1-5.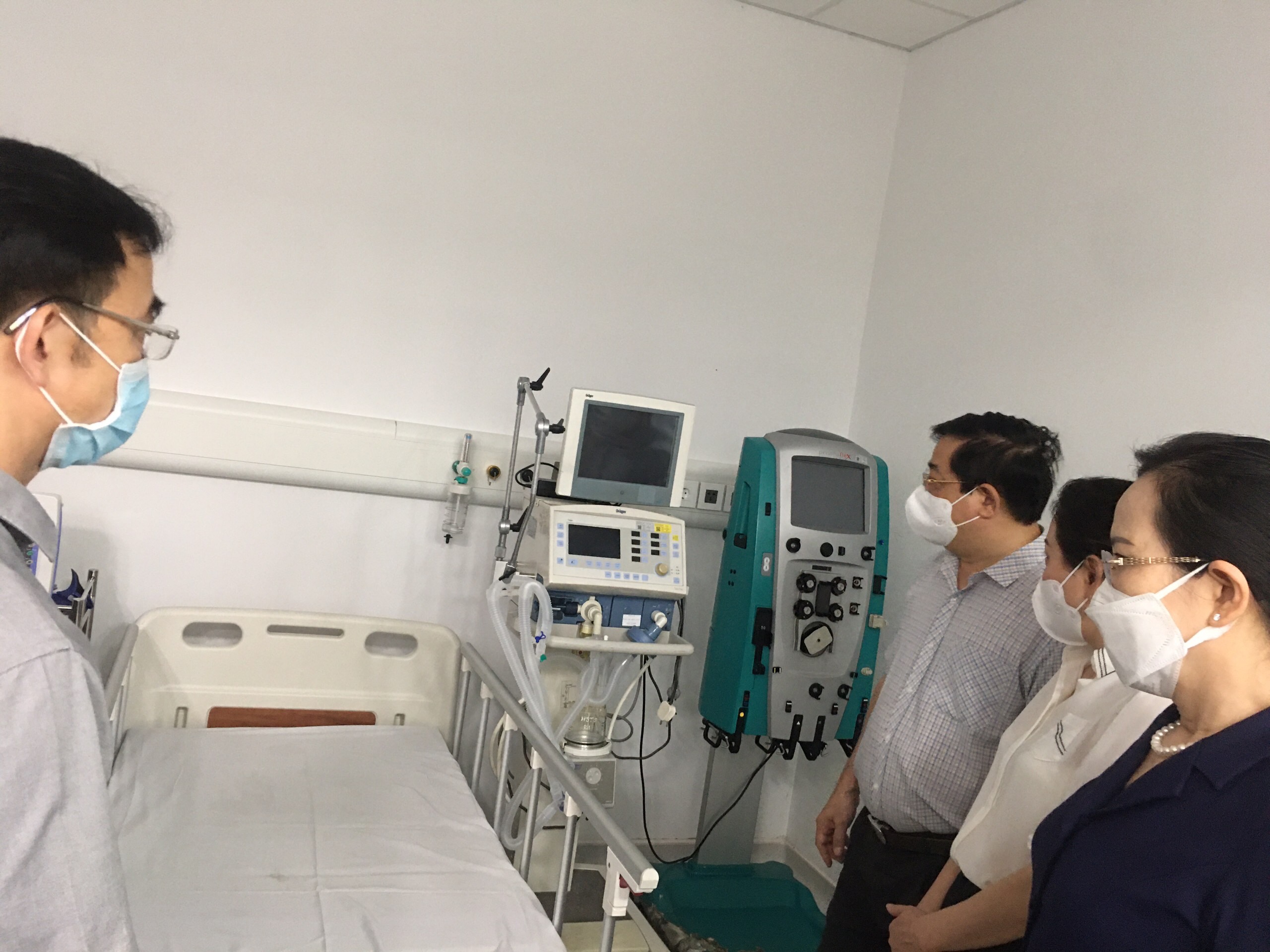 The leader of the Ministry of Health inspects the installation of the field hospital in Ha Nam
According to the plan, on the afternoon of 1-5, Ha Nam province will transfer high-risk F1 patients (the elderly, with background diseases, children …) to be treated and monitored at this field hospital. Here, the hospital has 5 teams of doctors with specialties: emergency, intensive care, infectious, cardiovascular and pediatric.
The total number of installed beds is about 300 to 500 beds, including 30 first aid beds, fully applying high technology such as: ECMO machine, ventilator … All 500 beds, machinery, equipment, the field hospital's oxygen system… was transferred from facility 1 of Bach Mai Hospital.