Musician Nguyen Van Chung has now deleted a post saying that Ms. Nguyen Phuong Hang cursed the artist "vulgar and uncultured" – Photo: FBNV
* Khanh Van supports Miss Myanmar, who lost her outfit for Miss Universe
According to the beauty site Sash Factor, Thuzar Wint Lwin – Myanmar representative – lost a suitcase in Los Angeles before going to Florida to compete for Miss Universe. The lost suitcase contained all the dresses and evening gowns prepared for the competition.
The airport searched but still no results, the beauty from Myanmar spoke up for help because there was nothing to wear in the next schedule.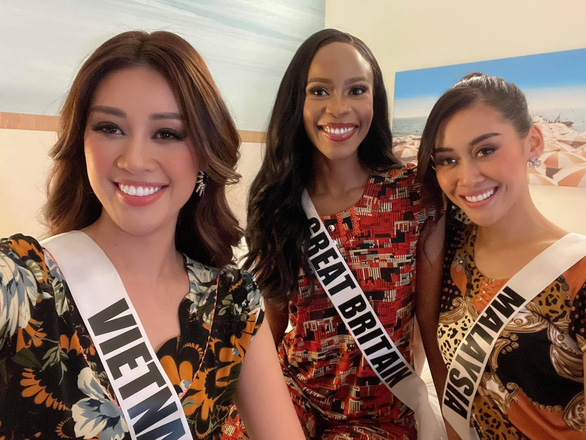 Khanh Van dressed in the clothes with Miss Anh and Malaysia – Photo: FBNV
Before this incident, Khanh Van said she was willing to support as much as possible to help the Myanmar beauty complete the contest, including clothing lending.
Currently, Khanh Van is starting to receive many positive reactions from the audience because of her positive attitude, optimistic and always gentle with everyone at Miss Universe.
The good news for Khanh Van's fans has just come to the beauty site Missosology has just released the latest rankings. Accordingly, Khanh Van increased from 21st place to top 12 at Miss Universe 2021.
Khanh Van shares about the organization to rescue, nurture and support One Body Village sexually abused children – Source: CPC
Thus, the order of candidates has changed from the original, Khanh Van increased 9 places compared to the previous rankings after only a few days. Five highly-rated temporary faces at Miss Universe 2021 come from India, Mexico, Peru, Puerto Rico and Romania.
Before that, page Sash Factor Philippines also predicted that Miss Khanh Van of Vietnam is likely to win the Miss Universe crown in the latest ranking.
* 'Girl from nowhere 2' – new Thai horror film
Movie trailer 'Girl from nowhere 2' – Source: Netflix Asia
After more than 3 years of launch since 2018, Girl from nowhere 2 has debuted to the audience. As expected, this school thriller is full of violent, gore scenes.
Nanno, starring Kitty Chicha Amatayakul, plays a key role through each episode, each with a message of different karmic and karma.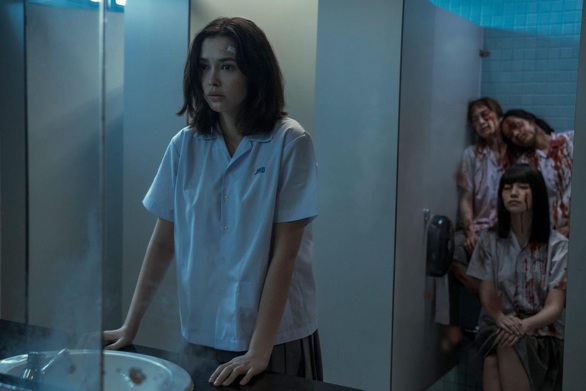 Girl from nowhere 2 still taking the main school context, focusing on exploiting different topics such as adolescent pregnancy, same-sex love, using power to cover up crime, school violence, inequality. society…
"Shocking" to the audience is not only a horror factor, but also how the film depicts the evil darks of society and within each person. However, the quality of the film is still the subject with many conflicting opinions.
Some comments that 8 episodes of season 2 have a higher level of violence and cruelty "heavy" than the first season. But there are also many opinions that the film has many irrational, reluctant and bloody factors, violence is too much abuse.
* Musician Nguyen Van Chung is upset because the artist is said 'vulgar and uncultured' on social networks
Ms. Nguyen Phuong Hang continues to attract the attention of a part of netizens when she has cursed words, calling the artists "dogs" on the livestream on May 9.
Many comments wonder what causes Ms. Hang to have such a hatred for artists. During the livestream, Ms. Hang said the reason is because the artists are "swarming, structuring, defending each other, bullying the weak" and "cornering".
Ms. Hang even asked for an appointment to "change life". Ms. Hang's "provocative" words immediately met many conflicting opinions.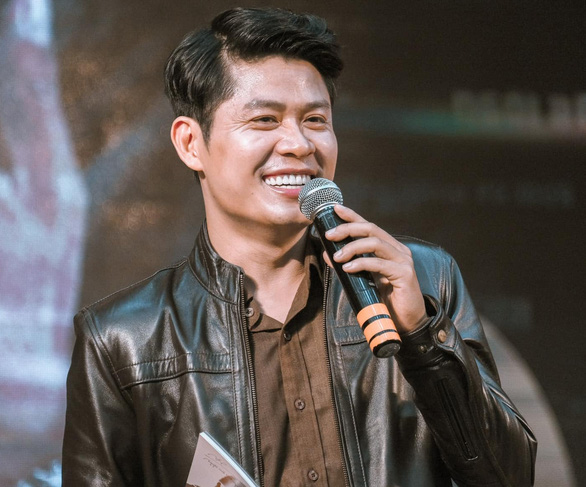 Musician Nguyen Van Chung
Musician Nguyen Van Chung urgently wrote on his personal page: "I do not understand what the stories of those two people have to do with artists, but Ms. Hang constantly curses so vulgar and uncultured. Each person, each person, and now all the artists? ".
Musician mother's diary Also expressed the view that if Ms. Nguyen Phuong Hang was deceived, go to court and work, instead of having to livestream as often as now. From there, you can spend that time taking care of family, doing business and helping others.
Immediately after the posting status line received quite a lot of supportive comments, but musician Nguyen Van Chung deleted the above post and said that vI know who is right and who is wrong will have the law to resolve.
* Launching a new song, the audience debates the end 'Sunlight reverse sunflower'
May 9, the song Sweet unfinished Best Being posted on YouTube reveals new images in the next episodes of the movie Sunflowers against the sun make curious audiences guess the ending of the movie.
More than 92,000 people viewed this song, and over 130 comments wrote on YouTube: "Hope Kien Chau comes back together, Hoang and Minh HH match well, everyone is good at martial arts", "Where will my Kien Chau go? here?"…
The song 'The sweetest unfinished' – Source: VFC
Following the previous part, in the episode 34 broadcast on May 10 on VTV3, Chau and Ngoc cooperated to call "trick" their mother to tell Uncle Quan to be sick, so that she had a chance to meet with the person who had been waiting for her so much. last year.
Meanwhile, Minh had a conversation with her mother Cami and Minh's face revealed his surprise when hearing Cami's mother say: "Hoang and I are two people but not like you think".
But the funniest is still the conversation between Ngoc and Tri: "I went to the doctor, the doctor told me that I had an iodine deficiency. I have a very bad iodine deficiency". Hearing this statement made Tri laugh happily. Did Tri understand why Ngoc was diagnosed with an iodine deficiency?

* Do An, Thai Son, Huu Thanh Tung on the final night 'Heaven gave birth to a couple'
Top 4 contestants including Thai Son, Do An, Diep Bao Ngoc and Huu Thanh Tung had a fierce competition in the semifinal of the program. God gave birth to a couple.
With the theme "Duet Gala Dinner", instead of combining with 3 familiar captains Uyen Linh, Quoc Thien, Ai Phuong, contestants have to show their chemistry with 2 guest singers, Orange and Bui Cong. Male.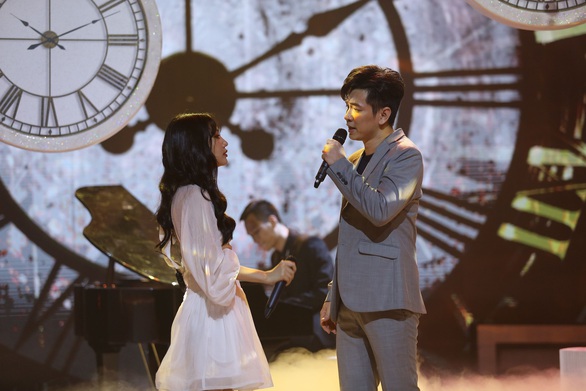 The combination of Orange and Do An through the song "The smell of cilantro" – Photo: BTC
Do An and Huu Thanh Tung combined with Orange. Do An surprises the audience with the soundtrack song The smell of cilantro. Do An showed off his advantage in high, bright notes and won the absolute score of judge Huy Tuan.
Huu Thanh Tung also removed the thorny image and familiar rock voice when mashup the soundtrack No thunderstorm day – Suddenly want to cry. Brother showcasing professional acting skills with a deep, manly voice.
Thai Son chooses the song Be self-conscious by Bui Cong Nam and performed with the author. Although the step is quite risky, but Thai Son has "renewed" it again, receiving the judges' praise.
Bui Cong Nam continued to collaborate with contestant Diep Bao Ngoc with the song Chi Pheo. Diep Bao Ngoc was "transformed" through this performance.
However, the final result Diep Bao Ngoc stopped in the semi-finals. Thai Son, Do An, Huu Thanh Tung continue to compete in the final round, which will take place on the evening of May 15 on VTV3.

* Hoa Minzy donates 100 million to her hometown Bac Ninh to prevent epidemics
Singer Hoa Minzy recently posted a photo of a receipt of VND 100 million to serve the prevention of COVID-19 epidemic in her hometown of Bac Ninh.
She said: "My Bac Ninh, Hoa Minzy would like to support 100 million to support COVID-19 prevention in Bac Ninh. I hope your grandparents and family as well as relatives in your homeland will be safe ".
Hoa Minzy's meaningful action received many compliments from the online community.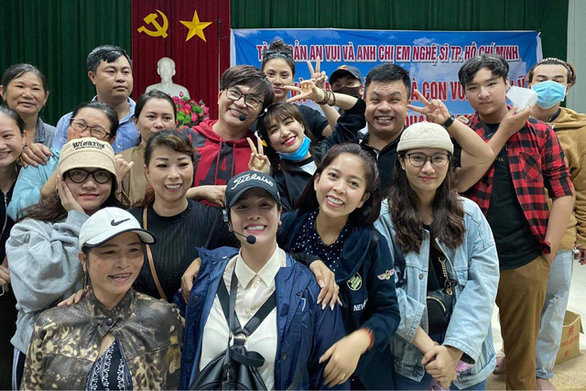 Singer Hoa Minzy with MC, actor Dai Nghia in a volunteer program – Photo: FBNV
Previously, Hoa Minzy, along with singer Duc Phuc, Erik, donated 300 million VND in cash and 3 tons of rice to the Central Committee of the Vietnam Fatherland Front, to give to the needy.
The original Bac Ninh singer also donated VND 50 million to Hai Duong during this province's social isolation in February.
.