Jay Thien Nguyen and Thao Ngoc in the excerpt "The Phantom of the Opera" – Photo: HUYNH VY
Those are the emotions that are hard to describe in words when witnessing the passion, enthusiasm and dreams of young people who love musicals in Vietnam take shape.
For many viewers, this is the first time they've seen classic musical excerpts like Les Misérables, The Phantom of the Opera, Anastasia, A Chorus Line… perform live with the orchestra.
"I can only say 'Wow'. This time, you invest on a larger scale, the program is more spectacular. I am also particularly impressed with the dedication of young artists on stage," shared La Xuan Hong.
With Jay Thien Nguyen (director, show host), two nights with conductor Tieu Nguyen Duc Anh and the IPO young orchestra made Jay's dream come true when bringing the beauty of musicals to the public. them and were enthusiastically received.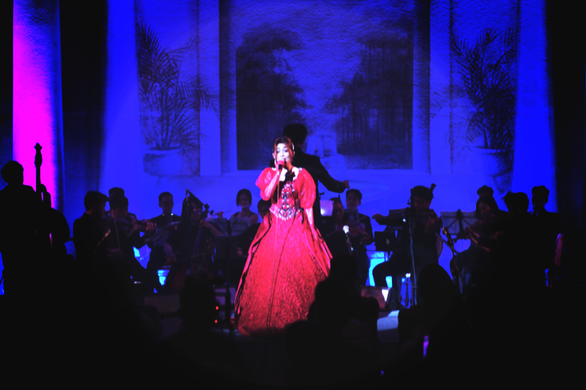 Thao Ngoc plays singer Christine Daaé in the excerpt "The Phantom of the Opera" – Photo: HUYNH VY
"We originally planned to only do one night, but you booked tickets too quickly, so we opened another night. For the second night, we gave priority to a third of the seats for students and sold out." .
That is a great motivation for Jay to be more confident in the path he has chosen, when he changed from an adventurous office worker to pursue his passion for musicals. At the end of this year, Jay will return home after graduating with a master's degree in musical studies from Temple University (USA) to continue musical projects in Vietnam.
Not only Jay, but also a group of talented young artists such as Au Bao Ngan, The Huy, Thao Ngoc, My Kim, Haylie Hoang, Quynh Anh, Thu Ha, The Du … were in tears when greeting the audience. More than a month of hard work training and learning from each other, you guys have made unforgettable memories.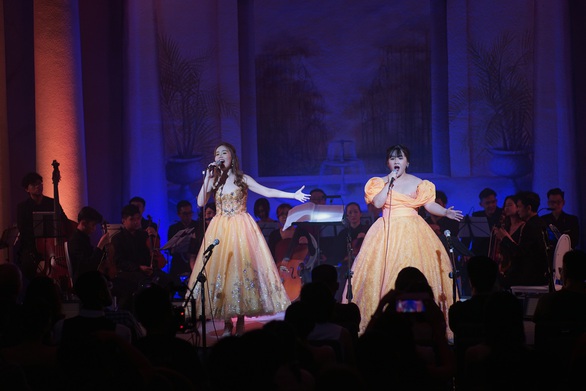 The costumes of the artists are also the graduation projects of the fashion design students of the University of Architecture – Photo: HUYNH VY
Those are the times when they are rehearsing, some of them burst into tears when they see that they are all around the same soul and are supporting each other to best perform the musical excerpts that each person wishes to be transformed once. loyal.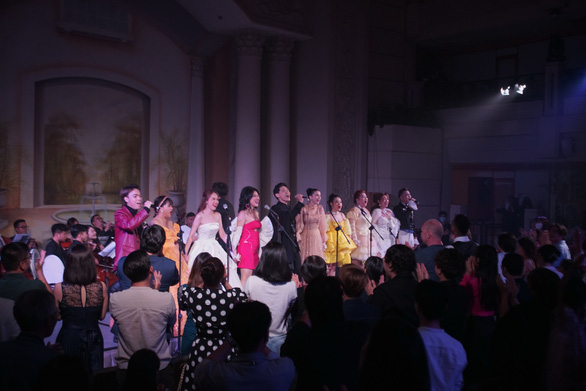 The audience stood up to cheer and mingle with young artists in the night of the Imagination concert – Photo: HUYNH VY
More than a show or sublimation on stage, connecting more hands to help in the journey to bring academic art to the public, finding and bonding among young artists with the same passion is an experience. precious that you all cherish.
.