Miu Le and Karik recreated the MV image in the press conference, the singer said the feeling was difficult to describe when wearing a wedding dress by themselves in the middle of a crowd – Photo: TRAN MOC
MV Because my mother broke up with me The convergence of 4 "heavy" names including: Karik, Miu Le, Chau Dang Khoa and director Dinh Ha Uyen Thu just debuted on the evening of June 13.
During the premiere, Miu Le and Karik recreated a scene in the MV by Miu Le wearing a black wedding dress and walking towards the stands. This image received loud applause from everyone.
Talking about the transformation in the new product, Miu Le said: "Artists cannot stay in one place forever. They have to exercise, have to try one after the other to find new sides of themselves.
Miu has been working for more than 10 years now, has also sung a lot of painful and painful ballads, so this time Miu thinks she is a little less painful, a little stronger to see the audience will accept the colors. How is this mine?"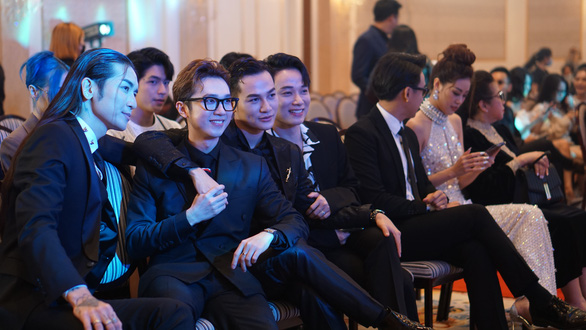 Many artists attended the premiere of the MV marking the return of Miu Le – Photo: TRAN MOC
Commenting on the new product, Truc Nhan said that this is really Miu Le: "I have never seen Miu Le clearly show her portrait through previous products. I watched Miu through a lot of cinematic works, the eyes, the flick of the hair made me very impressed.
It wasn't until this product that Miu clearly showed those things. This is what I've been really waiting for. Miu has stepped out of her comfort zone and conquered herself."
No more painful ballads, sadness in Because my mother broke up with me is the sadness of anger and frustration because of excuses coming from the person you love.
MV Because my mother forced me to break up – Source: MIU LE
The song was composed by Chau Dang Khoa exclusively for Miu Le as a 'compensation'. 4 years ago, before the hit Hey stranger introduced to the audience, Miu Le was the first to hear. She loved it so much that she was willing to spend money to collect it.
But then the musician broke his appointment with Miu Le. After that, he was always thinking about how to make up for the voice If only she never appeared.
Whereby, Because my mother broke up with me is a dialogue with a "cà khà" part of two people who used to love each other. The boy, for his irresponsibility, gave reasons such as focusing on his career, fearing the feeling of being in a long-distance relationship, and "ending it off" with his mother forcing him to break up.
Talking about the inspiration for composing, the musician said that the song was written in just one day after recalling the pressing feelings of being abandoned by the lover for unacceptable reasons.
Trendy lines like "You're good but I'm sorry. Because my mother told me to break up"; or "It's not necessary to wish me happiness, but remember to attend your wedding day", combined with the magical colors from the image to Miu Le's eyes, making viewers both excited and nod. for touching the right heart.
Because my mother broke up with me at the same time is the product marking the official cooperation between Karik and Miu Le. Previously, even though they played together and acted in the same MV, the two artists still hadn't really collaborated together. As soon as Chau Dang Khoa said he needed a male rap voice, the first and only name that Miu Le came up with was Karik.
.