Miss Hung Giang My Temple is the judge of "Miss Entrepreneur Universe 2022" – Photo: HOI PHUONG
On the afternoon of May 18, in Ho Chi Minh City, the organizers Miss Universe Business 2022 (Ms Universe Business) Announcement of contest and jury information.
Miss Entrepreneur Universe for candidates from 20 years of age or older, who are running businesses in Vietnam or abroad, have the ability to perform, behave and love volunteer activities.
This year, the contest was held in Thailand to connect exchanges and trade with businesses of the two countries; at the same time, visit and help the Vietnamese community in difficulties abroad.
The semi-finals are expected to take place on July 20 and the final round on July 21, at Aksra Theater, Bangkok, Thailand. In addition, Vietnamese and Thai businesses will coordinate to organize an auction to raise funds for charity.
The jury includes: Miss Giang My, Miss Chau Ngoc Bich, Miss Asia Omnipotent Entrepreneur 2021 Hoang Thanh Binh… especially with the presence of Miss Universe Thailand 2010 Fonthip Watcharatrakul and Thai singer. Lan Tanont Chumreon on the hot seat.
"The criteria of the beauty pageant for business people are very different from other contests, the age is wide open, there are no restrictions on height and weight. The most important thing for me is that the contestants have the energy that shines on stage, confidence, and contribution to the community and society. This is one of the criteria I set for the entrepreneur contest" – Miss Giang My, also an entrepreneur multiply, share.
Designer Tuan Hai is in charge of designing Ao Dai costumes for the contestants. He said that Thailand has a typical color of gold, with popular motifs of lotus and dragon, so he will design it in harmony, showing the cultural exchange between Vietnam and Thailand on the island. dress.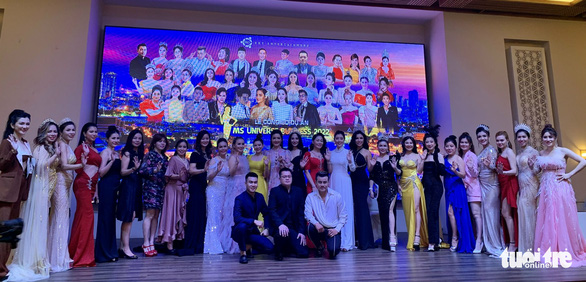 The jury and the organizers at the contest announcement – Photo: HOI PHUONG
According to the organizers, the contestant who wins the highest position will receive a total prize of more than 2.5 billion VND and a crown.
Singer Thu Trang – general director of HTK Entertaiment, general director of the program – said This year, the organizers connected 5 Vietnamese businessmen in Thailand to participate in this contest.
.