Doctor – Doctor Nguyen Trung Nguyen, Director of the Poison Control Center, Bach Mai Hospital (Hanoi), on October 9, said the center has received emergency care of 2 poisoned patients. mouse poison new generation.
The first case is a 39-year-old male patient residing in Hanoi. Patients with suicidal intentions should have taken 4 Storm mouse pills. The patient was admitted to the hospital in a state of gagging, still awake, not convulsing. It is known that this patient has a history of psychosis.
The second case is a 59-year-old male patient residing in Hung Yen. The patient reported that he took 6 packs of powdered powder but mistakenly thought the powder was cereal. The patient was transferred to the Poison Control Center on day 3 after receiving treatment at the lower level. Upon admission, the patient was in very serious condition, had a blood clotting disorder and continued to be given an antidote.
Male patient mistakenly drinks rat poison at Bach Mai Hospital
According to Dr. Nguyen, in recent years, the Center received many emergency cases of patients with poisoning with a new generation of rat poison. If the old generation of rat killers cause shock or convulsions, the new drugs cause bleeding. These toxic substances happen silently and in the first 3 days, the signs are completely normal, but after this point appear signs of bleeding in teeth, nose, skin, digestion …
"There are patients who drink due to suicidal reasons early discovered by their families, so their prognosis is good. Besides, there are patients who are afraid not to speak; mix with food, drink, direct skin contact. leading to poisoning without knowing it. Only when bleeding, falling … can hospital or doctors mistake for other diseases "- Dr. Nguyen information.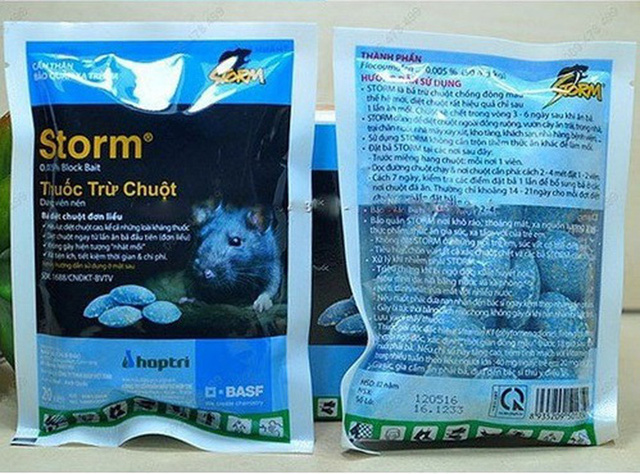 Anti-rat products sold on the market – Photo: B. Tan
Doctors recommend that, when detecting that someone has ingested rat poison, it is necessary to bring the patient immediately to the nearest medical facility. People around should bring pills or pill packs to quickly identify the wrong medication. It is best to go to the medical facility before 6 o'clock, then doctors can use detoxification measures such as: gastric lavage, using activated carbon to eliminate drugs … to limit the risk muscle poisoning and death for the patient.