Movies in Love, Death + Robots season 3 test new and interesting storylines – Photo: Synthesis from IMDb
In an article published on the film website No Film School 12 years ago, Mike Jones said that short films have gone into decline because they have no effective business model, no audience and no market. other than short film festivals.
Instead, he suggested that directors should focus on web-series (aka web-drama) to attract a large audience to watch and develop the plot.
Global craze for unique ideas
Responding to Mike Jones' comments, 2019 short series Love, Death + Robots was born and quickly attracted a large audience.
Season 2 in 2021 and the recently released season 3 both achieved outstanding viewership ratings. According to statistics from Parrot Analytics, the demand to see Love, Death + Robots season 3 is 15 times higher than the average demand for TV series, in the US market alone.
This series proves the vitality of short films: not merely as a means to enter the professional cinema path of young filmmakers, but as a suitable place to express unique ideas. David Fincher's leadership as producer shows the series' ambition to bring interesting stories to audiences.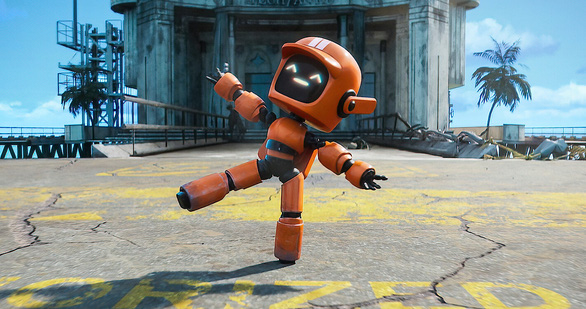 Scenes from the movie Three Robots: Exit Strategies – Photo: IMDb
Season 3 features 9 animated episodes lasting from 7 to 21 minutes, each with a different story. Three Robots: Exit Strategies tells the story of three cyborgs who explore the post-apocalyptic world and laugh at humanity's last foolish moments.
Kill Team Kill depicts a platoon's fight with a bear that has been weaponized by the government. In addition to featuring gore, violence, and death, several episodes discuss aspects of moral philosophy.
Bad Travelingdirected by David Fincher himself, is an expanded and more dramatic version of the thought experiment Trolley Problem (rough translation: Cargo ship problem). This experiment presents a dilemma: suppose a freight car loses its brakes.
There are 5 people tied up on the main railway track and 1 person standing on the fork. What should the train driver do? Let the car go straight and 5 people will be killed, or pull the lever to reduce casualties to 1 person? Any answer will be entangled with ethical standards.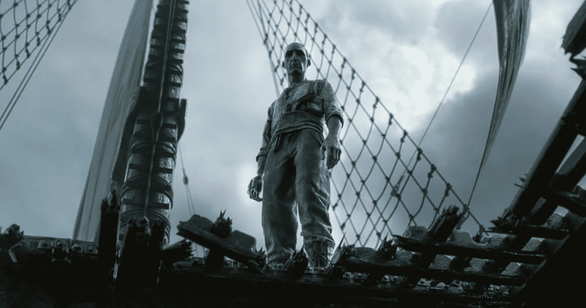 Scenes from the movie Bad Traveling – Photo: IMDb
Similar, Bad Traveling Create a situation for a group of fishermen who are faced with a giant crustacean monster: will they transport it to a remote uninhabited island, or do as the monster says – to a nearby island to fight? cup the inhabitants and spare the crew's lives?
The film also sets up a dual situation when giving the captain a weapon to kill and decide the life of the crew according to the decision they choose.
The episode director cleverly incorporated an old philosophical discussion into a fictional setting. He solves this dilemma in a very personal, cinematic action.
Enchanted Jibaro
Like the previous seasons, not all episodes have the same quality, if not some short films are quite bad, do not give specific ideas and lack of emphasis.
However, season 3 of Love, Death + Robots introduced to the audience one of the best short films in a total of 35 episodes of 3 seasons – Jibaro.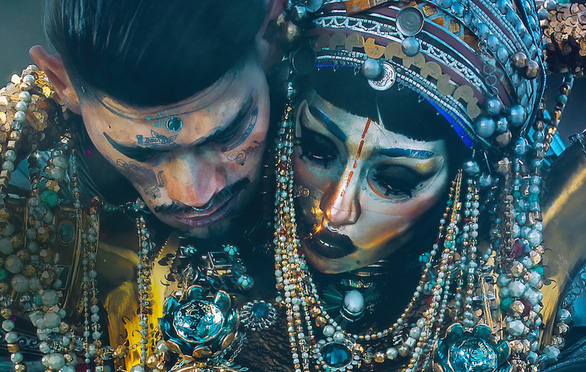 Scenes from the movie Jibaro – Photo: IMDb
The work of director Alberto Mielgo is different from all the rest. Jibaro enough to haunt viewers with a well-rounded script, even though the movie doesn't have any lines.
The story of the film is about an army killed by the screams of the goddess who rules the sacred lake in the middle of the forest. A deaf knight escaped, and when he knew he was not affected by the scream, he took advantage of that to win the affection of the goddess, taking all the gold, silver, and jewels that covered her body.
The episodes of betrayal, revenge, and death took place in just 17 minutes, and distorted images and sounds forced viewers' minds. "I've never seen anything like it. I've never been so enchanted." – David Fincher on the Jibaro episode.
Space and challenges of short films
Contrary to Mike Jones' predictions about the apocalypse of short films, the strong growth of streaming services such as Netflix, Apple TV+, and Hulu has led to a new class of audiences willing to pay to watch movies. Watch movies that are only about 10 minutes long.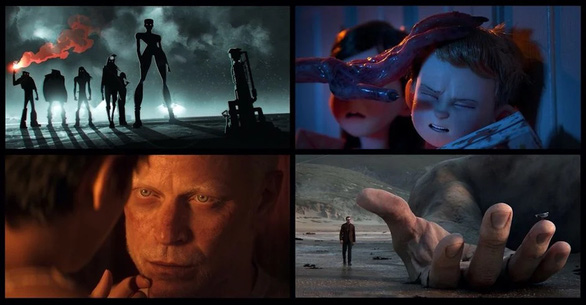 The short film market still has a lot of room for development, but the game is no longer easy. In the past, short films were often seen as the first touch of film students and young directors.
However, the involvement of professional filmmakers in recent times has both raised the bar but also made the genre bring many new challenges.
To be successful with a short film, an interesting plot is not enough, but the form of expression also plays an important and elaborate role.
Season 3 production team of Love, Death + Robots up to 1,300 people, episode Bad Traveling it takes up to 18 months of work. Jibaro requires few people to participate in production, but "few" here falls into about 80 people.
The above requires young directors with small resources to be more serious and strategize if they want to pursue the short film path.
David Fincher has directed such famous films as House of Cards, Mank, Fight Club, Gone Girl…
In 2019, talking about the decision to discontinue the Mindhunter series of serial killers in public regret, the American filmmaker said he wanted to spend time experimenting with new scripts. Love, Death + Robots part of David Fincher's series of reinvention efforts.
.