Mr. Gerhard Parzutka Von Lipinski (centre) – President of Miss Supranational – attended the announcement of the Miss Supranational Vietnam 2022 contest
On the afternoon of May 17, the contest Miss Supranational Vietnam 2022 (Miss Supranational Vietnam) kicked off in Ho Chi Minh City, and announced the new points of this year's contest.
Competition Miss Supranational Vietnam 2022 by Leading Media (the copyright holder Miss Supranational Vietnam) cooperated with Unimedia to organize to find beautiful people to take the exam Miss Supranational.
Mr. Tran Viet Bao Hoang – co-head of the organizing committee Miss Supranational Vietnam – said the first time Miss Supranational Vietnam There is a reality TV program, whereby the organizers focus on the training and training process to help the candidates improve.
The preliminary round will take place from May to October 2022 and the semi-finals and finals are expected to take place in November and December 2022. The contest will have companion activities in many provinces and cities across the country such as Ho Chi Minh City, Bao Loc, Da Lat (Lam Dong), Nha Trang (Khanh Hoa)…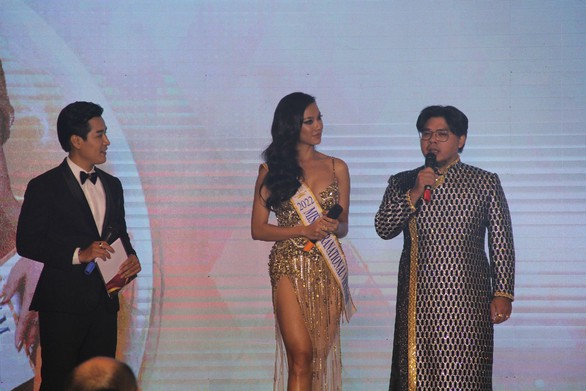 Designer Le Long Dung (right) shares national costume ideas for Kim Duyen
On this occasion, the organizers announced costume ideas for Kim Duyen to attend Miss Supranational 2022 next July 2022 in Poland.
Designer Le Thanh Hoa will design evening gowns for the semi-finals and finals. Previously, Le Thanh Hoa used to design evening dresses for Kim Duyen Miss Universe 2021. Designer Le Long Dung will design the national costume.
Le Long Dung shared: "The contest Miss Supranational have a predestined relationship with Dung. This is the third time Dung has designed a national costume for the Vietnamese representative to compete at this international beauty arena.
After 7 years of returning, Dung himself was under a lot of pressure because there were many changes in criteria and expression. However, Dung will put all his heart into this design so that Kim Duyen shines."
The designer "reveals" the idea of ​​​​the national costume for Kim Duyen inspired by the image of a boat in the West of the river. "The image of the boat symbolizes solidarity. Through this, Dung wants to convey his dream and ambition to reach out to the big sea, towards a higher purpose" – Le Long Dung emphasized.
Le Long Dung once designed the national costume for Ngoc Chau at Miss Supranational 2019 and supermodel Kha Trang Thi Miss Supranational 2016. In which, Kha Trang won the award for the best national costume with the design Golden Lotus. This is also the first time Vietnam has won this award at Miss Supranational.
Besides Ngoc Chau, Kha Trang; supermodel Minh Tu, runner-up Nguyen Dinh Khanh Phuong, Le Quyen… also represented Vietnam in contests Miss Supranational.
.