Runner-up Phuong Anh on the afternoon of June 13 – Photo: BTC
Accordingly, the representative of Vietnam participated in the contest Miss International 2022 1st runner-up in a contest Miss Vietnam 2020 Pham Ngoc Phuong Anh.
Attend and give sash to the incumbent Phuong Anh Miss International 2019 Sireethorn Leearamwat and Mr. Stephan Diaz – communications director Miss International.
Phuong Anh expressed her joy at being given the opportunity to participate in the contest Miss International The 60th will take place in December 2022 in Yokohama city, Japan.
Designing national and evening costumes for Phuong Anh at this competition are designers Le Long Dung, Than Nguyen An Kha and Le Thanh Hoa.
Designers Le Long Dung and Than Nguyen An Kha undertake the design of national costumes on the background of ao dai. I share with Youth Online: "The image of the Temple of Literature – Quoc Tu Giam is the place where the soldiers of the past sent their dreams of taking exams, but most of them were only men.
Dung was very surprised when he saw the history, knowing there was a poinsettia. Based on that spirit combined with poinsettia flowers, Dung performed a national costume with the theme of poinsettia flowers.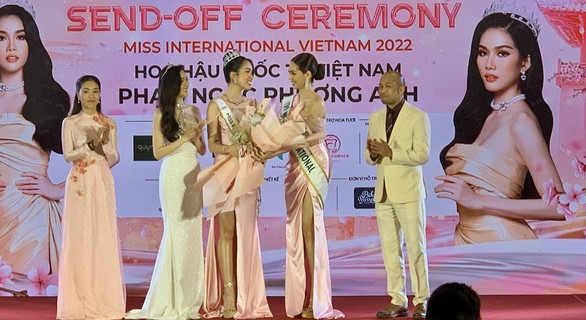 Giving sash (bandage) to runner-up Phuong Anh – Photo: HOI PHUONG
It is estimated that the cost of making this national costume is more than 500 million VND, in a period of 5 months.
Many people think that the cost of making the national costume is expensive, designer Le Long Dung explained: "This is the contribution of Dung, An Kha and the entire company staff to put in the costume for the costume. the student took the exam (ie Phuong Anh – PV).
This number does not speak of material value but will have more meaning and spiritual value. When we create, the product is priceless and even more precious."
The costume uses the main material is brocade and the main color is the red of the poinsettia flower.
Designer Le Thanh Hoa is in charge of designing evening dresses for Phuong Anh. He used to design and accompany many representatives of Vietnam to go to international competitions, contributing to helping candidates gain confidence, shine, and show the image of a modern, civilized and intellectual Vietnamese woman.
"Hoa's design criterion is that the outfit must be in line with world fashion trends, bring modern beauty, so that the representative of Vietnam stands out among a group of contestants but still very Vietnamese. help students shine.
In addition, the design must bring cultural elements, the harmony of Vietnam and Japan. Especially, make sure that the criteria for this contest's costumes are elegant, not sexy, showing the traditions of Asian women" – Le Thanh Hoa said. Youth Online.
Le Thanh Hoa is expected to make 2 evening gowns in white and light pink inspired by the typical Japanese snow and cherry blossoms.
.