Opening song of the show We are breathing, by Le Cat Trong Ly in Hanoi – Video: MAI TRADE
Time moves gradually towards the end of the year with the expectation to close in a volatile period. Diseases, natural disasters, and things that make people afraid, have no peace of mind.
In the midst of these disturbances, Ly's music is like a soothing, like a stream of coolness and clarity to heal, to energize people to continue to live beautiful and grateful for seeing themselves alive.
Concert We are breathing Li's is divided into two parts. In both of those parts, we do not see the old Li again.
Instead, a Le Cat Trong Ly with a new look, and new, creative music. Still the voice is clear, the soft sound makes the listener softer and less messy, but the music is more dramatic and more elusive than before.
Le Cat Trong Ly performed with the quartet – Video: MAI THUONG
No longer a 'precarious' girl with the concerns 'no one told me yet' is full of dreams, simple, Ly's music is more philosophical, more meditative and the existential concerns that make listeners. try hard to grasp according to the layers of meaning.
In part 1 is a simple Le Cat Trong Ly, taking music as a tribute. The gentle lyrics come from a passion to love and be loved, live and live, most fully in the present, but also most anxious in the present. "When we hug each other, without a couple, keep silent and say nothing. I feel hopeful, even though I know I have to worry." good "Don't love like playing games with losers".
Le Cat Trong Ly performed with the quartet – Photo: MAI THUONG
The 3 songs in part 1 are 3 lines of narrative with questions, concerns and self-answers about love, questions of the lover, comforting yourself after the loss when someone is in love. suddenly feel empty when the lover is gone.
That it is insecure even when we are by our side, that our pains are over, that it takes a lot of strength to let down the fragments. The opening is therefore like a game to confide in the audience through the guitar and harp.
Part 2 is more academic music with the cello quartet along with strange songs written by Li from Mongolian and African inspiration.
Strangely speaking is because, listeners somewhat do not understand what Ly sings, and even the notes are more fussy about the listener, but still has some charm that makes the listener mellow or sway to the music.
That "something" comes from the part of the sound that has the power to create an image, but as Li said that music can show us new vibrations, different kinds of sensations, not just from hearing. but also imagine the scene in front of you.
The "something" also comes from Ly's existential concerns in the song Buy Ibala But then people will also meet somewhere in life, because those are human questions, very human concerns: Are we really living? Do we regret anything?
Theme song of the concert – Video: MAI TRADE
Following the concert are songs with music written by artist Nguyen Thanh Tu and lyrics set by Ly.
The works in this section bring listeners to the melodious folk music, the sound changes from low to high note jumps to cello dancing or spontaneous violin sprints. of 4 artists in the quartet.
The music structure is complicated and confusing with the lyrical and "painful" lyrics – in Ly's words making the concert look academic, out of the reach of the masses but still makes it difficult for people to get out. is the joy of music that Li brings.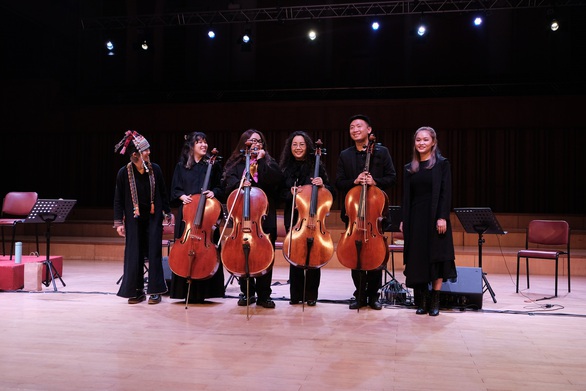 Concert 'We are breathing' by Le Cat Trong Ly as a consolation with deep philosophies through the clear sound coming from a soul that is always passionate about everything.
And Ly did not sing like he did in the past as he said. She joked that now people who go to karaoke don't play her music anymore.
A new Ly, always transforming and never once intended to stop on the journey of renewing himself in music to create innocent Le Cat Trong Ly, but people have to follow them to understand.
.