New Suzuki Ciaz 2020 has just launched the Vietnamese auto market through a fairly private event in Ho Chi Minh City. The car has a listed price of 529 million dong, but currently, many dealers are offering for sale for 499 million dong.
Level price of Suzuki Ciaz 2020 currently only equivalent to the selling price of the 2019 version. In terms of appearance, the Suzuki's Ciaz 2020 upgraded with a more polished look, with more LED daytime positioning lights, lights changed to LED projector.
Just launched, the upgraded version of Suzuki Ciaz has an adjusted price below 500 million VND.
The 9-inch Android screen is the most noticeable change in the Ciaz 2020's interior, combined with the front and rear dash cam. Although the seats are spacious, the rear seat headrests cannot be adjusted, there is no air-conditioning door for the second row.
Bringing in its model new electronic devices, the Suzuki Ciaz lags behind the competition in safety features. The car has only two front airbags while the highest Vios has 7 airbags, with no electronic balance feature – equipment is gradually popular in the segment.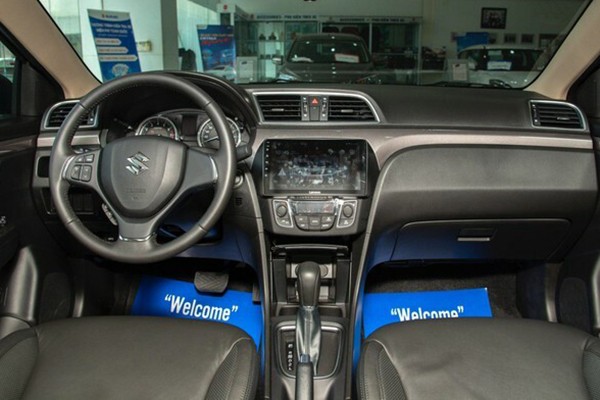 Well equipped, spacious space is probably not enough for Ciaz to make a surge in sales in the Vietnamese market.
The B-size sedan is a vibrant segment in Vietnam, where Toyota Vios constantly holds the top. Hyundai Accent is persistent and these two models are regularly in the top best-selling cars. Honda City is also "formidable" when it overthrew Vios in June 2020 and a new version is coming.
Well equipped, spacious space is probably not enough for Ciaz to make a surge in sales. The problem is that Suzuki's policy and sales system are not as strong as the competition. This Japanese brand is also involved in controversy related to the supply of vehicles and spare parts for replacement and repair.
.