The role of Ruth Langmore in the Ozark series became the launching pad for Julia Garner's acting talent – Photo: IMDb
Blue eyes, curly hair and face with many highlights, Julia Garner can completely become a charming actress in "blockbuster" movies. In contrast, the 28-year-old girl chose a thorny and daring path when playing unpleasant roles with a charming smile.
Julia's Inner Stone
Like David with the pebbles, Julia Garner owns a psychological thickness and diverse facial expressions. The actress has a university degree in psychology. As for acting, she learned it when she was a teenager while watching All about Eve at the age of 9, fell in love with Rosemary's Baby at the age of 11 and lay in bed enjoying Taxi Driver when he got his own computer in year 12.
Little girl Julia started her film career at the age of 17 with the movie Martha Marcy May Marlene – a work of horror with mysterious cults and rituals.
The independent film had a budget of only $600,000 but grossed $5.4 million. It seems that Julia's first encounter with cinema with a horror film led her to dramatic, horror works.
The young actress's commitment to a series of low-budget independent films gave her the opportunity to try out different roles and enrich her expressive range.
"Julia is an elusive blend of Jean Harlow, Marlene Dietrich, Marilyn Monroe, and like these women, she has her own unique look," writes Amanda Fortini in The Gentle Woman. .
Julia Garner doesn't stick with indie films forever, her adventures in the long-running TV series Ozark have established her as a leading star of a new generation.
Ozark tells about the money laundering activities of financier Marty Byrde and his wife – Wendy – for a drug cartel. To implement the plan, they took the whole family to the Lake of Ozark (Missouri state, USA) to buy back disorganized businesses and restructure them.
The film is a confrontation – cooperation – dispute that takes place continuously like a bottomless vortex between the Byrde family and local forces, gangs, and oligarchs.
Over 44 episodes, Ozark creating a system of supporting characters with different personalities and plots to try and compete for power. The most important supporting character, Ruth Langmore, was assigned to Julia Garner (then 23 years old).
Ruth represents the Langmore family, a family with a criminal tradition with 5 generations of no one acquitted. Even in a countryside like Ozark, rife with drug dealers, prostitutes, and thieves, the Langmores were still at the bottom of the pack.
Ruth's quick thinking ability was noticed by Marty Byrde and he gradually led her into the path of money laundering and financial chain management.
Julia's role requires an inner complexity that goes beyond ordinary experiences. She has to play the most cunning character of the Langmore family, manipulating family members. However, Julia also has to exude in the character the desire to be pure, living a happy life hidden behind a thorny shell.
Ruth had a sly exterior, a financier mind, and a sensibility in her twenties. How to combine the murderer of his blood and the little girl who just wants to be pampered by her father in the same person?
It's all an acting burden for Julia Garner. In real life, the actress is a cheerful, gentle and warm person.
She completed the role well and pushed the character to the next level with scenes of psychological contradictions placed side by side, between the aggressive, swearing Ruth girl and an emotional Ruth.
The actress overcame these difficulties even when the filming schedule lasted up to 16 hours a day and got into the character's inner self for four seasons.
Immerse yourself in the role
Her dedication to acting is also worth learning for young actors. Julia Garner writes in a diary every day as Ruth.
"I journal like most people, except I write in my character. It's like, 'Dear Diary, I'm really disappointed in Marty today because he didn't give me $10,000.' "or anything like that" – Julia Garner shared in an interview.
She established a close family relationship with the actors playing the Langmores for added bonding. Julia's insight into the role enabled her to quickly transition into character and live in the world of Ozark, to the point where the actress once admitted she could play Ruth "for the rest of her life. me".
Joining Ozark was the breakthrough in Julia Garner's artistic career. As the series entered its final phase, she appeared again in the television series Inventing Anna, this time with Julia in the lead role.
The film is based on a true story that narrates the tricks of Anna Sorokin – a young girl who lied about a huge inheritance and deceived financial experts, artists, fashion and the New York elite. .
Inventing Anna has not really excellent development and plot, the series itself is also subject to mixed reviews from analysts. However, Julia Garner's acting still became a bright spot and was recognized by experts.
Wanting to capture the character, Julia Garner repeatedly visited Anna Sorokin's cell at the Albion correctional facility. At the end of the visit, with keen observation, Julia has become an "expert" on Anna's behavior, able to understand exactly the actions of the character she needs to play.
Most recently, the 28-year-old actor was cast as the singer Madonna in the biopic. It was Madonna who selected Julia through auditions. The extravagant and monstrous nature of female artist Madonna is a big challenge for Julia Garner.
She is facing an open future in the world of cinema. Julia Garner's character sensibility and hard work honing her acting skills could lead her to major awards in the years to come and inspire a new generation of actors.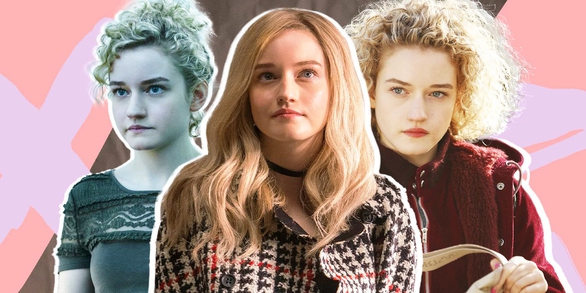 Julia's roles always require complexity and intense inner conflict – Photo: GETTY IMAGES
Series Ozark It began airing in 2017 and quickly became the hottest online show that summer with nearly 17 million views, according to data analytics site Parrot Annalytics. The film just ended its ending at the end of April.
The series brought Julia Garner two consecutive Emmy Awards in the category of Best Supporting Actor in a Drama Series in 2019 and 2020.
.