Train software to develop nutritionally balanced menus
On 2-4 days, in Hanoi, the Ministry of Health and Ajinomoto Vietnam Company cooperated to organize the Conference on Software Training Deployment "Develop a nutritionally balanced menu for pregnant women, mothers for Breastfeeding and children from 7 months to 60 months old "(at website: https://dinhduongmevabe.com.vn). The training conference was attended by TS. Tran Dang Khoa – Deputy Director, Department of Maternal and Child Health, Prof. Dr. Le Danh Tuyen – Director of National Institute of Nutrition; representatives of the Hanoi Department of Health and the Center for Disease Control in Hanoi and leaders of many central and provincial hospitals under the obstetrics / nutrition specialties …
More than 90 medical leaders and staff attended the training on menu development software for mothers and babies co-organized by the Ministry of Health and Ajinomoto Company.
According to TS. Tran Dang Khoa – Deputy Director, Department of Maternal and Child Health (Ministry of Health), as of early April 2021, Department of Maternal and Child Health and Ajinomoto Vietnam Company have trained for nearly 630 Medical staff in the national and provincial network of maternal and child nutrition care in 63 provinces / cities nationwide are proficient in software either online or in person. These will be the nuclei to help deploy the software widely to local medical facilities, from there, the software will be introduced by medical staff at medical facilities with obstetrics / specialty departments. Pregnant women, nursing mothers and caregivers of children under 5 years old and spread to the community, contributing to the health care for mothers and children in Vietnam.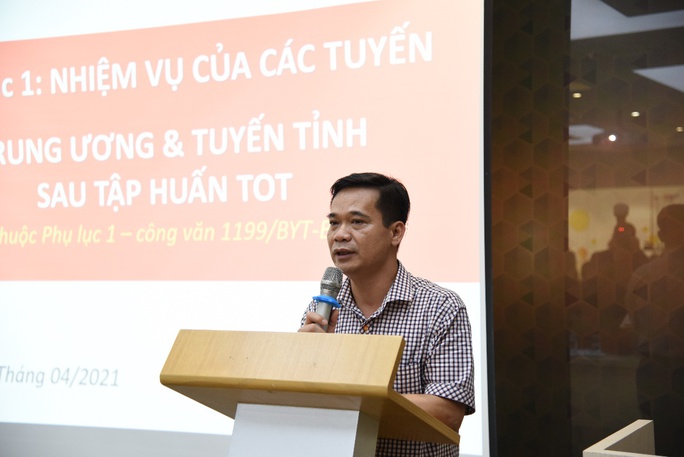 TS. Tran Dang Khoa – Deputy Director, Department of Maternal and Child Health – shared at the event
Mr. Tran Dang Khoa also added that, according to the "National Strategy on nutrition for the period 2011-2020 and vision to 2030", improving the nutritional status of women and children is an important goal to contribute to improving the stature, physical strength and wisdom of the Vietnamese people. In recent years, the Ministry of Health has been implementing many programs such as: Breastfeeding; prevention and control of malnutrition for children under 5 years old; Nutrition project for the first 1,000 days of life; The School Milk Program … The programs are recognized with many achievements in improving the nutritional status in Vietnam: significantly reducing the rate of child malnutrition, ensuring the quantity and quality of meals. of the population, successfully implementing the millennium goal on reducing the rate of weight-for-age malnutrition in children earlier than planned.
Bank menus for mothers and children
At the training session, more than 90 leaders and medical staff attended were shared details about the software by technical staff of Ajinomoto Vietnam Company, instructed the operation of each function of the software and were experience the practice of registering and using the software right at the training class. At the same time, in order to help health workers better understand the nutritionally balanced menu that has been built and integrated into the software, health workers can also explore and taste the diet directly. 1-day nutritional balance for pregnant / lactating women.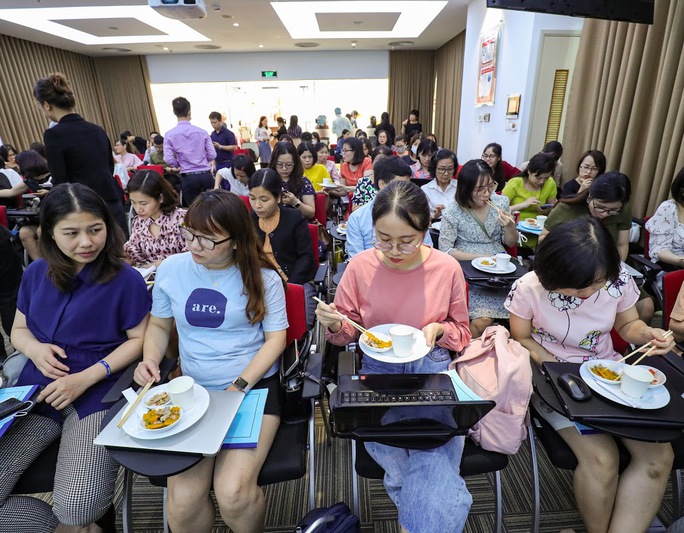 Health workers discover and taste first-hand the nutritionally balanced 1-day diet of pregnant women / nursing mothers
Sharing at the training session, Mr. Nguyen Van Trung – Director of Ajnomoto Vietnam – said that all software menus were developed according to a methodical process for nearly 3 years. All software menus have been researched and developed according to a well-established process, starting from studying culinary habits, determining nutritional standards, and nutritional data of popular foods. develop menus, calculate nutrition, guide processing, experiment and complete menus, as well as have many features suitable to the health status of mothers and children.
Software and other nutrition and health care contents are provided completely free of charge at website https://dinhduongmevabe.com.vn. Users only need to sign up for an account to use full functions.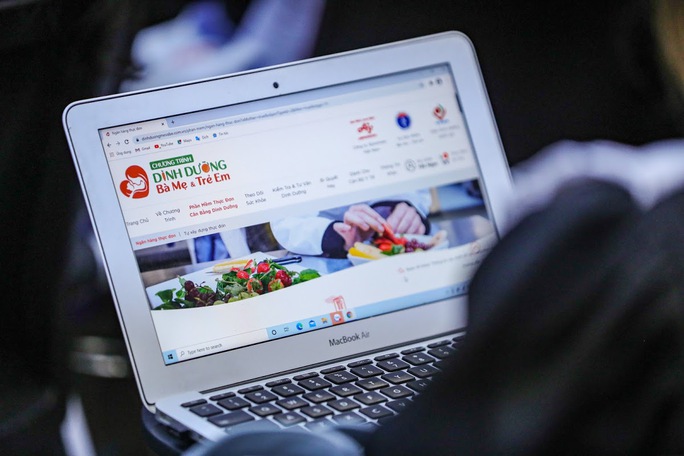 User-friendly, modern design software can be easily used even on computer devices and phones
Previously, in order to contribute to the joint effort to improve the nutritional status of mothers and children, from May 2018, Ajinomoto Vietnam Company cooperated with the Department of Maternal and Child Health and the Institute of Nutrition. National nutrition develops content for "Developing balanced nutritional menus for pregnant women, nursing mothers and children from 7 months to 60 months old" and nutrition care content nutrition and other health. The goal of the Program is to contribute to the nutritional and health care of pregnant women, nursing mothers and children aged 7 months to under 60 months, thereby improving nutritional status and health. healthy for mothers and children in Vietnam.
Survey the mother when developing the menu
Prof. Dr. Le Danh Tuyen – Director of the National Institute of Nutrition – said software "Building a balanced nutritional menu for pregnant women, nursing mothers and children from 7 months to 60 months old. "is consulted, commented and evaluated by the Scientific Council – National Institute of Nutrition, nutrition experts, obstetrics and pediatric specialists of hospitals and medical facilities to help improve Bank menus and contents of health monitoring tools, nutrition testing and counseling tools. In addition, culinary experts from the North, Central and South have consulted about the dishes and how to prepare the menu to suit the region and ensure deliciousness. Pregnant and nursing mothers are invited to participate in surveys, experiments and input throughout the menu development process.