Talking to reporters Newspapers Workers On May 13, Ha Anh Duc, Chief of the Office of the Ministry of Health, said that medical declaration is understood as the provision of personal medical information by people to the unit in order to support the prevention of the Covid-19 epidemic. 19. With NCOVI software, people will be able to update health information, from which health authorities in the area will basically grasp personal health developments, promptly contact and support health monitoring in the future. necessary situations. With Bluezone software used for tracing.
Passengers see instructions on medical declaration at Van Don airport – Photo: Duong Ngoc
The declarant's personal data will be provided to the epidemic prevention and control agency to trace close contacts. "For example, if there is a case of Covid-19 on a flight, from the data taken by the passengers on that flight, it will be sent to the local epidemic prevention and control agencies to carry out tracing and verifying the passengers. relevant," explained Mr. Ha Anh Duc.
Previously, the Ministry of Health repeatedly urged people to strictly follow the health declaration after the holidays of April 30 and May 1 due to the complicated situation of the Covid-19 epidemic.
In Hanoi, recently after the holidays of April 30 and May 1, temporary residents, temporary absences… returning to Hanoi are required to make a medical declaration. Individuals who do not make medical declarations or make dishonest declarations will be handled. Accordingly, the methods of medical declaration include:
– Directly declaring ward and commune health stations: People directly go to commune, ward or township health stations (anywhere convenient), notify this agency of the risk of transmission of the disease, the travel route. transfer, contact with the case… for appropriate instructions on isolation and testing for Covid-19.
– Make a medical declaration on the NCOVI national health declaration application: To download the NCOVI application, users can access the App Store (for iOS) or Google Play (for the operating system). Android) or scan the QR code. Then make a medical declaration according to the instructions.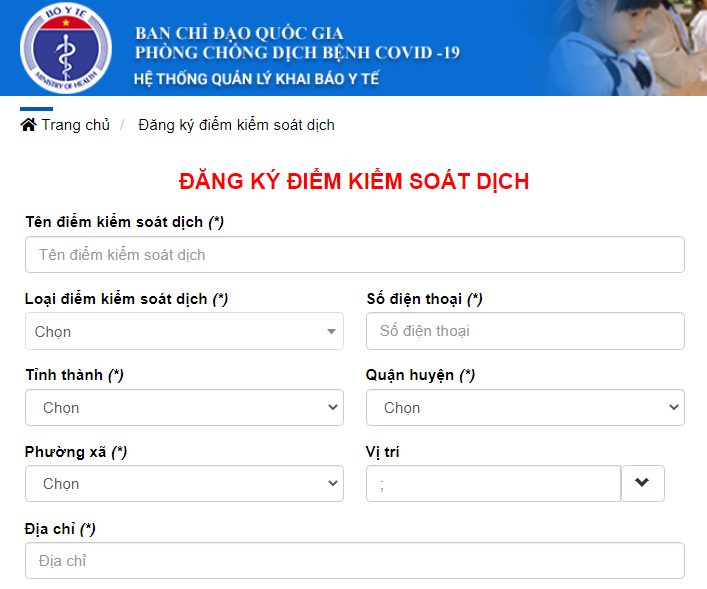 Medical declaration on electronic software
– Make a medical declaration on http://tokhaiyte.vn by accessing the link above and following the instructions.
– Declare on Vietnam Health Declaration application.
– Medical declaration through Bluezone application.
Note: People can make medical declarations by QR code when going to/from public places through mobile apps: "Vietnam Health Declaration", "Bluezone", "Ncovi" on mobile phones smart action. Scanning the QR code there will record your presence.
Connecting, integrating data from Vietnam Health Declaration, Ncovi, Bluezone applications to serve the analysis, tracing and forecasting of epidemics to promptly report to the Central and local Steering Committee for Epidemic Prevention and Control.
According to regulations, people from epidemic areas who fail to make medical declarations, make incomplete declarations or make false declarations causing the transmission of Covid-19 disease to others will be handled according to Article 240 of the Penal Code.
The imprisonment level is up to 12 years and also can be fined up to 100 million VND, banned from holding certain posts, banned from practicing or doing certain jobs from 1-5 years.
In addition, anyone who conceals, fails to declare or fails to promptly declare the status of his or her own Covid-19 disease or that of another person with Covid-19 will be fined up to 20 million VND.
According to medical experts, patients who go to the doctor during this time need to make a medical declaration related to Covid-19.
Specifically, when making medical declarations, patients will declare basic and brief information about their name, age, address, health status and epidemiological factors within the past 14 days. Health information related to Covid-19 includes respiratory symptoms: Cough, fever, sore throat, shortness of breath, chest tightness,… Epidemiological information includes travel, arrival or return returning from Covid-19 epidemic areas, close contact with sick people, indirect contact with close contacts, using public transport (airplane, train, car) …
Medical declaration of patient Nguyen Van Thanh in Hanoi at Huu Nghi Hospital
Mr. Nguyen Ba Hung, Deputy Director of the Health Data Center (Ministry of Health), said that currently medical declarations are used for a number of purposes, of which the first is a medical declaration for entry subjects, The second is domestic movement within the country (there are 5 areas of movement that need to be declared). However, the current focus is mainly on medical declaration in the field of aviation. Besides, there is a health declaration for the whole population and control by QR Code. According to Mr. Hung, those declarations are for the prevention of the epidemic and the tracing of Covid-19. Such medical declaration information will be transferred to the focal point of the CDC of provinces and cities to trace Covid-19 when needed.
Mr. Hung added about the case of the couple Nguyen Van Thanh in Hanoi (BN3633-3634), they have a medical report when boarding a round-trip flight from Hanoi to Da Nang.
The Ministry of Health guides medical declaration by QR CODE
The Ministry of Health said that the Guide to medical declaration by QR CODE helps localities in monitoring people when coming and going in the province, within the scope of management of agencies and units.
Accordingly, all locations: offices, hospitals, schools, supermarkets, traditional markets, accommodation establishments, restaurants, etc. must carry out medical control for incoming and outgoing guests by code. QR Code.
People must declare health by QR code when going to / going to public places through mobile app applications: "Vietnam Health Declaration", "Bluezone", "Ncovi" on smart mobile phones. Connecting, integrating data from VHD, Ncovi, Bluezone applications and building data management and mining tools for analysis, tracing and forecasting of epidemics for timely reporting to the Steering Committee central and local epidemic prevention and control.