Two products "refreshing Trinh music" by Phan Manh Quynh and Juky San have just been released to the public – Photo: Supplied
Trinh music not everyone can sing and not everyone dares to sing. It has gone deep into the lives of many generations and in their subconscious, Trinh music is only most sublimated with the singing of Khanh Ly, Hong Nhung, Anh Tuyet or the next class has Quang Dung, Tung Duong, Duc Tuan…
For music that has become such a temple, refreshing it so that young people love it and adults don't criticize it has become the first problem to be solved for juniors like Phan Manh Quynh or Juky San.
Love memory version 2022: Trinh music but very… Phan Manh Quynh
With soundtrack songs of Blue eyes, Godfather… Phan Manh Quynh was favored by the audience with the title "King of the soundtrack". LIVE Me and Trinhhe continues to be trusted to perform a song that has been accompanied by years Love memory by Trinh Cong Son.
When receiving an invitation from the producer, Phan Manh Quynh was very worried that a person who mainly performed his own songs for the first time singing Trinh's music would not be easy to sympathize with.
He said he was worried, but he actually chose to take a risky approach, which is to innovate the whole piece of music in a symphonic style, but the singing part still has Phan Manh Quynh's typical handling and attachment methods.
'Love' through the performance of Phan Manh Quynh
Love memory was first released in the 1970s on tape Nightingale 7 with the title "Khanh Ly and Trinh Cong Son's love songs".
Phan Manh Quynh said that the song has very "epic" lyrics and bold cinematic character. To express his tormented feelings about a past love, Trinh Cong Son uses words that show depth and breadth such as "vast", "extensive", "floating", causing nostalgia and torment. filled with every note.
Therefore, if Love memory Through the singing of singer Khanh Ly, which is a long-lasting nostalgia, Phan Manh Quynh chooses to express it like a rushing ocean, sweeping the musician into the memory of past loves.
"Trinh music is good, Trinh music is beautiful, but beauty sometimes needs updating with the times. I know it's "antique" it has antique value, but by the time the kids are old enough to understand, there's already a break in the continuity.
I have long liked the lyrics in Trinh's music, but to hear all of the old remixes of Ms. Khanh Ly or Hong Nhung, a child like me who has not experienced life is a bit too much. Phan Manh Quynh can express the narrative and contemplative nature of Trinh's music without feeling old," commented Tran Mac audience.
But surely Phan Manh Quynh's innovation is not easy to conquer an audience that has absorbed the rusticity, narcissism and a "calm sadness" in the film. Love memory throughout the years. Besides, Love memory Phan Manh Quynh's words were wrong in one place: "like" Fort "but" (cold heart) do Trinh music lovers feel even more sorry…
Juky San sings Trinh music in the style of jazz and lofi
If Phan Manh Quynh's creativity is disruptive, then with sad stone age, Juky San and producer Huynh Quang Tuan chose a new way of doing things based on the inherent rustic spirit of Trinh music.
'Sad stone age' through singing Juky San
Trinh's love song is sad but very beautiful. With Trinh Cong Son, every muse that passed through his life, whether happy or sad, left indelible emotions on the music. Sad stone age also, the song is like a romantic rainy afternoon that makes people want to sit down and think.
Grasping that spirit, Juky San does not use too many techniques but chooses to sing as naturally as possible. Not the melancholy of a man like Khanh Ly, Sad stone age Through Juky San's voice, there is a sad sadness that evokes nostalgia. The mix has a 6/8 beat, jazz-style with a lofi effect, making it feel like an old cassette tape overlaid with time.
With Sad stone age, Juky San not only refreshes Trinh's music but also renews himself after a series of Chinese songs with Vietnamese lyrics that are intended for the masses. A test of her commitment, because the fact that Juky San's performance received many mixed reviews.
People who feel it praise her for singing softly but thoughtfully, calmly but deeply. People who don't like it, comment why it sounds so "floating", so safe.
But beyond all praise and criticism, Trinh's music is in need of more people like Juky San or Phan Manh Quynh to contribute to renewing so that this precious legacy can continue to be preserved by young people's hands.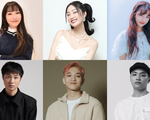 Gen Z artists join hands to renew Trinh's music
.