On the morning of May 7, information from the Center for Disease Control (CDC) in Hanoi said the city has just recorded 3 more positive cases. SARS-CoV-2.
First case is a PTD patient (SN 1996, address at Dia village, Nam Hong commune, Dong Anh district). The patient takes care of her husband at the Department of General Infection – National Hospital for Tropical Diseases 2 (Dong Anh, Hanoi), from April 30 to about 10 o'clock on 4-5, then go home.
On the evening of 4-5, Ms. D. had a fever, had a sore throat and returned to the National Hospital for Tropical Diseases on the morning of May 5. However, the hospital was not accepted due to the implementation of medical isolation. After that, Ms. D. had declared at the medical station and was transferred to quarantine at Bac Thang Long Hospital. Next, patient D. was sampled and sent to Duc Giang General Hospital for testing, giving a positive result for SARS-CoV-2 on May 6.
Medical treatment in areas with Covid-19 case – Photo: VNA
Case 2 is an LVC patient (SN 1980, address 9, market Tia, Tu Duong, To Hieu, Thuong Tin). The patient went to Da Nang from April 27 to April 29, staying at the Muong Thanh Hotel on Vo Nguyen Giap Street – where a Chinese patient was sick.
In the evening of 3-5, the patient showed signs of mild fever, fatigue, malaise, and in the following days there were more manifestations of dry cough, muscle pain, chest tightness, shortness of breath, loss of taste. On 4-5 days, at Medlatec Hospital, there was a negative test for SARS-CoV-2 but when he got home, his symptoms gradually increased. On May 6, I visited and tested again at Medlatec Hospital for a positive result of SARS-CoV-2.
Currently, the health agency is investigating and transferring the patient to the Central Hospital for Tropical Diseases Dong Anh facility for quarantine.
Case 3 is DVH (SN 1987, man, address: 26 Cho Tia, To HIue, Thuong Tin), working as a selling veterinary medicine at home. The last 14 days did not go far, unrelated to the risk areas. On 3-5, going to a family party at Thiem restaurant with his brother-in-law DVC's family (5 people: husband and wife and 3 children); Mrs. D.'s family (born in 1985, including 4 people: 2 husband and wife and 2 children); and Mr. H.'s family (6 people: H.'s parents, H.'s couple, H.'s 3 children).
At the meal, he was in contact near Mr. C. Mr. C. recently traveled to Da Nang with his agency from April 27 to April 29. After returning home, on 4-5 days, Mr. C. showed signs of cough and fever, so he took the initiative to test for services at Medlatec (the first test result was negative). On May 6, because he still had fever, cough (taking the medicine not to help), Mr. C. went to the second test at Medlatec and got positive results.
Mr. H.'s schedule is from April 30 to 3-5, during the day, usually only at the shop, rarely going out, wearing a mask when going out.
In the afternoon, going to play badminton at the village culture house with about 10 people. In the morning 4-5 (around 8:00 am), I went to the commune People's Committee to submit papers and met with the commune accounting officer. Early in the afternoon, we went to the Veterinary Station of Thuong Tin district to meet Ms. BTH.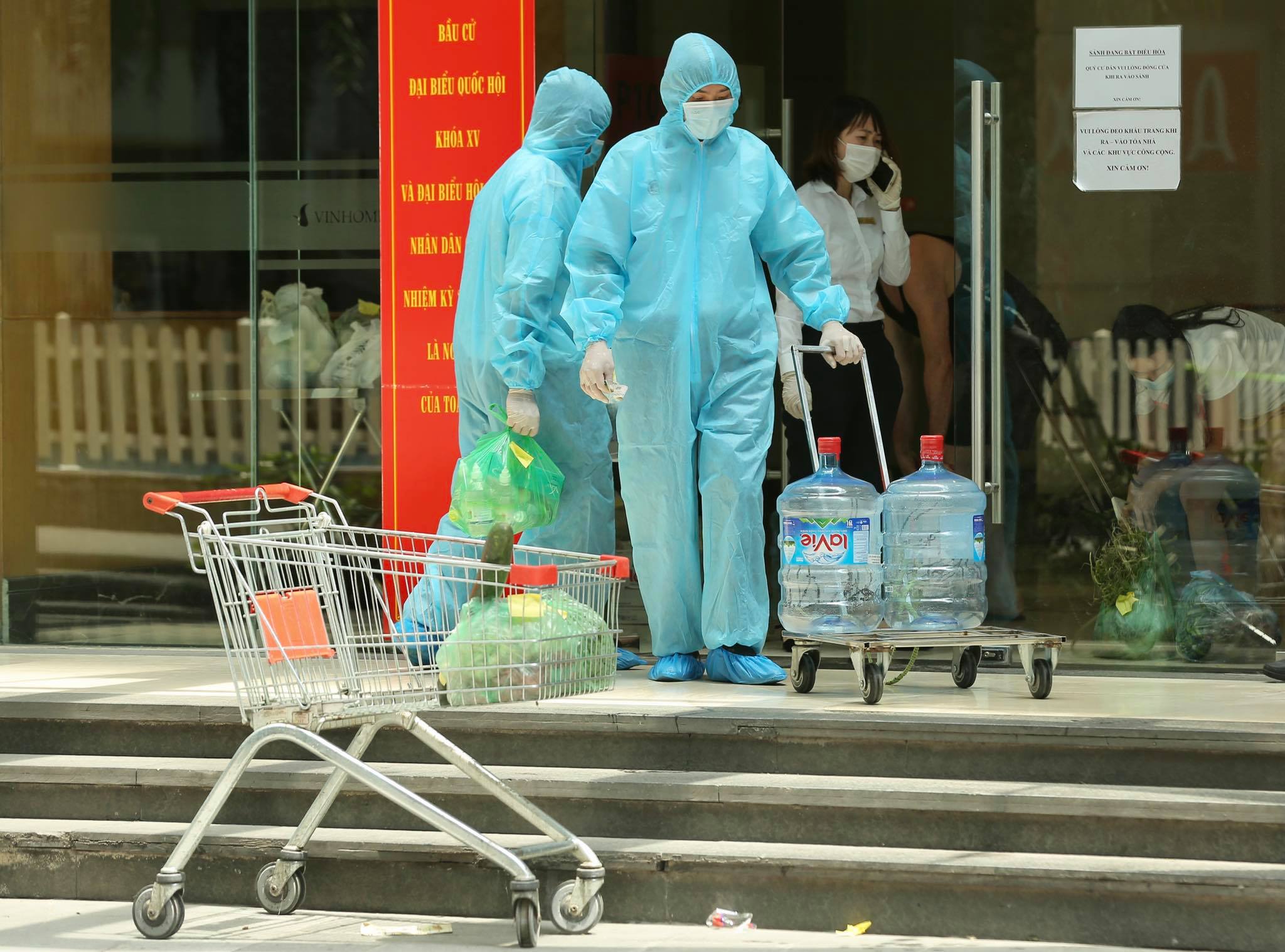 Medical treatment in the area with Covid-19 case – Photo: Ngo Nhunng
In the morning 5-5, have breakfast at the restaurant vermicelli near Thuong Tin Hospital (about 7 km from home due to convenient way to the district veterinary station). In the afternoon of May 5, there appeared a fever of 40 degrees Celsius, cough, fever, loss of smell, loss of taste, and fatigue (at present, the patient's wife also appeared headache, loss of taste from the afternoon 5- afternoon 5).
On the morning of May 6, Mr. H. and his brother-in-law C. went to the Medlatec Hospital (Nghia Dung facility) to test for SARS-CoV-2 and received a positive result notification. hospital at 21 o'clock the same day.
Thus, from April 29 to now, Hanoi has recorded 12 cases in the community, including 7 cases related to the Central Hospital for Tropical Diseases 2.
To control the disease and limit the spread to the community, the Hanoi Department of Health has asked the chairmen of the People's Committees of districts and towns to urgently review and make a list of all people (patients, family members). patients, people …) went to the National Hospital for Tropical Diseases 2 between April 14 and May 5, took samples for Covid-19 and isolated at home. full 21 days from the last day of arrival, at the hospital; After that, continue to monitor health at home and accommodation for another 7 days.
For cases of cough, fever, shortness of breath or suspected symptoms of Covid-19 infection, immediate referral to medical facilities for quarantine and prompt treatment is required.