American movie stars jointly signed a letter published on June 13
The above open letter was written in the context of many mass shootings that have occurred in the US in recent times and was shared by Operation Brady – a non-profit organization on gun control.
Among the 200 artists participating in signing the letter are many big names such as Amy Schumer, Julianne Moore, Mark Ruffalo, Jimmy Kimmel, Judd Apatow, Bill Lawrence, Damon Lindelof, Adam McKay… and other product manufacturers. head JJ Abrams (movie Lost), Shonda Rhimes (film Bridgerton) and the head of Lucasfilm – Mrs. Kathleen Kennedy.
The letter states: "Cultural behavior towards smoking, drunk driving, wearing seat belts and post-marital equality has made great strides forward. Thanks to the influence of movies and television, now is the time to speak out about gun safety…
We're not asking anyone to stop showing guns on screen. We're just asking the screenwriters, directors and producers to be mindful of the gun violence aspect of the screen and to be the best role model for safe gun use."
Measures suggested in the letter include showing footage showing characters securely locking their guns, as well as holding discussions before film/TV production begins. about optimal alternatives to gun use without "sacrificing the integrity of the story".
The letter states that gun violence has recently overtaken traffic crashes as the leading cause of death for US minors, the letter asks "colleagues in the creative community to "attempts to "limit scenes to include children and guns".
The letter emphasized: "Guns regularly appear on television and movies in every corner of the globe, but only in the United States is there a problem of gun violence. The responsibility lies in lax gun control laws imposed by governments. Politicians fear losing their personal power more than their supporters' lives. We're not causing the problem, but we want to help fix it."
Last month, 10 people were killed in a gun attack at a grocery store in New York state, citing racism.
Ten days later, 19 students and two teachers were killed in a rampage at a school in Uvalde (Texas).
According to statistics from the Centers for Disease Control and Prevention (CDC), in 2020 there were 4,368 children and adolescents in the United States under 19 years old who died from firearms.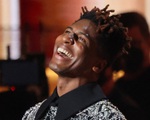 Grammy 2022: In a world in front of a gun…
.