Representatives of Tuoi Tre Newspaper and Viet Vision Company at the morning of April 20 – Photo: NHAT THINH
Mr. Vo Do Minh Hoang – representative of Viet Vision – said the reason for accompanying the program: "We want to express our gratitude for inheriting the peace after the hardships of the front line forces, the forces of doctors, the army, the police … Without them, without the chance. for the music to play and soar. "
Previously, on the stage of The Veston concert in Da Lat on the last 3-4 days, singer Ha Anh Tuan decided to deduct 500 million as the audience attending two concerts, to contribute to the vaccine fund. COVID-19.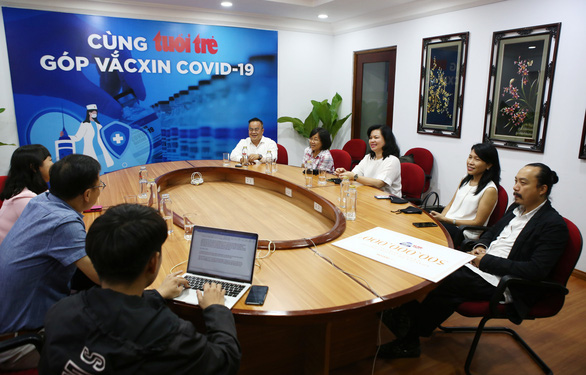 Singer Ha Anh Tuan has deducted 500 million under the name of the audience who attended the last two concerts to contribute to the COVID-19 vaccine fund – Photo: NHAT THINH
Over the years, Ha Anh Tuan is a singer regularly participating in activities to contribute to the benefit of society and the community.
He is the first Vietnamese artist to fund the treatment of negative pressure, COVID-19 epidemic prevention. When the show Nhu never had a separation to announce goodbye to the audience, Ha Anh Tuan was also the first singer to support 3 billion, contributing to the search for relatives not to stop.
He is also the singer who initiated the Vietnam Forest project. At the Short Story concert in Hanoi in October 2019, Ha Anh Tuan committed to plant and nurture the first two forests in 2020.
Funding is extracted from Ha Anh Tuan's revenue Art activities.
I was haunted by a photo of an austere woman working as a scrap dealer contributing many change in change to a free restaurant for the poor. Somehow, at that time I thought my music had to creep through and start from such kind inspiration. That is my definition of wealth and happiness
Singer Ha Anh Tuan said
Ha Anh Tuan at The Veston music night 3-4 evening – Photo: ĐAI NGÔ
Singer Ha Anh Tuan shared that nWhat he has contributed to do is not worth anything compared to what he has seen and learned from the people and surrounding people.
"Just reading around, observing a little bit of society, we always see a lot of immense kindness of Vietnamese people. Just do we want to see and talk about them or not".
.