Join the game show culinary delicacy, players just need to eat and guess the price – Photo: BTC
Mr. Le Thanh Tuan, director of Radio and Television Station of Vinh Long, said: "It is not really that game shows are all that attractive. We invest more in feature films to meet the needs of the audience, many people recommend film stations. more diverse".
Many programs easygoing
As can be seen, Vinh Long Television is one of the leading television stations in building game show timeframes. In 2014, the time frame for game show on THVL1 channel was only 21:00 every Friday, but by 2015 this channel has dedicated the full 21 o'clock daily frame to broadcast game show.
Vietnam Television Station and Ho Chi Minh City Television also always spend golden hours for game shows. Over the years, nearly a hundred game shows have been broadcast on these stations. And a time when the game show fascinated the audience, from the Golden Dragon, the Bolero singing contest, the Vietnamese Voice to The Comedy Challenge, the Vietnamese Laughing …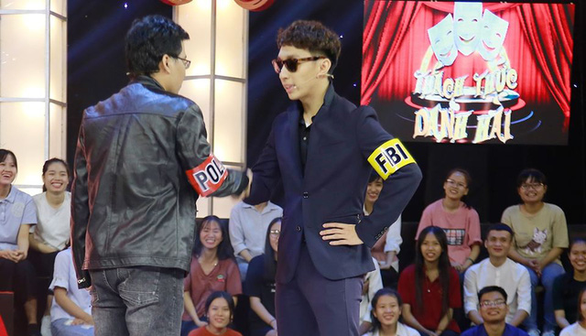 A scene from Comedy Challenge
However, is it because of a long-term dish that makes the audience tired or because of the lack of serious investment that recently the game show is no longer the chicken that lays golden eggs for the radio and producer?
Ms. Bich Lien, director of Mega GS – a unit that produces game shows for a long time, said it was not until now that the game show was having difficulty, but for several years.
Ms. Lien analyzed: "Investing 200 million VND / episode is capable of making a TV series, but to produce a great game show 200 million / episode is very difficult to do. Before 10 game shows were broadcast, all of them were. profit, but now there are up to 4 programs with losses. There are new producers who jumped into this field for a season and then disappeared. "
And if you follow the game shows regularly, the audience will realize the fact that the game shows are clearly segmented. The major station's weekend broadcasts of about 75 minutes are well-invested. In addition to these hours, with game shows lasting about 45 minutes, many programs are produced quite freely.
"In my opinion, a game show has two factors that make it interesting. First, the format of the show must be new and the program is new," said one person in the television industry who has been successful at building entertainment programs. or, secondly, the player must be good these two factors ".
Indeed, during the game show boom, Vietnam bought the copyrights of many good programs in the world for production. Whenever you see a game show that attracts the audience, broadcasters and producers will release other programs that are similar to each other. There was a time when there were comedy shows, a time when Bolero music took over, and then a series of music competitions …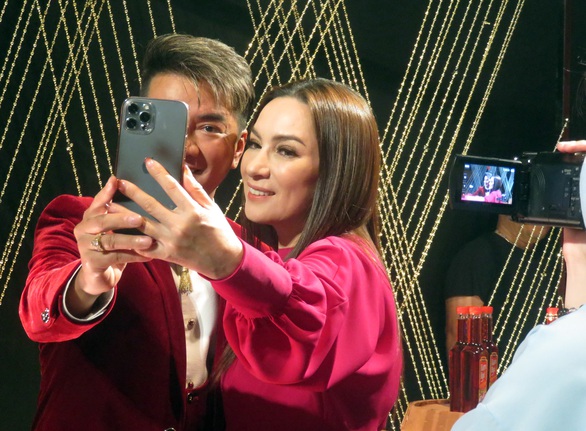 Dam Vinh Hung and Phi Nhung in Solo with Bolero season 7
Boi real comedy
Every game show is the same, the quality is declining, it is natural for the audience to turn their backs. Take for example the culinary game show, there are now dozens of programs broadcast on television such as Food paradise, Eat it and tell it, Fun kitchen …
With later programs, the cooking guide criteria were not focused but the responses and juggling of the participating artists were pushed to the top. Even, A delicious meal for a lifetime – a new two-episode culinary show – heavily advertised for restaurants, the content is simply "eight" players together, eating food, commenting and guessing prices …
The screen is also full of dating programs and there is no shortage of tricks such as contestants lying about themselves, making jokes … There are programs where players even kiss, touch each other, look offensive …
And another important reason why the game show regression is that the audience has … bored players. Talented vocal and acting faces do not appear every year, the small screen is full of familiar faces from artists.
They went on the comedy stage, exchanging a sly … like the opinion of the reader Nam Tran to Tuoi Tre: "When working, tired, after eating, also need a little entertainment for a more happy life. Previously so, very excited with some funny comedy shows, comedy, singing … But you can eat everything you want, it is also boring: you are not satisfied with humor, you are so spoiled with nonsense. – boring people ".
Therefore, it is also worthwhile to temporarily reduce the amount of time for the game show. It is time for producers and broadcasters to seriously look back and find valuable entertainment programs that suit today's audience.
Game shows wrong knowledge
The game shows that exploit the Q&A section are sometimes wrong with knowledge, making many audiences bored. Specifically, the question in episode 31 of Fast as lightning season 3 confused the author of Wife Picked as Nam Cao instead of Kim Lan: "In the work" Wife Pickup "by writer Nam Cao, Trang's wife ate a few bowls of cakes. casting? ".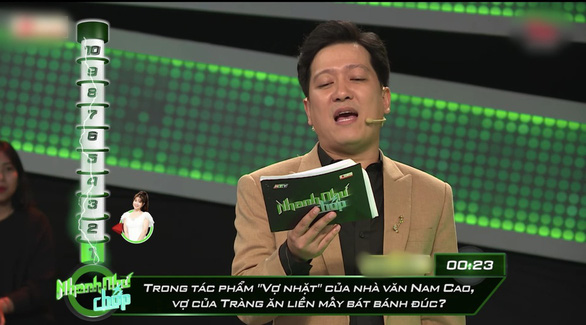 Lightning-fast season 3 mistook Wife Gioi's author Nam Cao instead of Kim Lan
In another episode also in this program, the answer to the question "Where is Huong Tich Cave located?" that Hue is recognized as the correct answer while Huong Tich Cave is in Hanoi.
Before that, in 2019 the Who was a Millionaire program asked the question "Which football club in England has the logo of a game cock?" with the answer is Tottenham Hotspur, but the iconic mascot of this club is Chirpy Cockerel – a rooster …
.