This is a new content regulated in Decree 91/2020 / ND-CP of the Government effective from October 1, 2020 on the regulations on sanctioning of administrative violations in the field of combating spam messages and e-mail. junk mail, spam calls.
The Decree stipulates a fine of 20-30 million VND for individuals who commit one of the violations against regulations on combating spam messages, spam emails, and spam calls, specifically as follows:
Making more than 1 advertising call to 1 phone number within 24 hours without agreement with the user; Call advertising outside the period from 8 to 17 hours per day without other agreement with the user; There is no measure of checking users' explicit prior consent when sending advertising text messages, advertising emails, phone calls, etc.
In addition, Decree 91/2020 ND-CP of the Government also stipulates a fine of 60 – 80 million VND for one of the following acts: Sending advertising registration messages in contravention of regulations of the Ministry of Information. and media; Send any advertising subscription text messages to non-ads listed phone numbers.
A fine of between VND 80 – 100 million shall be imposed for sending advertising text messages or advertising phone calls to phone numbers on the list without advertising.
Reporter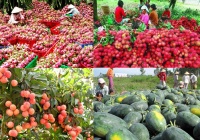 Vietnamese vegetables and fruits entering the EU: Need to produce in a safe way
(VietQ.vn) – Vietnam's vegetables, roots and fruits are considered open to the European Union (EU) from 1 August 2020 when the Vietnam – EU Free Trade Agreement (EVFTA) effective. Currently, the EU is the fourth export market for Vietnamese fruits and vegetables.
.