From 0:00 on April 30, Hanoi suspended karaoke, bars, discos, and games. Illustration.
Chairman of Hanoi People's Committee has just issued the urgent message No. 04 / CD-UBND on strengthening the implementation of Covid-19 epidemic prevention and control in Hanoi city.
Facing the complicated situation of the COVID-19 epidemic, the Chairman of the Hanoi People's Committee directed: Forcing people to wear masks when going out. The units strengthened the inspection and strictly handled cases of illegal entry, cases of non-compliance with the wearing of masks and anti-epidemic measures in the area according to regulations of the Ministry of Health and the city. .
Suspend karaoke service establishments, bars, discos, games from 0:00 on April 30, 2021.
Continue to strictly comply with the direction of the Hanoi City Party Committee in Document No. 112 – CV / TU dated April 27, 2021 on suspending the organization of festivals and walking streets in the city; continue to limit unnecessary events and activities that gather people.
Tighten the management in the quarantine areas, especially the isolators at hotels, absolutely not to cross-spread in the quarantine area and spread from the quarantine to the community.
The Steering Committee of districts and towns urgently traces, quarantines and fast tests according to the formula 4-6 of the City Steering Committee.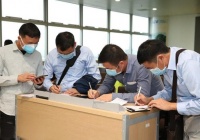 People returning to Hanoi after the holidays April 30, May 1 must make a medical report
(VietQ.vn) – The People's Committee of Hanoi requires that people who return to the capital after April 30, 1-5 holiday must make a medical report, strictly punish individuals who do not report or report. Untruthful medical reports.
Mai Phuong
.