Since the Covid-19 epidemic appeared in early 2020, the implementation of policies to support people and businesses to overcome the "storm" of the epidemic is extremely important, contributing to supporting and sharing difficulties. with the business community, thereby limiting damage and losses caused by the epidemic, contributing to restoring production and ensuring people's lives.
Currently, the fourth wave of epidemics has complicated developments, greatly affecting production, business and service activities. In industrial parks, export processing zones, labor-intensive enterprises and in provinces and cities with high population density such as Bac Giang, Bac Ninh, etc., the income life of workers is seriously affected. important.
In that context, in order to partly reduce difficulties for employees and employers, focus on completing the "dual goal" of preventing and combating the epidemic, recovering and developing socio-economic , strive to achieve the highest growth rate, minimize the risk of production chain breakage, it is necessary and urgent to develop policies to focus on supporting workers, employers and businesses. .
Continuing to develop policies that focus on supporting employees, employers and businesses is necessary and urgent. Illustration.
Recently, General Secretary Nguyen Phu Trong said that the Politburo agreed to continue promulgating policies to support employees and employers facing difficulties due to the impact of the Covid-19 pandemic. The base follows the direction of the Politburo at Conclusion No. 07-KL/TW, dated June 11, 2021 on a number of key tasks to strengthen the prevention and control of the Covid-19 epidemic and economic development. socio-economic.
At the same time, the General Secretary also requested to continue to draw lessons from the implementation of Resolution No. 42/NQ-CP of the Government and support measures of other countries to focus on reviewing and identifying the right subjects in need. provide specific support, develop appropriate support norms, ensure strictness, fairness, publicity, transparency, efficiency and practicality.
According to Assoc. Prof. Dr. Vu Quang Tho – former Director of Workers and Trade Unions (Vietnam General Confederation of Labor), the Politburo's approval of the policy to issue support policies is very right and humane. Now is the time when many workers are "hungry" for jobs, wages and incomes decrease. At this time, the "kind arm" from the Party and State to help workers is really necessary.
In addition, many experts also said that the most basic thing for those who make policies, administer policies, and implement policies is how to make support available to employees in a timely manner. employer. It is necessary to be transparent, public, and clear on the criteria of beneficiaries before discussing the level of benefits. Lessons learned from the first phase of support of VND62 trillion will be needed to implement this second phase of support.
"The support money is valuable, but if paid incorrectly, it will lead to incorrect implementation. Therefore, it is necessary to further strengthen supervision in order to detect shortcomings in supporting workers as well as businesses", said Assoc., Dr. Vu Quang Tho.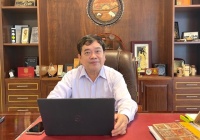 Fiercely fighting the epidemic, strong economic recovery
(VietQ.vn) – The "dual goal" must be implemented flexibly, and the speed of "opening up" the economy is basically proportional to the speed at which herd immunity is achieved.
Mai Phuong
.