Musician Nguyen Quang quietly accompaniment for all the performances at the music night – Photo: TAN DAT
Far away from the piano Staged with the enthusiasm of musician Nguyen Anh 9's son, musician Nguyen Quang. Da Lat was chosen as the destination of the music night because when he was still alive, the musician had many memories associated with this mountain town.
Saturday night (April 17), it rained lightly and Nguyen Anh 9's love songs rang out in front of more than 800 spectators, in the space of the Dalat Opera House (Lam Dong).
Musician of sorrows … so beautiful
Quang Dung sang 'Hello, hello' – Video: TIEN VU
Nguyen Anh 9 does not have a great musical fortune because he composed not much, only about a few dozen songs, some songs took a few years time. However, each melody he wrote on was sparkling with true feelings about a certain story or memory that existed in his life.
Nguyen Anh 9's music inspiration is often the sadness, a sadness … very beautiful of those who are in love and in love.
During the music night, singers such as Ho Le Thu, Ngoc Lien, Huong Giang, Tuan Anh … dearly call the late musician "father". Together they sang many familiar songs of Nguyen Anh 9 such as Phrase, Hey, sad hello, Exit, Autumn with brown wings, Singing lost, Who brought me home …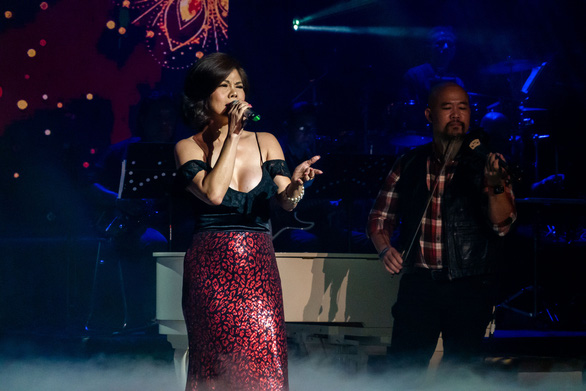 Singer Ho Le Thu – Photo: TAN DAT
The rest of the night were two vocalists Quang Dung, Elvis Phuong. If Quang Dung deep down with Love song in the afternoon, rain, I'm sad, hello Elvis Phuong was restless, more and more bloody One last word for you, no.
Not only singing, the two also reviewed many memories of working with musician Nguyen Anh 9. MC Ky Duyen has collected and recalled many other stories associated with him so that Da Lat audience can understand more about people. like music by Nguyen Anh 9.
Closing the music night is a piano duo by musicians Nguyen Anh 9 and Nguyen Quang, father and son drunk with the melody of Love song in the afternoon of the rain. This is also a very emotional performance when the image of the late musician Nguyen Anh 9 sitting on the guitar was re-enacted on the stage, opposite Nguyen Quang's son who was also in harmony.
Piano duo performance by musician Nguyen Anh 9 and his son – Video: TIEN VU
Many fateful debts with Da Lat
Musician Nguyen Quang said his father studied and grew up in Da Lat. This is also the place to witness the fateful meeting between the pupil Nguyen Dinh Anh and the musician Hoang Nguyen, so that the love for the piano gradually grows in the 14-year-old teenager.
Before dying a month, Nguyen Anh 9 went back to Da Lat to visit his old school and his old place. Here, he chose a cafe, sitting next to the piano and piano for familiar singers to sing.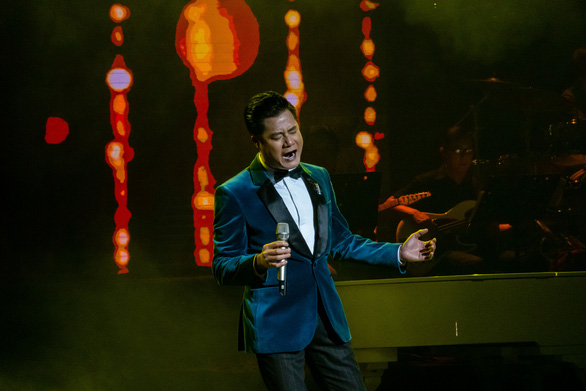 Singer Quang Dung received a lot of attention from the audience of Da Lat
Musician Nguyen Quang shares nIn response, Da Lat today still maintains a small room outside with a signboard "Nguyen Anh 9 Room" at the Cultural House of Lam Dong province. Including many pictures and objects used by musician.
"I was deeply moved and played a familiar song from my father, although the sound of the instrument is still heard after 60 years. Father's love for Dalat and his love for Da Lat music have motivated me to gather all resources to hold an unforgettable performance in this city, "said musician Nguyen Quang. on music night.
Elvis Phuong: 'To sing Nguyen Anh 9's music is my luck'
Singer Elvis Phuong said the relationship that brought him to musician Nguyen Anh 9 was the song Are not contributed to making his name known. Later, Nguyen Anh 9's music also became a highlight in Elvis Phuong's singing career.
Elvis Phương sang 'No' – Video: ADVANCED
"You asked us to make a record for me to sing your music and it was selling well. The day he died, I was stuck in America, unable to take it off.
Until now, 5 years have passed after his death, I often sing songs wherever I go Are not his. That is how I remember a close brother in the profession. We have been together since we were both unknown. I'm really touched and happy to be on stage today. ", singer reimbursement share.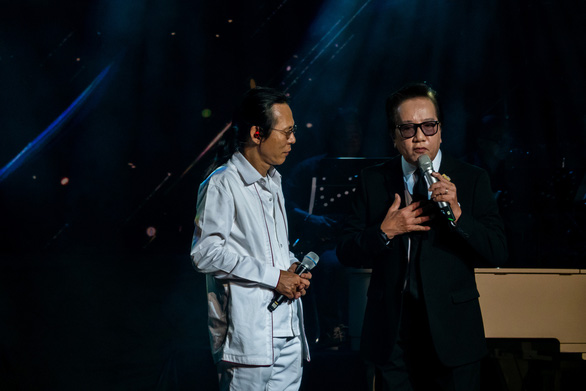 Nguyen Quang and Elvis Phuong chatting at the music night
Musician Nguyen Anh 9 always thinks that things from the heart will go straight to the heart. His lyrics are not picky in words but simple, sexy. Sowing them on soft mixes with the piano sound, that's when those unusual words suddenly have a formidable force on the listener's mind.
And at this time, the line between a musician and a musician blurs, only the melodies keep rising with the keys. Perhaps that is also the reason why Nguyen Anh 9 has a wish on his grave to have the shape of a piano.
From the US, Khanh Ly misses his brother, musician and musician Nguyễn Anh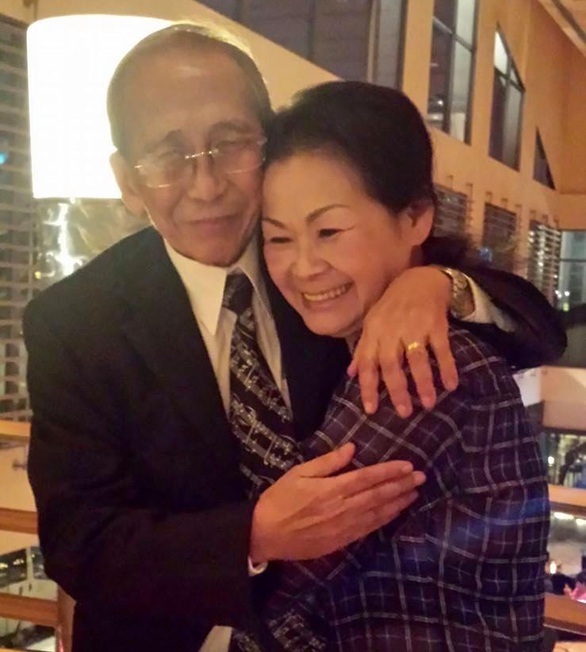 Nguyen Anh 9 and Khanh Ly
For Khanh Ly, Nguyen Anh 9 is a musician, a soulmate, and for the late musician, Khanh Ly is the inspiration for many of his sublimated compositions such as Autumn brown wings, Night love and Sad love kiss.
Khanh Ly shared her feelings on the 5th anniversary of her brother in the profession: "Nguyen Anh 9's works are typical and unlike anyone else. Each song is his impression of an event in the life. living. Whenever I sing his songs, my feeling is unlike any other musician, it's very personal.
One of the people I love, is Mr. Nguyen Anh 9. He is a talented, profound and gentle musician ".
.