On the morning of January 22, Mr. Tran Quoc Vuong, Member of the Politburo, Standing Committee of the Secretariat, Head of the Subcommittee serving the XIII Congress checked and approved the general plans and overall programs of the Congress. .
Accompanying were members of the Central Committee: Head of External Relations Department, Hoang Binh Quan Central Committee; Chief of the Central Office Le Minh Hung; Minister, Chairman of Government Office Mai Tien Dung; Chairman of the National Assembly Office Nguyen Hanh Phuc; members of the service subcommittee, related forces and units.
Comrade Tran Quoc Vuong and the leadership comrades checked at the main hall – where the congress took place.
The delegation checked and approved the plan for the delegation to visit Uncle Ho's Mausoleum and place flowers at the monument to the heroic martyrs; plans to move delegations; security options; medical options; reception activities, shuttle delegation, international delegations; contents presented at the Congress … After checking the reality and listening to the leaders of related units report, comrade Tran Quoc Vuong praised the forces and units for their positive actions during the past time. Preparation up to this point has been completed.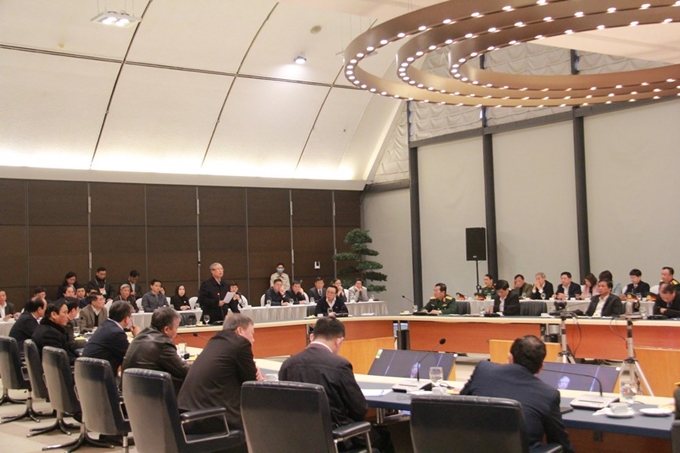 The group meets to learn from experience after the reality check
Comrade Tran Quoc Vuong stated: Up to this moment, the preparations have been done very thoughtfully. The units and forces have done well the assigned tasks, the steps are carried out closely and thoughtfully, drawing experiences from the previous congresses.
Comrade Tran Quoc Vuong emphasized that all the preparations are just the beginning, for the purpose of ensuring absolute safety for the Congress. Therefore, in the following days, ask all forces and units to mobilize, most concentrated, complete the assigned tasks.
Comrade Tran Quoc Vuong noted that the travel time of the delegations only takes place in a certain time to ensure the time, so it is necessary to seriously implement the regulations issued to ensure the main content of the Congress.
Comrade Tran Quoc Vuong asked to fix immediately the incomplete or irrational details so that all work, all images are best; close and rhythmic coordination between the forces participating in the congress service, ensuring the Congress took place successfully and successfully.
According to the VCP online newspaper
.