Avin Lu (Trinh Cong Son) and Bui Lan Huong (Khanh Ly) in the movie Em and Trinh – Photo: DPCC
The contrast in that emotion probably comes from a film that recreates more or less the imprints of love and music in the life of musician Trinh Cong Son, but is too full of material to be able to slow down. touch his soul.
Em and Trinh is a biographical portrait film, which is quite rare in the Vietnamese film market, especially in the entertainment-oriented cinematic life over the past decade.
In the early 1990s, there was an Em I remember or I forgot that was more inspired by Trinh's life and music than a biopic about him, with Le Cong Tuan Anh (as musician Quang Son) and Diem (Truong Ngoc Anh) but it still stops at an illustrated film about Trinh.
One of the biggest challenges facing the biopic is the thin line between iconic characters already known to audiences, and the creative freedom of filmmakers, to able to create a cinematic "drawn" portrait that convinces the audience.
Even world cinema has very few portrait biopics that can break this thin line.
Being overwhelmed by the massive source of character material is another big challenge, leaving many directors "overwhelmed" and turning their biopics into "everything goes but nothing comes". to the point", or worse, cinematic illustration and narration.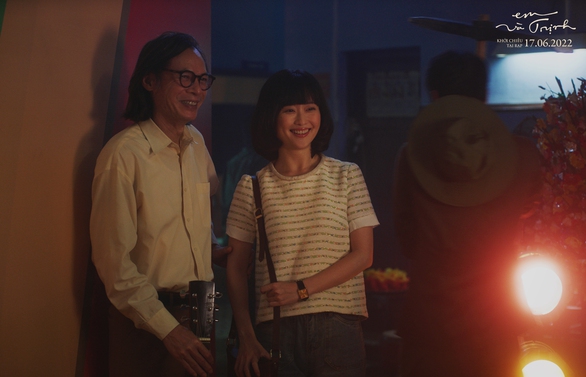 Tran Luc (Trinh Cong Son) and Nakatani Akari (Michiko) in the movie
When Em and Trinh walk between the thin line
Trinh and I chose two milestones and two rather long periods in Trinh Cong Son's musical life, the 1960s and 1990s. A Trinh of youth, of abundant musical inspirations, most of it comes from love and loss, the upheavals of the times.
And a Trinh of middle age, of creative stalemate (as he confided to Khanh Ly over the phone: "I'm afraid music has left me") and a new source of inspiration, comes from love. and again from the loss.
Admittedly, this was a wise choice of the screenwriter team, because it was possible to build a portrait of Trinh Cong Son at the two most important stages of his creation as well as its unique cultural context.
But at the same time, they also put themselves in a difficult position because they had to choose materials and connect them, to build so many characters, each song, each setting, and tell a story through cinema. things don't slip away and even worse – illustrations.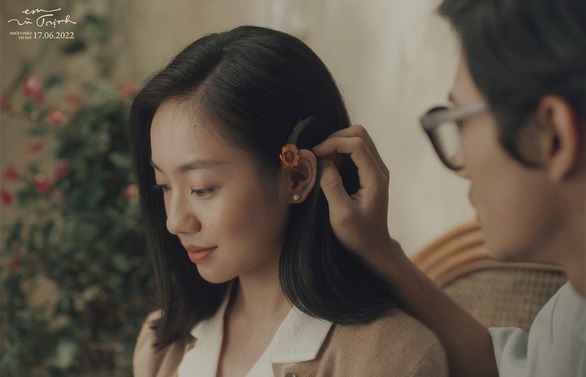 Fresh and pure, Hoang Ha (Dao Anh) brought a beautiful role
As a result, the audience enjoyed an Em and Trinh that left more or less fluttering moments about Trinh's youth, love and music in the 1960s, even though a Trinh Cong Son through Avin Lu's acting was still a bit clumsy. , young and not yet able to describe his temperament; but quite disappointed and regretful about a middle-aged Trinh Cong Son with Tran Luc's illustrative performance and many transactional scenes.
The background of the 1960s makes the film really alive and surprising because of its lyrical beauty. The 4:3 aspect ratio and light blue-gray colors cover the film full of nostalgia, leading the audience back on the train to the past, to Hue, B'lao, Da Lat, and Saigon.
Against the background of such a fierce period, the characters appear with freshness, purity and contemporary concerns, especially Trinh Cong Son, Dao Anh and Khanh Ly. And also there, we witnessed the fluttering of the first emotions in life and found the most important musical soulmate of Trinh's life.
And because of the freshness and purity, Bui Lan Huong and Hoang Ha brought really beautiful roles and more or less touched the viewers.
Khanh Ly by Bui Lan Huong is a proof that when a writer can build a character with a special personality, even if she doesn't need to appear a lot, she can make her mark in the film.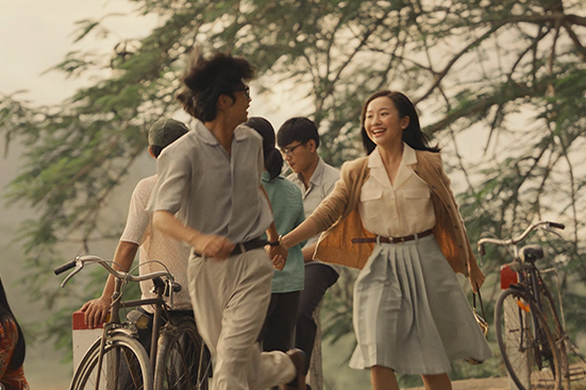 Film Trinh Cong Son is a seamless build of the musician's youth and does not have the middle-aged Trinh Cong Son line like Em and Trinh – Photo: DPC
Beautiful enough, not deep enough
Trinh and I brought real "touches" in some scenes that recreate Trinh Cong Son's 1960s, especially the hugs between Trinh and Khanh Ly in front of a wooden house in B'lao; Trinh Cong Son and Dao Anh at the sea, when Trinh returned to Hue to meet his lover again.
That's when we feel Trinh's soul between love and soulmate – two great inspirations in his music. If only the writer and director "digged" more deeply into these two relationships in Trinh Cong Son's life, and just exploited this "trilogy", the audience could have had a really good movie.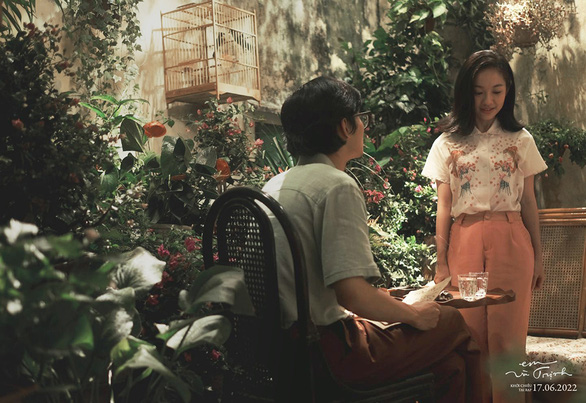 The light blue-gray color covers the film filled with nostalgia
The parallel editing in some segments related to the three main characters of the film brings out the vibes, with great support from the music by Tran Huu Tuan Bach, the cinematography by Nguyen Vinh Phuc.
But the vibe couldn't stay longer when the scene switched to the current setting that seemed to have no connection with what we saw before. Sometimes it even feels like we're watching two different movies.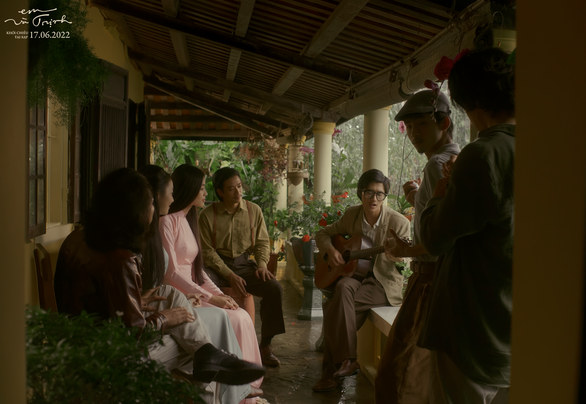 Trinh and I left more or less fluttering moments about Trinh's youth, love and music in the 60s
The acting of the body is full of strain, the fake Hue voice even though the actor has worked very hard, the "chemical reaction" between Tran Luc and Michiko (Nakatani Akari) is also full of awkwardness and many scenes of "communication" are lacking in self-esteem. However, like the dialogue scene between Trinh Cong Son and his mother, contemporaries walking around in the yard of the musician's house singing the song Joining Big Arms… broke all the vibes that had just ignited from what the director tried to Try setting earlier.
We do not see a Trinh Cong Son who is deep in philosophical reflections, lonely in his feelings of nothingness, full of worries and lightheartedness, a Trinh Cong Son "who sometimes laughs and laughs when standing alone." outside" in the midst of a crowd of friends – which should have been a quiet note to help the audience understand more about his artist's soul.
Trinh and I therefore wander between two fragile lines, which not only makes us feel excited, but also quickly plunges us into despair.
In other words, the film is beautiful enough to make audiences remember after leaving the theater but not deep enough to stay in their hearts longer.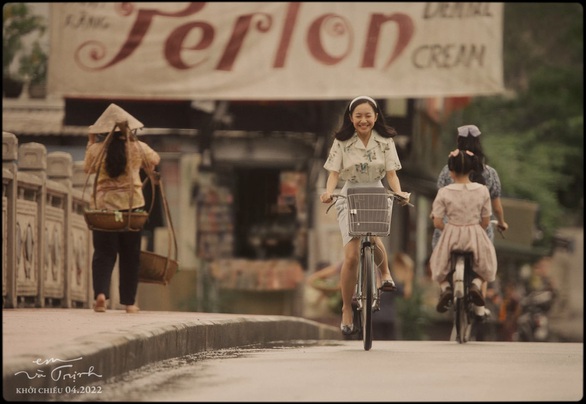 The background of the 60s shows up in the movie really lively and surprising because of its lyrical beauty
"Narrow space" in the character's life
Variety writer and critic Scott Tobias once commented on biopics that "a successful biopic should focus on a narrow timeline of the character, rather than embracing the entire life of a character. their lives, like recording an iconic album (with a musical character) or a specific moment in history."
Many recent biopics of world cinema have focused on exploiting that "narrow period" to find a different creative perspective or dig deeper into the character's inner world, like the movie Spencer (2021) about Princess Diana, Nowhere Boy (2009) about John Lennon as a teenager…
But saying that does not mean that there are no biopics that exploit many milestones and time periods in the life of the character. As long as it meets the most important thing for a biopic, it is to portray the character's soul and the values ​​they have left behind in cinema.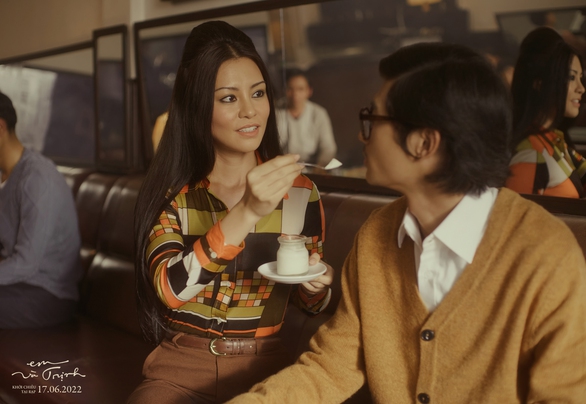 Khanh Ly by Bui Lan Huong is a proof that, when a writer can build a character with a special personality, even though she doesn't need to appear much, she can also make her mark in the film.
Release 2 movie copies: wrong method
On June 14, the producer sent a notice to stop showing Trinh Cong Son's film version at all cinemas from June 17.
They only keep Em and Trinh, the movie has a much better revenue than Trinh Cong Son (Em and Trinh are collecting 26 billion dong, Trinh Cong Son is collecting just over 1.7 billion dong). This is a belated but necessary correction.
The screening of two versions of the film by the same director and cast was promoted by the producer as "shocking, the first time in the history of Vietnamese films". They also introduced 2 movies with different themes, different scenes.
But when the film was released, the audience fell back because the two films were not too different, Trinh Cong Son was a cut from Em and Trinh and added a few scenes.
Therefore, many argue that the producer should be more selective when releasing and should only show Em and Trinh as a complete film. Many viewers are angry because they think they have been cheated when buying tickets to watch two quite similar movies.
Instead of giving respect, concern, and dissecting the only film version, the release of 2 versions of the film made the audience get caught up in the controversy of "which movie is better", "which movie to watch first" and caused a stir in the media. wave of criticism of the manufacturer.
MI LY
.