Fast, flexible, always ready to serve day and night with an attractive "3 No" fee to help 24/7 electric car battery rescue service bring peace of mind and maximum satisfaction to customers.
Thoroughly solve all battery concerns for electric car users
"Environmentally friendly, quieter, smarter, saving more effort and maintenance costs, more spacious interior space… are obvious advantages of electric cars compared to electric cars. traditional petrol car", shared Minh Chien – a VinFast VF e34 owner in Hanoi.
Minh Chien said that the electric car he is riding is very suitable for urban life, where most users only travel 30-40 km per day. With a full battery charge, he can go a whole week before needing to recharge. If the parking space at home can be plugged in overnight, electric car users will have almost no energy issues.
VF e34 with a maximum range of about 280 km on a single charge is very suitable for urban mobility needs.
Previously, the only concern of electric vehicle users like Mr. Chien was that situations arise that had to go far away from the plan. They are concerned that the car may run out of battery along the way. However, that worry has been resolved by VinFast with 24/7 electric car battery rescue service.
Implemented in parallel with Mobile Service, the 24/7 electric car battery rescue service helps support customers in situations where the car is out of battery in the middle of the road and is not near the charging location. At that time, VinFast's technician team will come to the place and provide an on-site charging solution for the vehicle. Each charge for up to 15 minutes is enough to help the car travel 30 km to a suitable charging location.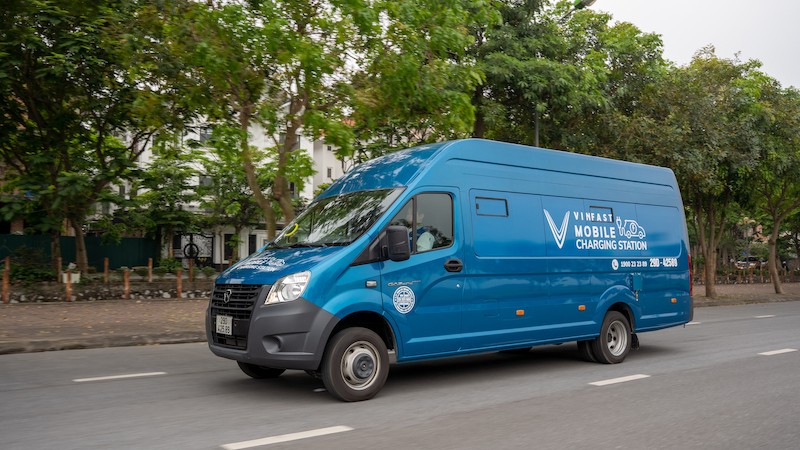 VinFast's 24/7 battery rescue service brings peace of mind to customers when using electric cars.
Especially, as the name suggests, this service operates 24 hours a day and 7 days a week, including holidays. This helps customers always have absolute peace of mind when driving an electric vehicle on the road.
Easy to use service in any situation
To request VinFast's battery rescue service, customers only need to contact the customer care center via hotline 1900 23 23 89. This hotline will receive all calls from customers at any time. any day, including holidays. Due to the dedicated customer care team, customers will be able to answer all questions related to not only battery service but also other information about the vehicle.
Besides, it is expected that from June 2022, customers will be able to request battery rescue services through the VinFast application installed on the phone. Thus, with just a single application, customers can call for help and easily control all vehicle information such as location, travel speed, battery status, charging status, charge rate, etc. This is an outstanding advantage of VinFast smart electric cars compared to traditional petrol cars.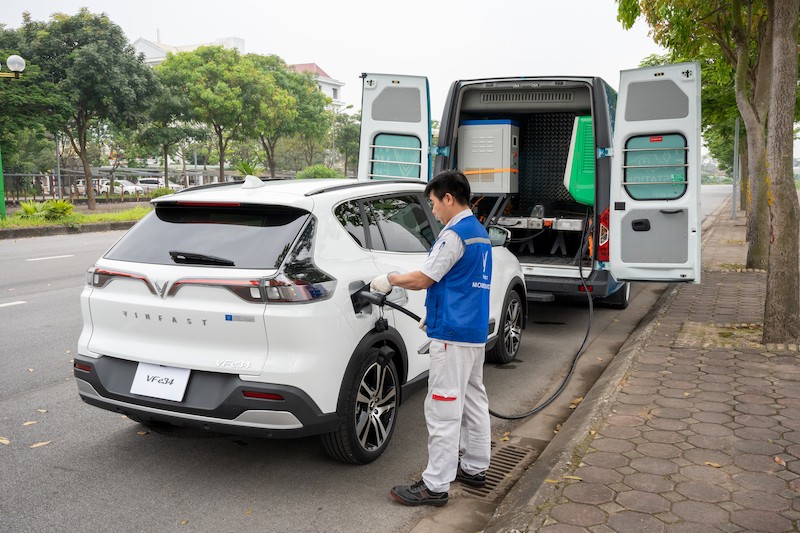 The 24/7 electric car battery rescue service is available 24 hours a day and 7 days a week, including holidays.
In addition, the cost of only 300,000 VND for each rescue of up to 15 minutes of the 24/7 Battery Rescue Service is also considered attractive compared to existing rescue services on the market. This is the "3 No" fee, including no depreciation costs, no financial costs and no profit, applied by VinFast to optimize benefits for customers.
The 24/7 electric car battery rescue service is just one of the perks that VinFast car owners receive. Previously, VinFast pioneered the application of a 10-year warranty policy, mobile repair service (Mobile Service), free rescue 24/7, and free parking at commercial centers and urban areas under the control of VinFast. Vingroup ecosystem…
.