According to the General Department of Market Management (Ministry of Industry and Trade), the real situation of counterfeit goods, counterfeit goods, and low-quality goods sold publicly is one of the most painful problems of society. This problem is present in many segments of the market, from grocery stores in remote markets, to urban sidewalks. It even crept into and blended into busy commercial centers and high-end supermarkets in big cities like Hanoi and Ho Chi Minh City. Ho Chi Minh.
Illegal entities do not comply with the law, take advantage of the market situation to increase the trading and production of counterfeit goods with sophisticated and tightly organized methods and tricks from the production stage. to distribution, products, objects. Counterfeit goods and infringing intellectual property (IP) goods are not only produced domestically but also manufactured abroad, then brought into the country for consumption in many different ways.
For many years, the authorities including the General Department of Market Management (Information Management) have launched a strong attack on prominent lines, drives, and spots, but counterfeit goods, unknown goods. intellectual property rights infringement is still avoided, recurring and trying to slip into distribution channels. For many years, the two traditional markets in Hanoi and Ho Chi Minh City, Dong Xuan and Ben Thanh, have always been famous for selling fake goods and counterfeit goods. public.
To completely resolve this situation, right from 2019, the General Department of Information Management has issued Plan 3972 to fight directly with the aforementioned locations. In fact, after nearly 2 years of drastic implementation, now in these two locations, the number of kiosks for sale shows signs of counterfeiting, and counterfeit goods have decreased significantly. Even after many raids by the information management force plus strict sanctions, these stall owners closed the door and returned the business premises.
When the information management force drastically enters the traditional markets, the counterfeiters of counterfeit goods try to smuggle these goods to another environment – that is, the e-commerce trading floors. With the largest volume of visits, product information search and purchase transactions in Vietnam, Shopee has emerged as a busy online marketplace for millions of buyers and sellers in Vietnam in recent years. Male. Therefore, the problem of counterfeit goods at this online market becomes painful and makes the work of preventing and combating counterfeit goods and counterfeit goods more difficult.
From 2006 to present, every year, USTR has developed a Report called Review of Notorious Markets for Counterfeiting and Piracy (roughly translated Report on markets that have a reputation for counterfeiting and piracy). This contains a list of reputable markets (NML for short). In the NML list of the Report 2020, Vietnam has 3 traditional and online markets selling tangible goods listed, they are: Shopee (online market); Ben Thanh and Dong Xuan (traditional markets).
With regard to the information outlined in a recent report by the United States Trade Representative (USTR), the General Department of Information Management said that the focus of the 2020 Report wants to highlight the use of electricity trading platforms. and other third parties (acting as intermediaries) to facilitate the import of counterfeit and infringing goods into the United States. In other words, the key issue of the Report 2020 is to prevent the use of different types of markets to trade and import IP infringing products and counterfeit products into the domestic US market.
"The rapid growth of e-commerce platforms on a global scale has created the opportunity for the proliferation of counterfeit and pirated goods, turning generals into a fertile industry worth half a thousand. billion US dollars. This illegal trade has a negative impact on the US economy by undermining the competitiveness of American workers, manufacturers and innovators " – excerpt from the Report 2020.
The General Department of Information Management found that this Report is elaborately, seriously and constructive. Stakeholders can refer to this Report to urge both the private sector and governments to take appropriate action to reduce piracy and counterfeiting.
It should be noted, however, that the NML does not provide specific evidence of law violations nor does it reflect the US government's official views on the enforcement environment and the protection of common intellectual property rights in relevant countries. The NML was built primarily on the public media.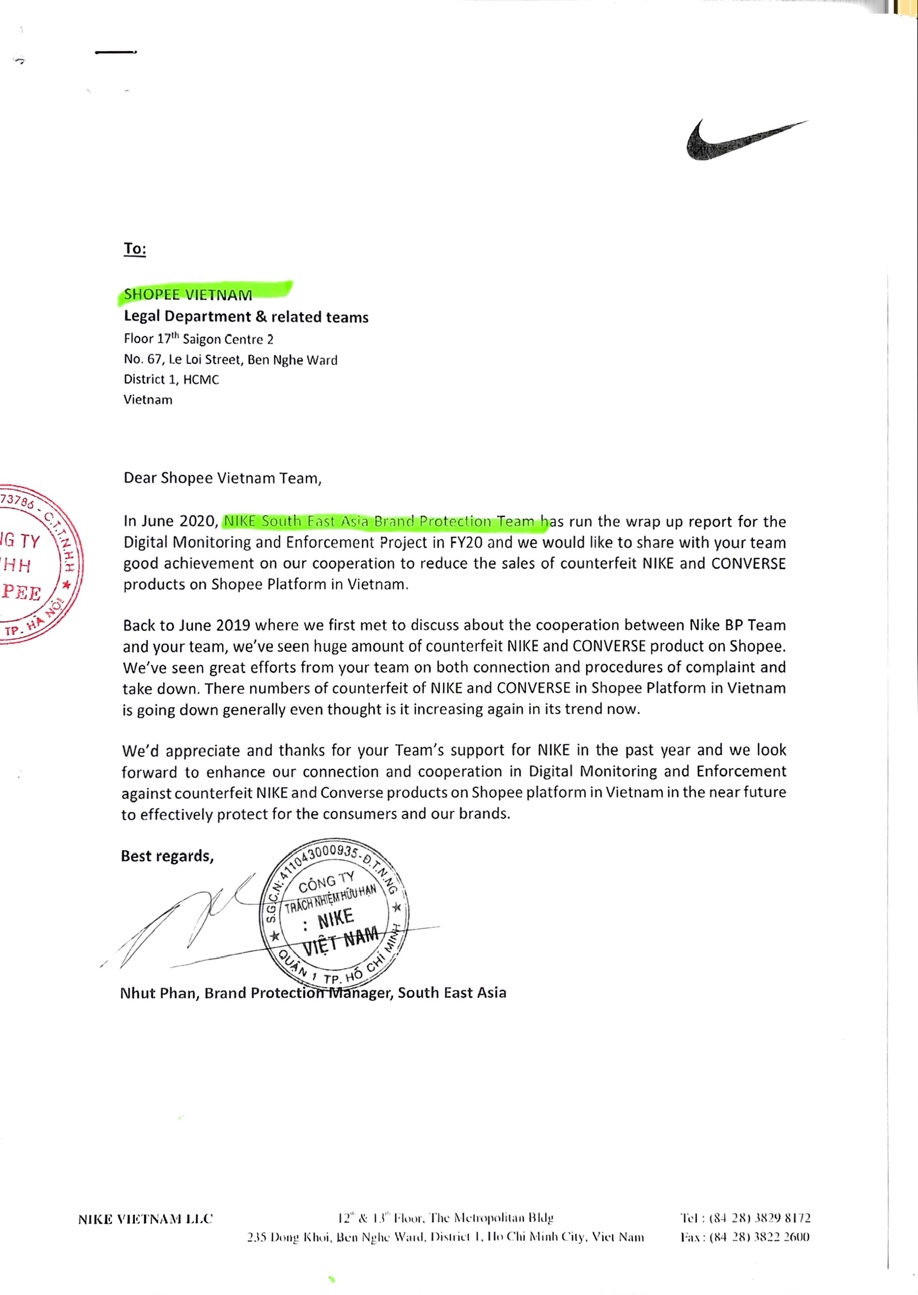 Particularly for the specific case of Shopee, the Report essentially refers to the entire system of Shopee operating in many countries, including: Singapore, Malaysia, Philippines, Thailand, Indonesia, Brazil and Vietnam. Despite the same Shopee brand, there is a different legal entity in each country with a corresponding domain name. According to the inspection by the General Department of Information Management, Shopee in Vietnam (Shopee.vn) has a mechanism to handle complaints about IP rights, has a process and measures to control products for sale and sellers.
Le Kim Lien
.