Britney Spears, Woody Allen, Tekashi 6ix9ine – recent thorny topics of American documentary films – Photo: GETTY IMAGES
Ms. Luong Hong, judge of documentary film category at Magnolia Awards (China), commented that the rise of documentary series is related to COVID-19 pandemic and the change in public audiovisual habits. them.
During the COVID-19 era, audiences not only watched more online content, but were also "hungry" for information. In addition to information on newspapers and social networks, they are "hungry" for deep, thrilling stories with a long history, visual images, vivid recurring. The genre that meets that demand is documentary film.
Messing news and tragedy
Before documentaries Framing Britney Spears (Hulu, 2021) was born, the "Set Britney Free" movement was launched. There is a lot of discussion about the female singer can be "imprisoned" under the protection of her biological father.
But when the New York Times documentary came out, the social influence was still deep and strong. The characters who were condemned by the film for mistreating Spears like ex-boyfriend Justin Timberlake or the journalists who attacked her had to publicly apologize.
On February 21, the hit show Saturday Night Live (USA) for actress Chloe Fineman incarnated and "on behalf" of Britney Spears said resentments: "Since Framing Britney Spears aired, I received hundreds of words. sorry every day. I recommend the Notes app. If you're going to give me a 20 year late empty apology, use Notes. "
Can say, Framing Britney Spears is an important step forward of the movement "Free Britney". This is a prime example of how documentary films can affect reality.
Most recent documentaries have plunged into thorny topics, full of current affairs, investigating and depicting typical tragedies.
Also on February 21, there were two notable documentary films released in the US. That is Allen v. Farrow (HBO) – thorough and brazen investigation into the case of director Woody Allen sexually assaulting his adopted daughter; and Supervillain: The Making of Tekashi 6ix9ine (Showtime) – a face-to-face look at the scandalous life of rapper Tekashi 6ix9ine, who once joined a gang and went to jail for fraud, arms and drug trafficking.
On February 23, YouTube launched a documentary Demi Lovato: Dancing with the Devil, tells about the life of singer Demi Lovato, who used to be a young idol but fell with no escape in drugs and had 3 strokes.
Netflix is ​​equally as good as having a good documentary series in 2020: Jeffrey Epstein: Filthy Rich – on the terrible scandal of the American financier specializing in child molestation, The last dance – about basketball legend Michael Jordan, Tiger king – Portrait of the Tiger King specializing in raising "big cats" (such as tiger, leopard, lion), an eccentric man convicted of a felony.
Documentaries often have more than one episode, and even turn into series. This is also the great advantage of the online platform. Filmmakers are also more hands-free, put into the movie full of information on the topic.
Tragedy is real moved people's hearts
The year 2020 is full of chaos and sadness, but the filmmaker hasn't collapsed. They are trying to turn pain into motivational filmmaking, "turning a lemon into a glass of lemonade" as director of documentary film Maya Zinshtein (Israel). She has just released Til Kingdom Come to air on the internet.
Hugo Granty, co-founder of Film Studio Embankment, told Screen Daily: "The demand for documentaries is huge. Look at Netflix, Amazon and Sky, which have just launched channels dedicated to real content. ". Not only these platforms but Hulu, HBO, Disney +, Apple TV + … are also competing.
Luong Hong, female documentary judge in China, told CGTN: "The appeal of documentaries, what makes people most attracted, is that they tell true stories. the immortal attraction of the movie line ".
There are of course debates over the extent of truth in documentaries. This depends on the talent, morality and reputation of the filmmaker and the screening platform. Only talented filmmakers and have a professional ethic are able to bring the truth to the screen fully, thoroughly and dramatically.
With documentary films, besides the content is attractive or not, there is a very important criterion is the persuasion of the data, especially in the disputed issues. If the film is controversial, the filmmaker cannot use a "fictional" excuse to justify it.
Documentaries, therefore, are clearly a difficult genre. But because of passion, more and more documentary filmmakers are entering the genre and asserting their names. Thanks to their rolling, documentaries are always meaningful and vital.
Even when working on what happened 10 or 20 years ago, documentaries are still very topical, not outdated. Framing Britney Spears denounced public opinion and media "mistreating" celebrities, alerting to the legal loophole in protection rights in America. Or Woody Allen's adopted daughter denounced him for 30 years, but received no clear results. Stories will continue, not stop.
The world always needs filmmakers to bring real tragedy to the screen and help awaken people.
Vietnamese documentary film shown online, why not?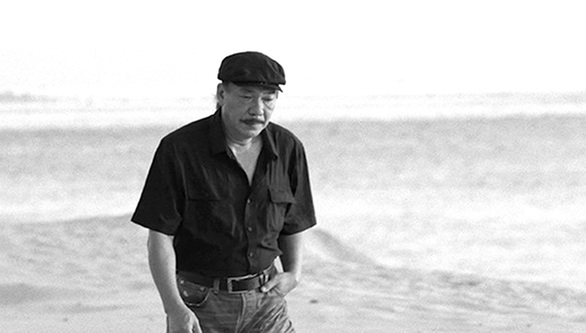 Vietnamese documentary film Dark grass has just been shown online – Photo: ĐPCC
During Tet 2021, documentary film Pale grass color (about the life of musician Tran Tien) is shown on the internet platform. Director Lan Nguyen expressed his joy when her work extended the journey to the audience. This is also a supplementary distribution to a Vietnamese documentary, which has little chance of staying in theaters for long. By the end of 2020, each shade grass color will be limited to small theater systems for a few weeks.
Before that, there were movies Sky tour Son Tung M-TP premiered on Netflix in September after hitting theaters in June, and this past December also featured movies on the platform. Then one day Ha talks about love (Let's talk about love) by Ho Ngoc Ha. However, these are documentaries that are more promotional for the stars than true documentaries.
.