On October 15, the Department of Health of Son La province had information about the case of some children in Son La city showing signs of anaphylaxis, including a 2-month-old girl who died after leaving. vaccination 5 in 1.
General Hospital of Son La province where cases of anaphylaxis are received after 5-in-1 vaccination – Photo Nhu Quynh
According to the report of the Centers for Disease Control (CDC) in Son La province, Pham Gia H. was vaccinated with ComBE Five and took the first OPV vaccine at 9.50 a.m. on October 12, at the Health Station. Chieng Xom commune, Son La city. The immunization officer has strictly followed the regulations on organization of immunization according to the regulations of the Ministry of Health.
After vaccination, Mrs. H. was monitored at the station, about 3 hours after vaccination, this 2-month-old girl showed cyanosis, difficulty breathing and was rescued by the commune health station staff according to the anti-anaphylactic regimen. She was taken to Son La General Hospital for emergency care and active recovery, but the baby died at 16:00 the same day.
On the same day of October 12, at this health station, 18 children were vaccinated with the same batch of ComBE Five vaccine and taken with OPV vaccine. In addition to 1 death case, there are 2 other cases in Chieng Xom commune and Chieng An ward that reacted badly but were ambulance and now stable
Immediately after the reaction after vaccination occurred, the Department of Health of Son La province directed the investigation and held a meeting of the Advisory Council to assess complications during the use of vaccines and biologicals. on October 14, 2020 with the participation of members of the Council and experts from the National Institute of Hygiene and Epidemiology to evaluate the entire vaccination process, the cause of death of the child.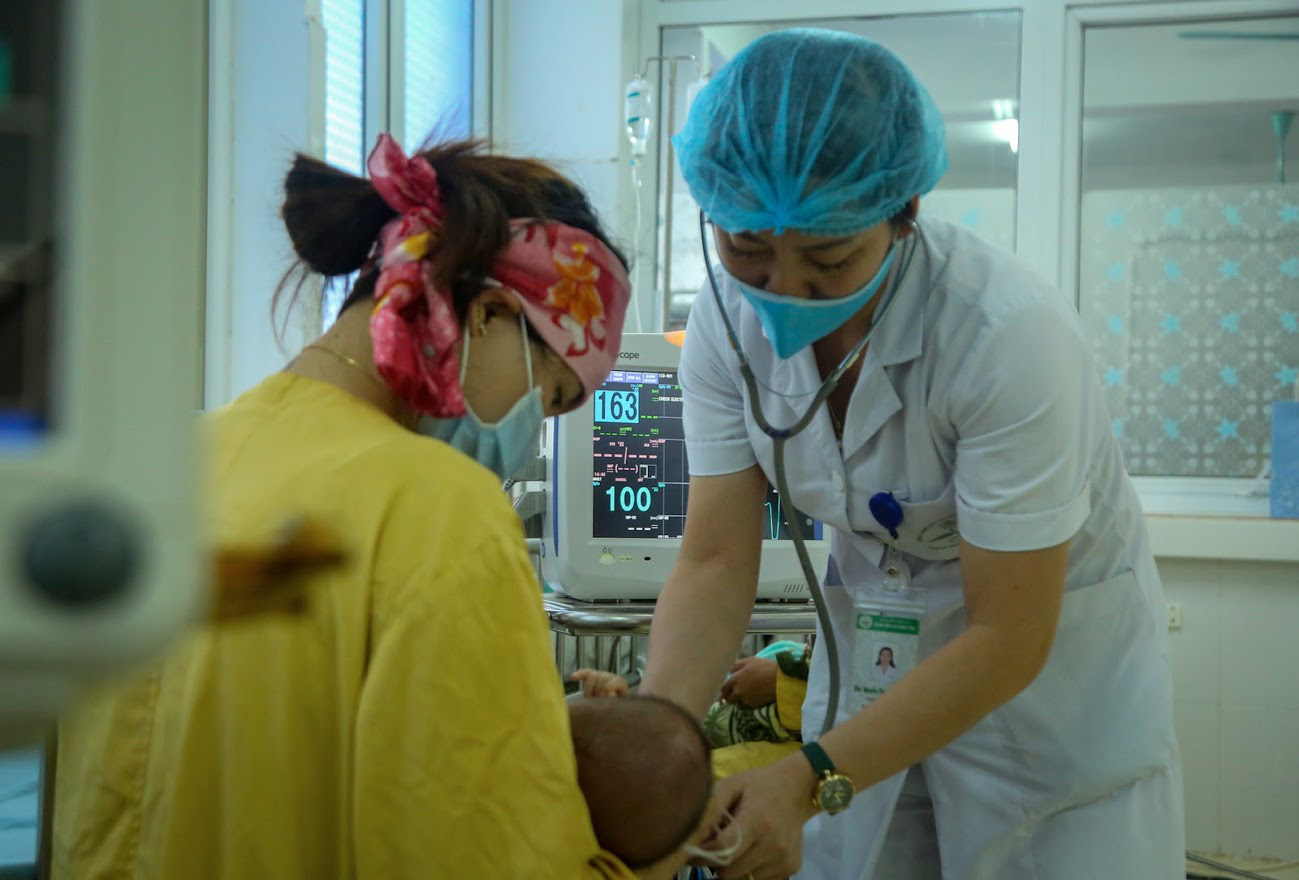 A case with anaphylactic manifestations was treated at the hospital – Photo: Nhu Quynh
"After synthesizing, analyzing and evaluating, the Council agreed to conclude that 1 child who died from anaphylaxis level 4 did not recover with the vaccine DPT-VGB-Hib (ComBE Five), eliminating the cause. due to the quality of vaccines and vaccination practice, the other two cases had degree 2 anaphylaxis with the vaccine and had stable treatment.
Before that, like Newspaper Workers Information, on October 12, Son La General Hospital received 5 children aged 2 to 7 months in Chieng Xom commune and Chieng An ward (Son La city) after vaccination. 5 in 1 (shots 1 – 2 – 3) at the commune health station in the city has anaphylaxis after injection. Among these, a 2-month-old girl died.