CEO Nguyen Thi Thu Hang, a notable character in the recent Shark Tank program – Photo: NSX
The saying "I don't care about business, I only care about you" and the phrase "green, clean, beautiful" in the game show Shark Tank caused a lot of controversy. Many viewers thought this showed a lack of respect for women.

CEO Nguyen Thi Thu Hang, the subject of the quotes, shared her thoughts after this experience.
I don't think my beauty is significant
* The matter has also calmed down, do you think the public attention has any impact on your work and life?
– The first time I appeared on television, then in newspapers, messages, phones from all over, I had to try very hard to focus on my work.
An interesting thing is that I accidentally learned many people who know how to read chess "online". Currently, Wiibike is recruiting more staff to meet the needs of the market, if only I knew how to see the generals to understand people better.
* How is the atmosphere in the studio different from the broadcasted build?
– The exchange lasted more than 1 hour, in fact at the studio the Sharks were not lenient. There were times when all 5 Sharks asked and talked quickly, but I did not dare to interrupt.
The 15-minute broadcast is also full of tense exchanges. The Sharks ask detailed questions about the product, from the establishment process to product characteristics, financial situation and development goals of the business.
The talk was discussed at the closing of the deal, after the Sharks had no more questions for the Wiibike.
Considering the situation at that time, I understood what Shark Phu meant: "I've finished asking, so I'm no longer interested in your business. I'm only interested in the founder." Shark Phu has also repeatedly affirmed this idea on Shark Tank.
Besides, I also know that Shark Phu has a habit of looking at the founder's champion right at the first 10 seconds before deciding to invest.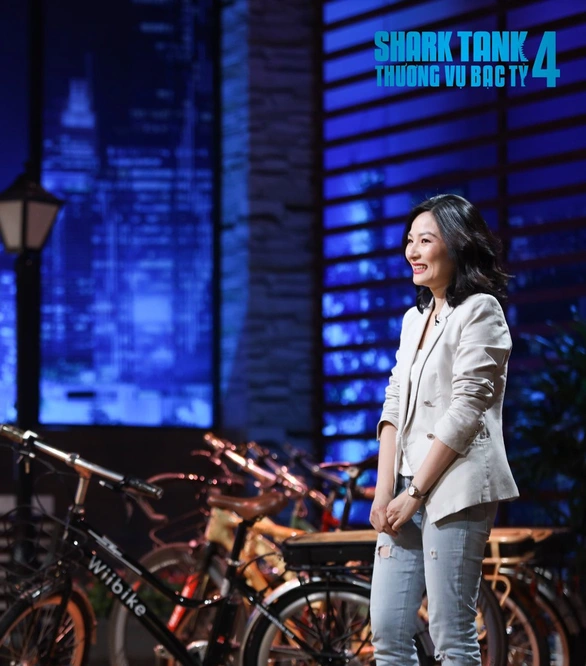 "I even wish that women don't need to take care of their skin or apply sunscreen every day, don't care about wrinkles" – CEO Thu Hang – Photo: NSX
* Do you have the results of work today, do you think is because of ability or beauty?
– Honestly, I don't think my ability or beauty is significant. I enjoyed reading about the Japanese philosophy of Ikigai.
Competence, strength, forte will be good when you do the right thing. The whole journey, the destination of that gives you happiness from the mind. Therefore, you should be persistent, learn your best, create sustainable development.
And another very important thing is the attitude of listening, respecting, absorbing and learning from people around you.
I even wish that women don't need to care for their skin or apply sunscreen every day, don't care about wrinkles. I also don't like makeup. Maturity, health in mind and outlook on life, contributing good things to society are the things I care about.
Women should give themselves equal rights
* On the topic of gender equality, are you interested and take useful actions at work?
– I think in this modern age, women themselves should equip themselves with strength and will, give themselves equal rights and boundaries to protect themselves, learn about themselves. Only you know what you really want in life and work.
In the office, I often advise my colleagues to focus on the positives and the things that are really important, regular exercise will make the spirit strong, joyful, optimistic.
* What did you learn from this experience?
– Coming to Shark Tank, what I want is not only to receive investment money but also to find experienced people to accompany me for a long time because Wiibike's orientation is not only about products but also wanting to offer solutions. on green traffic in Vietnam.
We are a fledgling startup. We will have to try a lot and hope everyone will support green energy bicycles. I believe that greener and easier traffic is not just a Wiibike's dream.
We look forward to working with and joining hands with all individuals and organizations interested in developing cyclist cities in Vietnam.
These experiences have helped us understand our desires and aspirations better, as well as increase our confidence in the path we have chosen. Many young people have contacted us directly to contribute new ideas and initiatives for Wiibike.
.