Britney Spears said she was forced to work too hard, punished with psychotherapy measures and banned beauty – Photo: INSTAGRAM BRITNEY SPEARS
On June 23, Britney Spears spoke by phone before Judge Brenda Penny of the Court of Los Angeles (USA) to ask for the end of conservatorship for her for the past 13 years. The call is 24 minutes long.
According to Britney Spears, the people who controlled and profited from her protection were her family, including parents, relatives, guardians, management team, lawyers, doctors – nurses, insurance staff. security guards, psychotherapists… They were hired with her own money, drained her for the past 13 years, against her will and according to her illegal.
Among them, Britney specifically condemned her father Jamie Spears for controlling her entire life. Here are some key takeaways from the full text on the page Variety.
Forced to overwork and punished if reacted
Under the protection, Britney Spears was forced by the management team to work "7 days a week, no days off" for many years. If she reacts, refuses, there are serious consequences.
In 2018, Britney was forced to go on tour. If she did not, the management team threatened to sue her and she had to find a lawyer herself, while the conservatorship did not allow her to hire a lawyer herself. Stepping down the stage, she was forced to sign a series of papers. She was scared so she had to sign.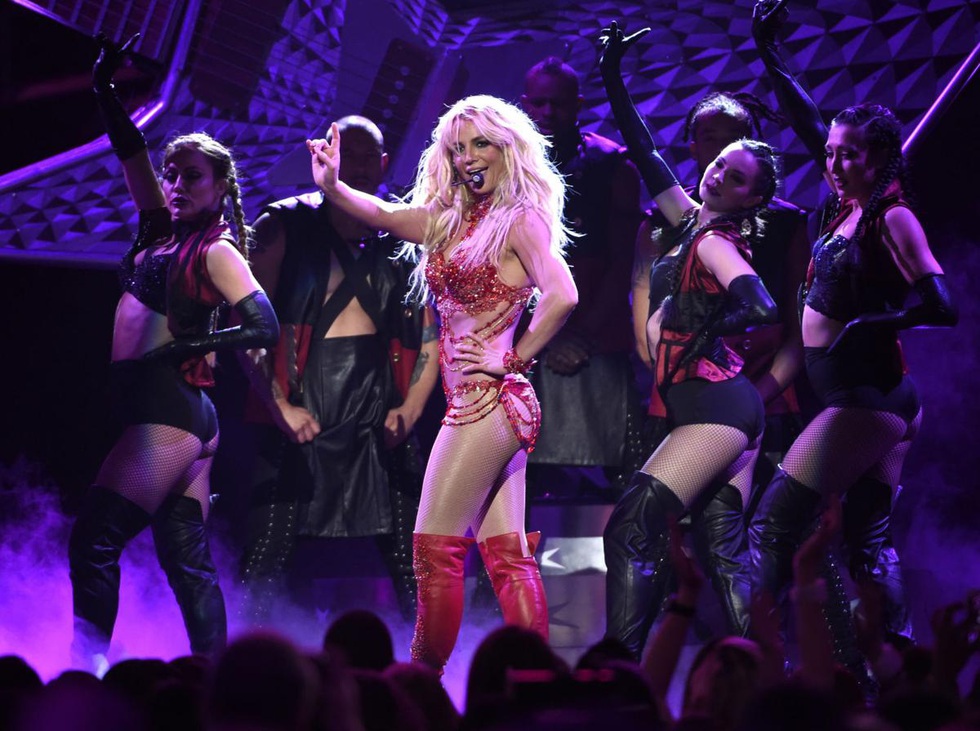 Britney Spears performing in Las Vegas in 2016 – Photo: AP
After she finished touring, she was forced to perform periodically in Las Vegas. The workload is huge, when Britney almost directs the numbers. She said: "I practice 4 days a week… I choreo mostly, teach the dancers new choreography. I take everything very seriously, there are tons of videos of me practicing. I don't do it well. but did well, leading 16 dancers in practice".
But from the point of view of the management team, according to Britney, they all say lies like she refuses to exercise, refuses to take medicine. When she refused a dance move, they punished her by closing the door and talking for 45 minutes and then informing Dr. Benson (therapist) that she was not cooperating.
"I'm not a slave. I have the right to refuse a dance move," she said.
Being given anti-bipolar disorder medication
At one point, the management team was suddenly kind, and they agreed when Britney said she didn't want to perform in Las Vegas anymore because of the stress. But she had a bad premonition, and it turned out to be true. The management team made "millions of phone calls" to the doctor and told her to be uncooperative.
Then, the very next day, Britney was given lithium by a doctor – a drug against bipolar disorder and completely different from the drugs Britney took in the previous 5 years.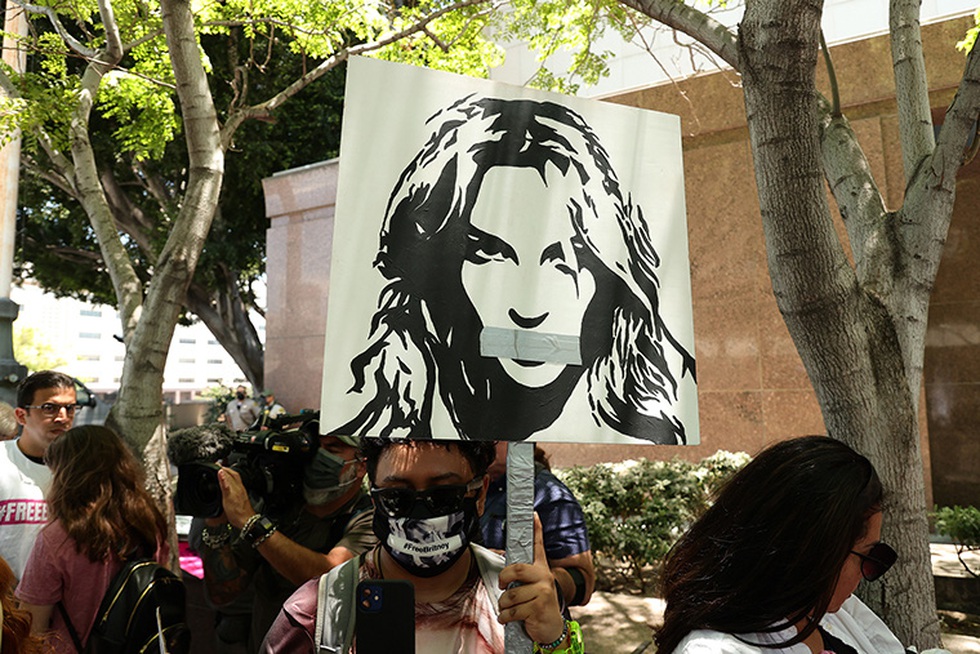 Fans protested at Grand Park in central Los Angeles (USA) during the trial on June 23 to call for "#FreeBritney" – Photo: GETTY IMAGES
"Lithium is a very, very strong drug and completely different from what I'm used to. You can have a mental breakdown if you take too much or take it for longer than 5 months. But doctors still prescribe it and I feel like I'm drunk," Britney said.
Not only prescribing, the doctor also sent 6 nurses to the house to monitor to make sure Britney took the medicine exactly as prescribed. At the same time, they do not allow the use of cars out of the house for 1 month.
Britney's father is happy to "make his daughter suffer"
Before everything that happened to her, Britney insists her father is behind and agrees with everything.
During one Christmas, Britney was forced to undergo psychological testing and separated from her children when they were sent back to their hometown of Louisiana. During those two weeks, a woman came to her house four hours a day to perform an examination. Then her father – Mr. Jamie – called her and informed her that she had failed.
The father said over the phone: "I'm sorry, Britney, you have to listen to the doctors. They'll send you to a little house in Beverly Hills for therapy. You'll pay $60,000 a month."
Britney cried for an hour and she said about her father: "The control he has over someone as powerful as me – he loves controlling and hurting his daughter 100,000%."
Being monitored even when changing, no privacy
During therapy at the Beverly Hills home, Britney said she had to perform "10 hours a day, 7 days a week, no days off". During that process, Britney had all her personal possessions confiscated: credit cards, cash, phone, passport. She has to be with nurses and security guards 24/7.
"They monitor me every day when I change – naked, morning, noon or night. I have to sit in a chair 10 hours a day, 7 days a week. There is no fun and no walking. foot out the door," Britney said.
Forced to put on an IUD, forbidden to give birth
A shocking claim by Britney Spears during the trial was that she was forced to put an IUD inside her body so she could not have more children. She was also banned by the management team from going to the doctor to have the ring removed. Meanwhile, her personal desire is to get married and have children.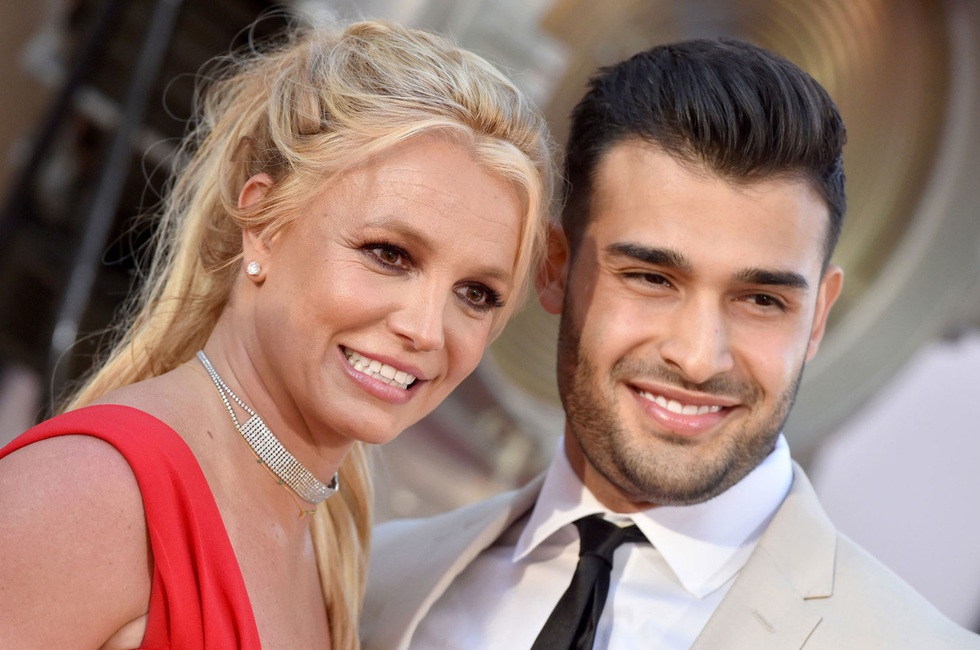 Boyfriend Sam Asghari cheered on Britney at the trial by posting a photo of herself wearing a t-shirt with the words "#FreeBritney" on it – Photo: FILMMAGIC
'I'm angry, depressed'
Britney thought her cry for help was not being heard, so she lied: "I'm fine and happy". Before the trial, she insisted it was a lie. She thought that if she kept telling herself that, she would be happy.
She declared: "I used to deny my problem. I was in shock. I was traumatized. But now I am telling the truth. I am not happy. I cannot sleep. I am so angry that I feel sick. crazy. And I'm depressed. I cry every day."
Request to jail the father and those involved
Britney Spears told the judge: "Ma'am, my dad and anyone involved with conservatorship, my management, who played a huge part in punishing me – they're going to go to jail. Their cruel tactics worked on Miley Cyrus when she smoked marijuana on stage at the VMAs. Nothing has ever happened to these wrongdoers."
She called Jamie Spears a "stupid father" and "the state of California has allowed him to take control of his daughter".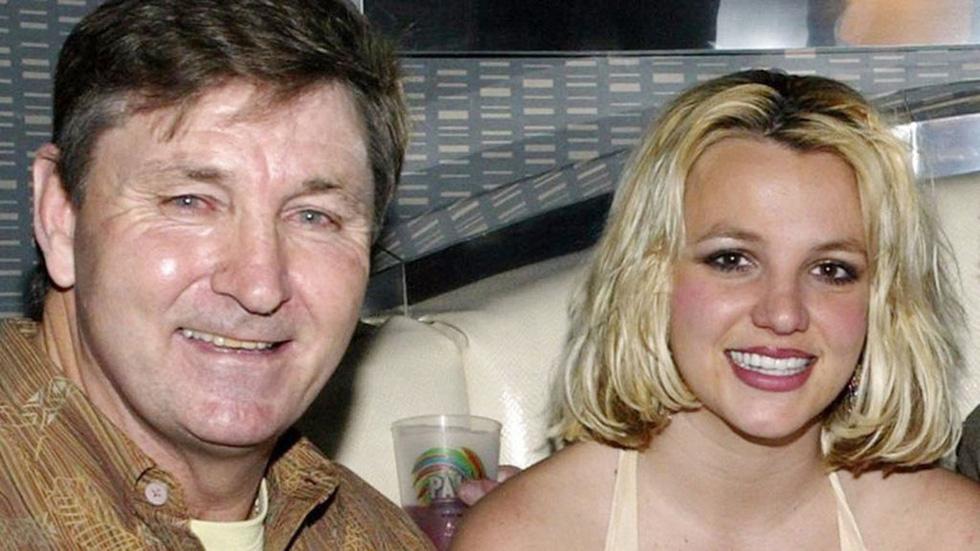 Mr. Jamie Spears and his daughter Britney – Photo: GETTY IMAGES
"I deserve to live"
From the age of 17, Britney Spears became a famous singer and she worked a lot, earned a lot of money, but the protection regime made her not have full rights to her property.
She said her last words in court: "I deserve a life. I've worked all my life. I deserve to take 2-3 years off and do what I want.
I wish I could talk on the phone with the court forever, because when I leave the call, I'll just hear "no, no, no, no". I found myself surrounded, bullied, abandoned and alone. I deserve the same rights as everyone else: to have children, to have a family and more."
.