Black Vau is the name that leads both of the announced Billboard Vietnam charts
These are the two main charts that Billboard Vietnam launched after more than 4 years of operation while learning more about the Vietnamese music market. Besides honoring songs, artists and recognizing the interest of the audience, each chart has its own meaning.
Billboard Vietnam Hot 100 gathers 100 domestic and international songs, which means that Vietnamese artists have to compete directly with colleagues from other countries. And Billboard Vietnam Top Vietnamese Songs is a playground showing the coverage of domestic artists, including only the most popular Vietnamese songs of the week.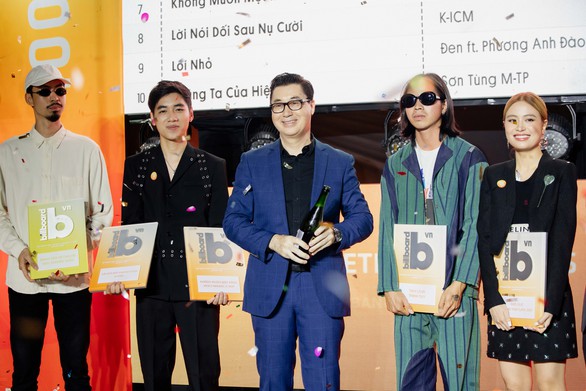 Mr. Myke Brown (middle) – CEO of Billboard Vietnam – took a photo with the award-receiving artists
At the event, the owner of the highest position in the two charts belonged to rapper Den Vau and singer Nguyen Thao with Bring money back to mom. Rapper Hide and seek once again proving their strong appeal when there are two more products holding the next position of the Billboard Vietnam Hot 100, namely: Go home (Den Vau, JustaTee) and Sowing hexagrams (Hoang Thuy Linh, Den Vau).
BTS is the only Korean representative in the top 10 with Universe collaborated with Coldplay and Butter. 6th place belongs to Vu with Walk past each other, Thinh Suy with the same song Tiny love closely at 7th place. It's late but why of Son Tung M-TP is currently ranked 8th.
The last two places in the top 10 belong to Stay (Justin Bieber, The Kid Laroi) and Don't want to be alone (Vicky Nhung, K-ICM).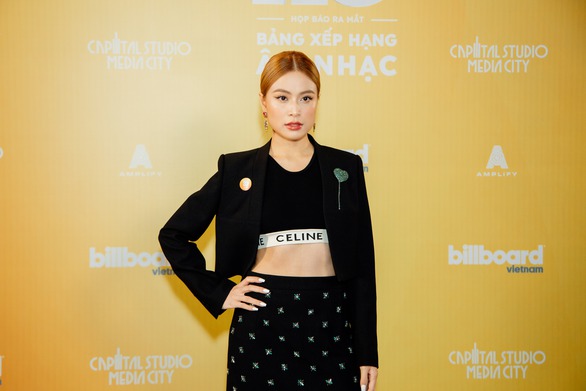 Hoang Thuy Linh feels very happy and has more motivation after Billboard Vietnam announced two charts, she also hopes that from now on, the music industry will have positive changes.
Similar to the US, both Billboard Vietnam Hot 100 and Billboard Vietnam Top Vietnamese Songs are scored every Friday to Thursday based on data from widely used music and video platforms in the country. .
The results are based on a scoring formula that includes streams (online views) for songs officially released on top music and video services as well as purchases (also known as downloads). paid) products on popular music distribution platforms in Vietnam.
In which, the number of online listeners is calculated for both registered accounts and free users on music services. All of Billboard Vietnam's data is compiled by MRC Data – an information collection system that has provided data for the calculation of US Billboard's weekly charts for many years.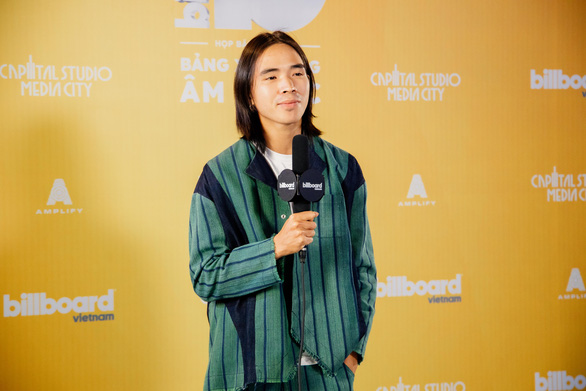 Thinh Suy is a prominent Gen Z singer today
The wish that Billboard Vietnam sets out from this event is that fans, artists, etc. will have one more measure that will have a positive influence on the development of the country's music. This is also the big goal that many music charts in Vietnam have continuously appeared and disappeared over the past two decades have yet to achieve.
Mr. Nguyen Le Nhat Phuong – Managing Director of Billboard Vietnam – answered Tuoi Tre Online: "I can't say exactly in Asia which specific countries Billboard wants to expand, but one of Billboard's three biggest partner countries in Asia is Vietnam, next to Korea and Japan. .
We have been present in Vietnam since 2017. Over the past 4 years, we have witnessed the strong development of this market. The mainstream (mainstream – PV) artists return to traditional values, the Gen Z youths show their versatility and distinct musical personalities… In terms of people, artists in Vietnam are showing a remarkable transformation. Considerable development. Many of you have stepped forward and begun to strengthen international cooperation more.
On the other hand, the emergence and growth of platforms like Spotify or Apple Music shows that Vietnamese audiences have begun to get used to the culture of paying to enjoy art and cultural products. Those are some of the reasons we decided to choose Vietnam."
.