From left to right: Den Vau, Le Cat Trong Ly, Nhu Quynh, Son Tung M-TP – Photo: Facebook
* Nhu Quynh wore an ao dai with her brother's name on the day she returned to the stage
Recently, singer Nhu Quynh returned to perform on the Drum Dong stage in Ho Chi Minh City. Voice Fate touched the audience when wearing an ao dai with the word "Khue" attached to the name of designer – singer Le Lam Tuong Khue, younger brother Nhu Quynh.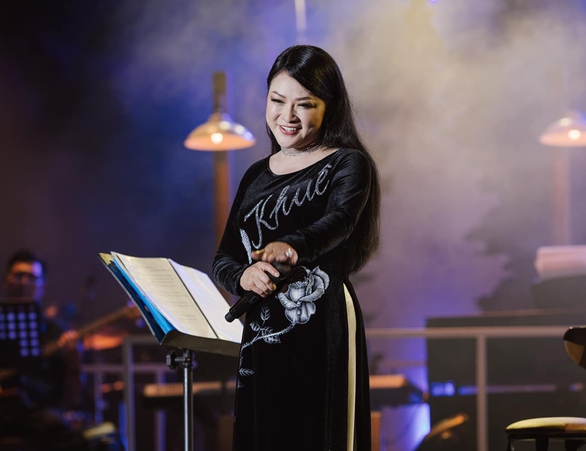 Nhu Quynh in a long dress with the name of her brother who passed away on stage – Photo: Fanpage Nhu Quynh
She shared on social networks: "Tonight, I sang a cozy music night in Saigon. She wears a shirt named Khue, this time, she can no longer wear the shirt Khue designed for her."
It is known that the Ao Dai was designed by a member named Do Nguyen – Nhu Quynh's fan. He confided that he had put a lot of effort into the product, as an encouragement to comfort his idol after many recent events.
* Dan Truong renews the song 20 years ago to promote SEA Games 31
Singer Dan Truong has just released a new record of the song Cheer song to cheer the Vietnamese sports delegation at the 31st SEA Games. This is a composition by Luong Bang Quang, presented by Dan Truong at the 22nd SEA Games in 2003.
Support song version 2022 – Source: Dan Truong
Dan Truong said last year, the representative of the General Department of Physical Education and Sports ordered him to remake the song. After that, he contacted Luong Bang Quang to rewrite the song in bilingual English – Vietnamese and then record it with a newly invested mix.
Cheer song The 2022 version received positive feedback from the audience, and is expected to be broadcast in promotional programs for the 31st SEA Games.
* Rapper Den Vau apologizes for making the juniors wait
On the evening of May 2, rapper Den Vau came to the audience in Can Tho in a music program for students. BILLIONWith the audience's enthusiastic cheers during the night, Den Vau lasted longer than expected, making the next artist wait.
Knowing this, when the show ended, Den Vau sent a direct message to apologize to Hong Thanh and DJ Mie who acted after the rapper.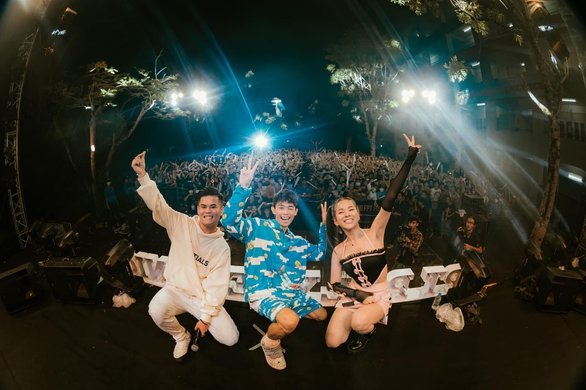 Hong Thanh and Mie are not only not angry, but also respect the elder Black Vau more after receiving the apology message – Photo: Fanpage Hong Thanh
On his personal page, Hong Thanh posted a screenshot of a short conversation with the apology of Black Vau with the status line: "It's okay, I'm very honored to act together, stand with the poster and I respect you very much."
This post quickly attracted a lot of interest from the online community. Most of the comments praised the rapper's professionalism and respect for his juniors Hide and seek.
* Le Cat Trong Ly created on ancient Vietnamese songs
Project Ancient Vietnamese songs collection of ancient songs of ethnic groups across the country, collected together by Le Cat Trong Ly and his companion – composer and arranger Nguyen Thanh Tu.
In episode 78 of the podcast Have a sipLe Cat Trong Ly shared about a special musical story revolving around Vietnamese culture as well as upcoming plans.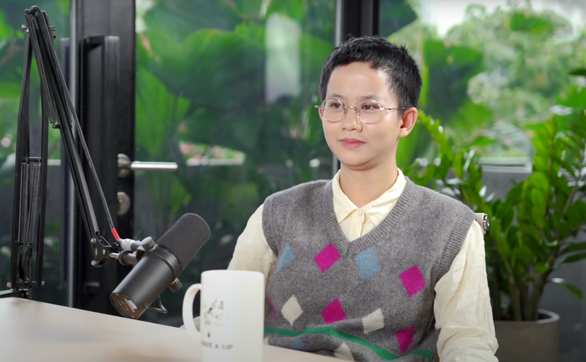 This is the rare time she appears in an exchange program to talk about her project – Screenshot
"I think culture is development, so surely what we are conserving is the original? A folk song heard from mother, mother heard from grandmother, grandmother heard from grandmother… So conservation by How do I deal with a change?I only keep something when it feels good and beautiful.
Many young people find old Vietnamese songs too far from their perception and understanding, but that doesn't mean it's not good and beautiful. I'm just someone who makes music that I believe is good and beautiful. In real life, ethnic people or ancient Vietnamese sang these songs not to perform, but to chase animals, lull children… so they don't think it's art or work.
I'm doing things like harmonizing, mixing, "turning" those songs into works of art originating from folk, helping the audience hear good, interesting works and from there they will find understand the original culture," she said.
* Discontinued release in Vietnam, MV of Son Tung M-TP has slow increase in views
After 4 days of stopping release in Vietnam, MV There's no one at all by Son Tung M-TP only increased by more than 1.3 million views on YouTube, although it can still be accessed from abroad.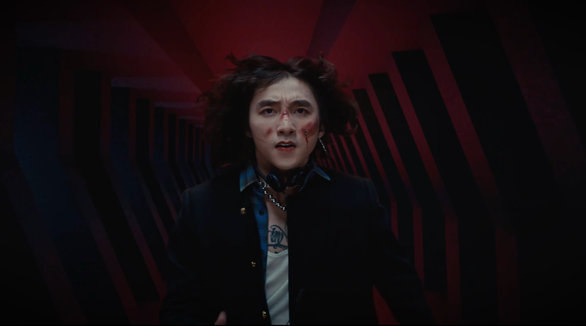 Son Tung M-TP in MV – Screenshot
Can see the new product of the vocalist Get lost failed to gain traction in the international market as expected when 5 days have passed since its debut, the MV has not yet reached 10 million views.
Previous products that helped Son Tung M-TP become a digital music "boss" like Run now reached 22 million views in 24 hours, Please give it to me reached 10 million views after more than 3 hours.
With this decline, many viewers commented There's no one at all On the way of "bringing the bell to fight the land of the people" there are still many difficulties.
.