Musicians Bao Chan, Quoc Bao, Van Tuan Anh (from the right) share the special thing about the album 'Miracle of No. 3' – Photo: PHUONG NAM
Album The magic of number 3 is a musical product celebrating the friendship of over 20 years of three musicians.
According to musician Quoc Bao, from concept to completion, this album took about a year.
The special feature of the album is the combination of three musicians with three different music styles and is shown through three young singers in 3 different styles. They are Vo Ha Tram with chamber music, Trong Bac with love pop music and Trini with jazz rock.
"It is the different styles of 3 musicians that will complement each other, creating an interesting thing for this album" – musician Van Tuan Anh shared.
Album The magic of number 3 includes 10 songs including: Wonderful dream, Back to me, Little faded (composing Bao Chan), performed by singer Trong Bac; Sometimes, Away, Love each other gently and gently (Composing Quoc Bao) presented by Trini; Farewell to the dream, Cross climbing, Storm flood, Tickling times (composed by Van Tuan Anh) sung by Vo Ha Tram.
The musicians chose Vo Ha Tram, Trong Bac, and Trini to perform the songs in this album because of a predestined relationship, as well as the vocals that match the songs.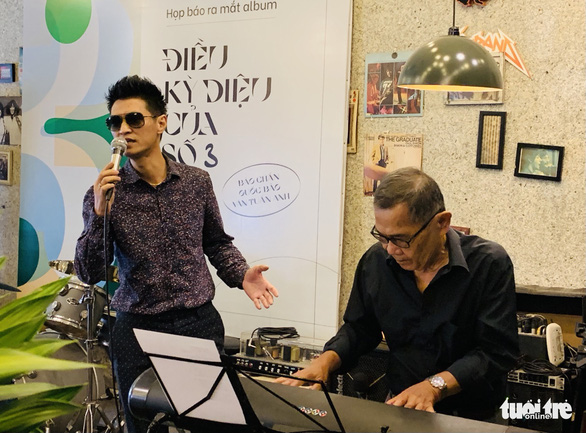 Musician Bao Chan accompaniment for singer Trong Bac – Photo: PHUONG NAM
In the album, in addition to musician Bao Chan selected songs familiar to many audiences, musicians Quoc Bao and Van Tuan Anh chose brand-new songs.
According to musician Bao Chan, he chose songs that were easy to listen to in order not to be picky about listeners. And musician Quoc Bao explained: "Instead of choosing hit songs from a while, we wanted to do something different, so we decided to choose a new song to be performed for the first time."
Although each musician actively chooses songs with a different musical style, the overall album is a collection of new romantic, but modern, and remixed songs.
The magic of number 3 is available in three formats: online, CD and vinyl, starting April 9.
.