From left to right: Kaity Nguyen, People's Artist Viet Anh, Cong Tri, Lan Ngoc – Photo: Facebook
* People's Artist Viet Anh was criticized
On June 13, actor Huu Tin was criminally detained by the District 8 Police (HCMC) to investigate the crime of illegal possession and illegal use of narcotics.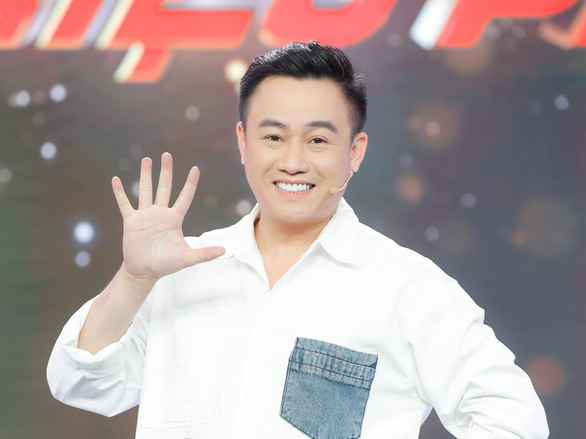 After "flying around" with friends at the bar, Tin brought leftover drugs to his apartment in District 8 to use and was arrested – Photo: Facebook Huu Tin
On the evening of the same day, Hong Van posted a status line: "I couldn't sleep the whole night, I was angry, sad, and sad at the same time. Life is self-determined, the future is decided by oneself, still living is still striving, wherever you go to correct it, where you stumble, get up there. Do your best for your loved ones."
Under the comments, People's Artist Viet Anh wrote: "I just found out last night, must have been pointed out by someone jealous. How could the police know to arrest me at home? Friends and friends." Many people think that the two artists are expressing their thoughts. think about Huu Tin's mistake.
After that, artist Viet Anh deleted the above comment line after receiving criticism from netizens throughout the day. Currently, both Hong Van and Viet Anh have not yet commented on the incident.
* Dreamy Cities gathers 3 groups Sweet, Wild Salmon, Chillies
Dreamy Cities is a program that is no stranger to young people who love indie and underground music in Vietnam in general and HCMC in particular.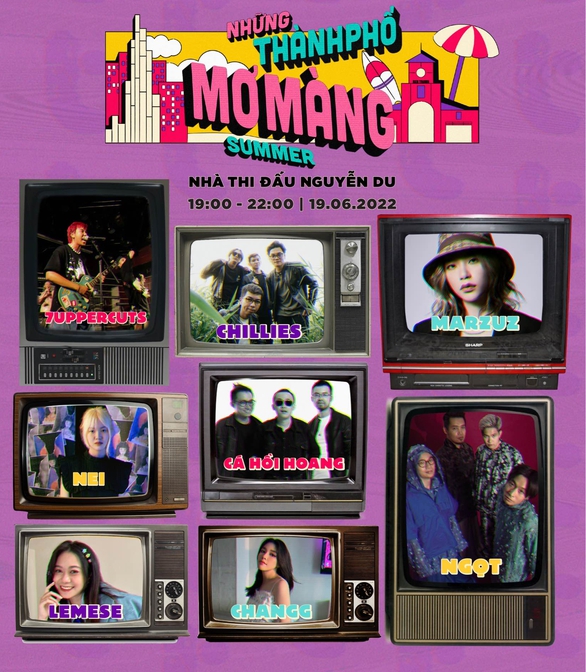 Artists and music groups participating in the program – Photo: Organizing Committee
Before that, the organizers had brought many well-rounded music nights with the desire to become a place for young people to stop in the midst of the chaotic life in the city, to inspire a positive, optimistic, and loving life together. everyone.
The upcoming program will take place on June 19 at Nguyen Du Gymnasium (HCMC) with the participation of Ngot, Salmon Hoang, Chillies, Marzuz, 7uppercuts, Changg, Lemese…
"A year with four springs, summers, autumns and winters, Dreamy Cities are happy to welcome their "residents" again this summer so that we can enjoy the vibrant tunes of artists and groups. indie, rock, underground music" – the organizers shared.
* Lan Ngoc, Kaity Nguyen confront in new movie Girl from the past
Producer Mar6 Pictures has announced the first image of Ninh Duong Lan Ngoc, Kaity Nguyen in Girl from the past. The film belongs to the psychological, thriller, sensational genre and is scheduled to be released on November 18.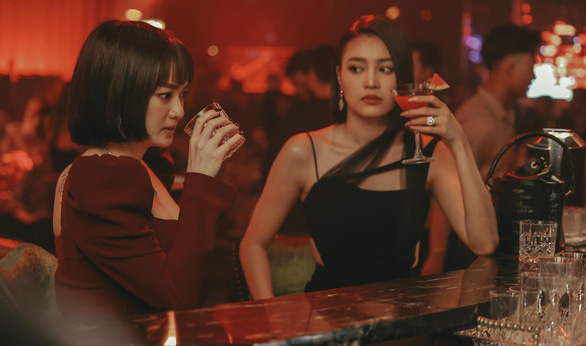 Side by side with the two actors in this project is People's Artist Le Khanh as an acting guide – Photo: Provided by the film crew
According to the producer, the film has content about Hoang Quyen (Lan Ngoc) while busy preparing for her million-dollar wedding with Jack when she suddenly meets Quynh Yen (Kaity Nguyen) – a younger sister who long lost contact.
Then, mysterious and dark troubles came, leading to a series of secrets of both girls gradually being exposed.
"The role of Hoang Quyen is completely new and different from Ms Q in Very old girls. This is also a different role compared to all the roles in my film career over the past 12 years "- Ninh Duong Lan Ngoc shared.
And Kaity Nguyen said: "The role of Quynh Yen has many firsts for Kaity. This is also the first time Kaity plays a villain with the image of an evil woman and also works with Lan Ngoc, so Kaity was very focused and excited."
.