Director James Gunn (Guardians of the Galaxy) praised Nguyen Ngoc Manh's action – Photo: GETTY IMAGES / PHAM CHIEN
Director James Gunn of the Marvel superhero universe called Nguyen Ngoc Manh a 'truck driver hero', when he bravely climbed up to the roof to save the baby that fell from the 12th floor.
On his Twitter on March 3, director James Gunn reposted the video of Manh rescuing the baby and wrote: "It's wonderful: A child is about to fall from the 12th floor. A truck driver below saw, he climbed. On a wall nearly 2m high and when the baby fell, he was able to hold the baby. The baby just dislocated. The truck driver hero only had a sprained arm ".
The video posted again by James Gunn reached more than 500,000 views. Readers who watched him also expressed admiration for the wonderful story.
A foreign reader living in Vietnam added: "He is very humble, does not want to accept donations. Would you (James Gunn) want to invite him to play a cameo role in your film?" ".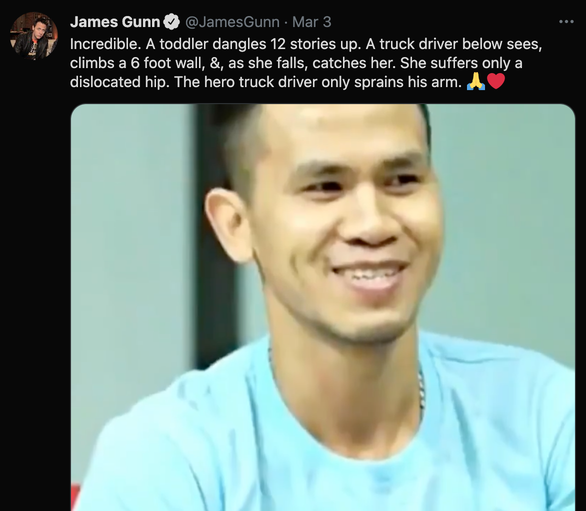 The post by director James Gunn spread the story of Manh to an international audience – Photo: SCREENING SCREEN
Readers Cynna Ael expressed: "God, I am so glad he saved the baby and no one has suffered so much pain. I am always scared to see children in danger". Many commenters said that perhaps director James Gunn should invite Nguyen Ngoc Manh to participate in part 3 of the series Guardians of the Galaxy.
Not only the famous director, many international newspapers and news channels have also reported on Nguyen Ngoc Manh in recent days. That is The Guardian, France 24, Yahoo !, London Evening Standard, Daily Mail, Complex, The Huffington Post, The Independent, The Global Herald…
Director James Gunn was born in 1966, is a talented and famous filmmaker in Hollywood. He used to make movies of the Marvel universe like Guardians of the Galaxy, Guardians of the Galaxy Vol. 2, a movie of the DC universe is The Suicide Squad and superhero movies Super.
Currently, he is performing Guardians of the Galaxy Vol. 3, Marvel movie is scheduled to hit theaters in 2023.
.