On the morning of November 25, at an online conference to review treatment work Covid-19Assoc. Prof-Dr. Nguyen Truong Son, Deputy Minister of Health, said that the 4th wave of Covid-19 epidemic from April 27 broke out and spread to localities, with an unprecedented number of cases and deaths. .
During this time, Vietnam has made many changes to the guidelines for the treatment of Covid-19 patients to adapt to the change of the SARS-CoV-2 virus. By September 30, our country had basically controlled the 4th epidemic.
The Ministry of Health organizes an online conference on Covid-19 treatment with localities
"The Ministry of Health has also developed, adjusted and revised to version 7 in the treatment of Covid-19. This is a new disease, always changing in the pathogenesis. During the treatment process, Vietnam has tried. clinical trials (TNLS) of drugs to treat Covid-19 such as antiretroviral drugs for HIV, anti-malarial drugs, and anti-helminths… Thereby, the medical community has also tried to build support groups and groups. expertise and treatment subcommittee of the National Steering Committee for Covid-19 Prevention and Control," said Mr. Son.
According to Mr. Son, Vietnam has successfully tested the anti-viral drug Molnupiravir. Up to now, the Ministry of Health has provided 250,000 doses to localities. Initial evaluation showed that molnupiravir increased the percentage of patients who were negative after 5 days of treatment from 72% to 93%; reduced mortality by up to 50% compared with the non-molnupiravir group. In addition, other therapeutic drugs for the treatment of severe Covid-19 patients have also been used with initial success.
Deputy Minister Nguyen Truong Son also said that along with the use of Molnupiravir, on November 25, there will be 1 million more doses of Avigan antiviral drug to treat Covid-19 from Japan to Vietnam. This batch of drugs is distributed to localities, granted for the treatment of mild Covid-19 patients.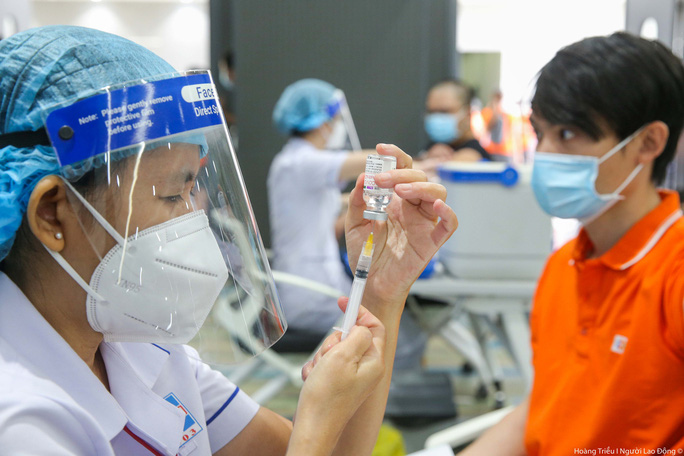 Immunize people with Covid-19 vaccine – Photo: Hoang Trieu
Regarding the epidemic prevention and treatment strategy, Mr. Son said that up to now, the rate of new infections per 100,000 population is no longer an important indicator for assessing the epidemic level in localities. Accordingly, Vietnam will focus on assessing the status of hospitalized cases, severe cases and deaths. At the same time, encouraging people to self-test, encouraging people to self-detect, mild cases will be treated at home. More severe cases are transferred to medical facilities. In the coming time, the use of antiretroviral drugs will be increased at grassroots health care facilities and at home to limit severe Covid-19 patients. Along with that, there will be a new strategy on isolation and appropriate testing.
According to the Deputy Minister of Health, home treatment is focused on deploying on the basis that Vietnam has achieved the necessary vaccine coverage rate. By this November 30, Vietnam has reached the rate of 70% of the population aged 18 years receiving full doses of the Covid-19 vaccine.
At the conference, Assoc. Prof. Dr. Luong Ngoc Khue, Director of the Department of Medical Examination and Treatment (Ministry of Health), also said that the current Covid-19 epidemic in the world and in Vietnam is still very complicated. Vietnam has passed the most critical phase of the 4th wave of the Covid-19 epidemic, however, it still has to prepare conditions to welcome the new wave of Covid-19 epidemic, not to be negligent and subjective.
Currently, there are 95,932 cases of F0 being treated at home (51.9%), 10,491 cases are in isolation areas (5.68%); 78,406 cases are being treated at the hospital (42.42%), of which 3/462 severe cases require mechanical ventilation (4.42%), 519 cases are on ventilators (0.66%).
By the morning of November 25, our country had nearly 68 million people over 18 years old who received at least 1 dose of Covid-19 vaccine; More than 45 million people get 2 doses of vaccine.