Director Klim Shipenko waves to relatives and supporters before entering the Soyuz MS-19 spacecraft to go to the ISS on October 5 – Photo: REUTERS
Director Shipenko and actress Yulia Peresild returned to Earth on October 17, after 12 days on the International Space Station (ISS) for the movie "The Challenge". The two gathered about 30 hours of recording to prepare for the editing process, according to Reuters news agency.
This is considered the first film of mankind to be filmed in space and was praised by the Russian media as a victory over the Americans. According to Reuters, the flight to the ISS seems to have changed director Shipenko's view of the set.
"We think that since it's a movie about space, it should be shot in space. If it's a movie about the Moon, then go to the Moon to record, if it's a movie about Mars, go to Mars. Why are space movies shot in movies? school?", Mr. Shipenko expressed optimism at the press conference on October 19.
"Every second is a big discovery," actress Peresild describes her experience. In "The Challenge", she plays a doctor sent to the ISS to save the life of a critically ill astronaut.
Director Shipenko revealed that the astronauts on the ISS participated in the filming and had certain supports, including holding him while filming to avoid touching furniture.
The editing, post-production and related work on "The Challenge" will last until the end of next year. The space shots will take up 25 to 35 minutes of the film, according to Mr. Shipenko.
The release date is still unknown, but like other movies, "The Challenge" will feature teasers that reveal some footage from space. Director Shipenko also revealed that the film is receiving quite a lot of international attention.
"I think if the film is released internationally, it will pay for the film budget by itself, and the mission of this film is to do that," Mr. Shipenko replied when asked about the cost of making the film. film.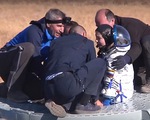 Russian actress acting in space movies
.