Specifically, the old fine for avoiding medical isolation is 5-10 million VND. The new penalty doubled, 15-20 million VND. Their acts of failing to report or untruthfully report the evolution of infectious diseases to their physicians and health workers will be fined 10 times higher than the old fine. Specifically, the old fine of 100,000-300,000 VND is replaced by 1-3 million VND.
Recently, the act of not wearing a mask in public is considered a violation of regulations on applying anti-epidemic measures. Violation of Point a, Clause 1, Article 11 of Decree 176/2013: "Failing to take personal protection measures against people participating in the epidemic fight and people at risk of epidemic diseases under the guidance of health agencies". This act is subject to a warning or a fine of 100,000-300,000 VND. Thus, the average fine to be applied is 200,000 VND.
In Ho Chi Minh City, in August, the authorities sanctioned 3,769 people with a total amount of more than 756 million VND, an average of 200,000 VND / person.
The new fine increased 10 times, 1-3 million VND; The average fine for not wearing a mask is 2 million VND. In addition to wearing a mask, the personal protective measures instructed by the health authority to prevent and combat the COVID-19 epidemic also include hand washing, keeping distance, and covering the mouth when sneezing …
In particular, Decree 117/2020 also adds sanctions for acts of taking advantage of epidemics to determine unreasonable buying and selling prices for drugs and medical equipment. The fine is from 20-30 million VND. This is a completely new content, not included in Decree 176/2013 on sanctions in the health sector.
In addition, with the above acts, there is also an additional sanction of depriving the right to use certificates of satisfaction of pharmaceutical business conditions, certificates of pharmacy practice, and suspension of operations for establishments not required to issue certificates. certificate of eligibility for pharmacy business within 12-24 months. At the same time, it is forced to reimburse the buyer or seller for the full difference. In case the customer cannot pay the refund, it shall be remitted into the state budget according to the provisions of law.
An Ha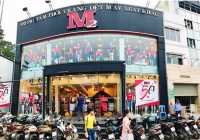 Is the M2 supermarket system selling children lacking CR stamps, is the product quality guaranteed?
(VietQ.vn) – A series of products for children sold at the M2 supermarket system do not have a stamp of conformity (CR). Is the quality of these products guaranteed not to harm the baby's skin?
.