Regarding the outbreak at Hospital K Central Center 3 (Tan Trieu, Thanh Tri district, Hanoi), on the morning of May 9, this hospital has just recognized 1 more patient in the Department of Liver – Bile – Pancreatic Surgery, Phu Tho countryside, arriving at the hospital on 23rd. -4, treated in room 712. It was NHTH patient, 19 years old, a student at Ethnic Preparatory School, Viet Tri City, Phu Tho Province.
This patient was transferred from Phu Tho Provincial General Hospital to the 3rd Central K Hospital with a diagnosis of right liver cancer on April 23. The person accompanying the patient is the biological father SN 1957.
Sampling for patients and family members at Central K Hospital – Photo: Ha Tran
Patient H. applies for outpatient treatment from April 29 to 3-5. Epidemiological tracing shows that from April 29 to May 1, the patient and his father stayed at the inn near the hospital with Uncle HTT (SN 1968).
Within 3 days from 1 to 3-5, the patient went to PVK's house at 36/113 Yen Hoa, Cau Giay District, Hanoi. The next day, she returned to the hospital in room 712. On 5-5, the patient performed the button circuit treatment for liver cancer. After the node, the patient with pain was transferred to room 708.
The patient was tested for the 1st Covid-19 screening test on May 6, with negative results; Sampling for Realtime RT-PCR test 2 times on 8-5, positive results at 5 am on 9-5. Currently, patient H. is isolated in the isolation treatment area of ​​K Hospital 3.
So far, Hospital K facility 3 has recorded 12 cases positive for SARS-CoV-2, of which 11 cases have been announced, no medical staff has been infected.
After recording 11 cases of Covid-19 infection, Hospital K activated all scenarios of epidemic prevention at the highest level.
The hospital has taken samples to test all more than 4,000 patients, the patient's family, medical staff, workers at the hospital's facilities. To date, 2,400 Realtime RT-PCR test samples have been found negative for SARS-CoV-2.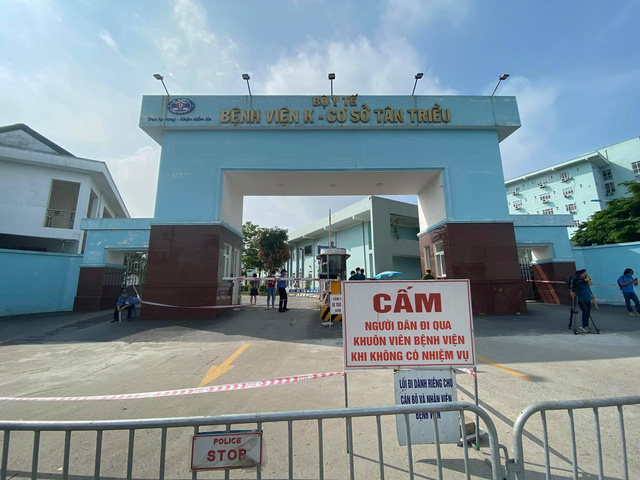 Blockade of National K Hospital after a positive case is recorded
The Department of Preventive Medicine under the Ministry of Health has sent a written request to the Department of Health (the standing agency of the Covid-19 Provincial Steering Committee for Disease Control and Prevention) to direct relevant units to work closely with local authorities, police and the community Covid-19 team to review all local people who have been treated, examined, and visited at K-3 Hospital from April 22 to June 6. 5.
Sampling for SARS-CoV-2 at least 2 times (first as soon as it is discovered locally, second time on day 21), at home, in a residence for 21 days from the last day. leave the Hospital, then continue to monitor the health at the accommodation for the next 7 days.
Particularly for those who have been to departments and departments where Covid-19 has been recorded at Hospital K facility 3, they should take samples for testing, isolate centrally and apply preventive measures like those with close contact. to people with Covid-19 in accordance with current regulations.