Deputy Health Minister Do Xuan Tuyen has just signed an express letter, requesting the Department of Health of 63 provinces and cities to urgently make a list of 10 priority groups of subjects to be vaccinated for free. Covid-19 by AstraZeneca. The number of each group must be sent to the Preventive Medicine Department (Ministry of Health), the local Pasteur Institute before April 15 for synthesis. This is the basis for the Ministry of Health to develop a plan to distribute and deploy vaccination against Covid-19 in the coming time.
Nearly 53,000 people have received the Covid-19 vaccine
According to the Ministry of Health, to date, Vietnam has implemented Covid-19 vaccination by nearly 53,000 people in 19 provinces and cities from a batch of 117,600 doses received on February 24 through the VNVC vaccination system. . These are medical staff and staff directly treating Covid-19 patients, medical staff performing tasks such as sampling, testing, tracing, members of Covid-19 plus groups. and the Steering Committee for epidemic prevention in localities.
Before that, on April 1, with the support from COVAX Facility, Vietnam received the first batch of 811,200 doses. It is expected that from now to the end of May, there will be nearly 3.4 million more doses from this support.
According to the Ministry of Health, this vaccine source is distributed to all provinces, the Ministry of Defense, and the Ministry of Public Security. The next vaccination population will be expanded after Vietnam has more Covid-19 vaccine.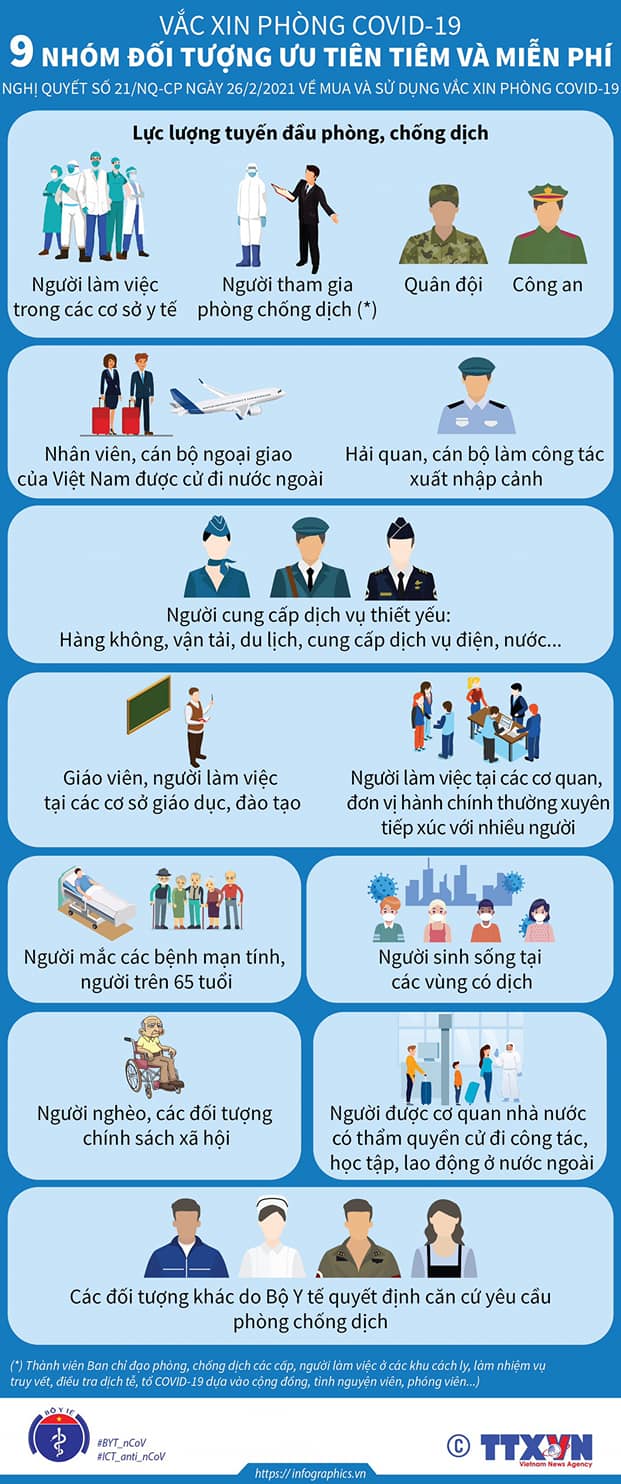 The target groups are vaccinated with Covid-19 vaccine in order of priority – Source: Ministry of Health
According to the plan, this year, Vietnam will have 60 million doses of Covid-19 AstraZeneca vaccine, of which 30 million doses are supported by the COVAX Facility and 30 million doses ordered by Vietnam through the VNVC vaccination system. .
With the vaccine source from COVAX Facility, due to the shortage of supply, the batches of vaccines could arrive in Vietnam later than expected, by 2022. Vietnam aims to have enough 150 million doses apply for Covid-19 this year to fully inject over 70% of the population, ensuring community immunity.
In addition to AstraZeneca, Vietnam has now licensed the Russian Sputnik V vaccine and is continuing to negotiate with the US, China … to have more Covid-19 vaccine together with the domestic vaccine source being tested.