Miss Tieu Vy, Luong Thuy Linh, Do Ha, and Do My Linh (from left) assume the role of honorary president of Charity Club.
With the desire to connect with individuals, organizations and businesses to join hands to implement volunteer projects for strict and urgent cases, as well as cases affected by natural disasters and epidemics. Overcoming difficulties, so the Charity Club Cool streams from the heart born.
Club Cool streams from the heart is the idea of ​​the Miss want to use their image and power to call on the community to accompany volunteering activities across the country.
Miss Do My Linh said: "In the past 5 years, after being crowned Miss, My Linh has had many opportunities to go to provinces across the country to participate in volunteer activities. Faced with many difficult circumstances, handing the gifts, My Linh felt lighter. My Linh will try harder in calling for everyone to join hands with the community ".
"Thuy Linh also feels very fortunate to participate in volunteer activities, because not only does Thuy Linh help with difficult circumstances, but they also help Linh with valuable experiences and experiences."
Linh believes that this small stream is spread, there will be more streams, blending together to form the sea, "said Miss Thuy Linh.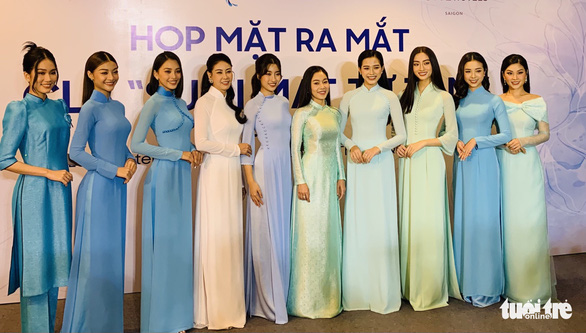 Cool Stream Charity Club from the heart brings together many Miss and Runner – Photo: PHUONG NAM
Miss Vietnam 2016 Do My Linh, Miss Vietnam 2018 Tran Tieu Vy, current Miss Vietnam Do Ha and Miss World Vietnam 2019 Luong Thuy Linh are both honorary co-chairs.
Charity club Cool streams from the heart has runner-up Phuong Anh as permanent vice president. Miss Ha Kieu Anh accompanies the club as the club's vice president. Ha Kieu Anh also donated 200 million VND to the club to implement upcoming volunteer projects.
On this occasion, the four honorary presidents of the charity club Cool streams from the heart announcement of volunteer projects. Miss Do My Linh with a project to support children with heart disease in difficult circumstances, or serious illness cases in extremely difficult family circumstances, and unable to treat them.
Emergency support for children and women in difficult circumstances is the project of Miss Tran Tieu Vy. She launched a fund called Big Share, which has raised 200 million dong. Miss Luong Thuy Linh carried out a project to donate 50 televisions to households, schools, and cultural centers in remote areas, contributing to improving the cultural and spiritual life for people and students.
And Miss Do Ha with a scholarship fund project named after her, awarded scholarships to poor students overcoming difficulties across the country. This scholarship fund has awarded 250 million VND to students in difficult circumstances.
Club Cool streams from the heart will organize free medical examination for 1,000 workers in Long An Industrial Park on April 25th.
.